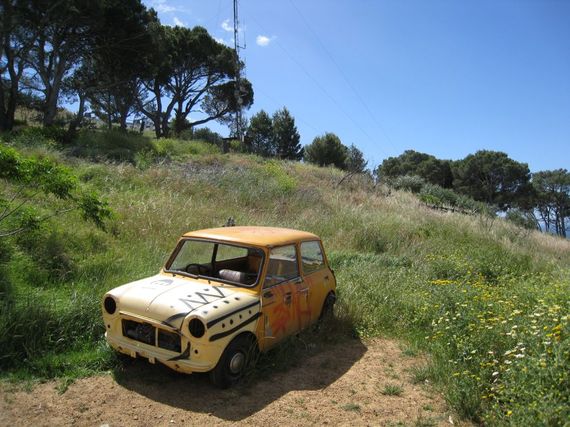 Six years ago, my husband and I took a six month travel sabbatical from the corporate world, backpacking and camping through several countries in Africa, Asia and Oceania. To say this experience was life-changing does not do it justice: We now talk about life 'Before and After Sabbatical'!
Yet the biggest shift this trip brought was in our attitude to travel. Before this sabbatical, travel was just something we did two weeks of the year while we were away from home -- two weeks during which we would fully live, while the rest of the year was mostly just work.
After six months of almost non-stop travel, we came to a strange conclusion: We realized that traveling is about more than just being in a different place. That true travel is an attitude. So we came up with a 'Keep Traveling' mantra -- a way of applying our favorite aspects of travel to our everyday lives.
Here are five ways you can bring this "keep traveling" attitude to your life without needing to physically travel.
1. "Keep Traveling" means embracing fear as a necessary part of growth
Travel forces us to take a small step -- or many steps -- away from our comfort zone, and stepping away from our comfort zone is where the magic happens. It's where we discover sides to ourselves we didn't even know existed.
Everyday life provides plenty of opportunities to push past our fears - from letting go of something or someone that no longer serves you, to saying no to someone and standing up for yourself. And despite how uncomfortable, and well, scary, fear can be, it is also a sign that we are growing and moving forward in life.
2. "Keep Traveling" means being open to new experiences wherever we are

Travel enables us to experience new things -- both man made and natural. Seeing kangaroos on a beach at sunrise, taking a helicopter ride or experiencing Angkor Wat at sunset is awe-inspiring.
Daily life provides plenty of opportunities for new experiences IF we create them. These can be as small as trying a new restaurant rather than always going to the same ones, taking that dance class you've been meaning to take, learning a new language, reading a book or buying an unknown vegetable when grocery shopping.
3. "Keep Traveling" sees differences as enriching rather than threatening
Travel opens our minds to different ways of doing things. It gently, and sometimes not so gently, takes us by the hand and reveals that other ways, beliefs and attitudes exist - and that they, too, are valid. In doing so, it provides the opportunity to re-examine our own beliefs and habits.
In everyday life, we are faced with different beliefs and attitudes all around us, but we don't choose to see these as intriguing - annoying is often a more apt description. Yet we can always choose to be open to differences in opinions and values that come from our family or co-workers. Accepting them with the same openness and curiosity we show 'foreign' cultures can be a novel experience.
4. "Keep Traveling" means being open to connection
Away from the cocoon of our known lives, we are more vulnerable and open, both with people we know and people we don't. And while we rarely stay in touch with those we meet, for a brief moment, we have walked along the same path, and this interaction leaves us all the richer. It acts as a humble reminder, as Maya Angelou says, that we are more alike than we are unalike" despite the apparent differences.
We don't actually need to physically travel to connect with people or be more open and vulnerable with those around us. We can choose to live with open hearts every day even if this makes us more vulnerable. Why not bring the same relaxed and laid-back attitude we have on holiday when dealing with the people around us - from the Starbucks barista to the old lady in the bus?
5. "Keep Traveling" means taking the necessary distance from life
Being able to briefly press the pause button on everyday routines provides a bird's eye view of life. Travel enables us to assess what matters most, to re-evaluate our priorities and what we want or need to change in our daily lives.
And here I concede that a change in environment is helpful - and so is journaling, meditating or simply leaving more space to just BE so you can gain some distance from life.
How will you "keep traveling" in your life?
Hiba Giacoletto is a Psychologist and Food Coach passionate about helping people create healthier habits through mindfulness, intuition and pleasure.
Related