In the northern hemisphere, it's back to school season. As you get back into school routines and slip back into your everyday grind, I'd like to entice you to think about how you're going to give your kids the world. Summer might be coming to a close, but family travel goes way beyond going on vacation. Traveling, in fact, is the best kind of education there is. Well-traveled children tend to be more tolerant and have more confidence to try new things. There are even studies that show that, thanks to hands-on learning, children who travel have better grades at school. Traveling teaches kids about new cultures and languages, and also a thing or two about being flexible. Children learn countless things about life and people by simply being able to observe how some things are the same in different places, and how other things are completely different.

Sometimes something as simple as experiencing completely different kinds of weather or nature is education enough! Photo by Katja Presnal.
What can you do about this now, when vacation time is over?
Reflect back on old trips.
A great way to ensure that family travels are both meaningful and educational is to discuss your trips with your children afterwards. Use these 10 questions as a conversation starter when you get home to explore how meaningful, educational, and fun the family trip was to each family member. You might be surprised how much children learn on travels, even when you didn't even mean the trip to be "educational!"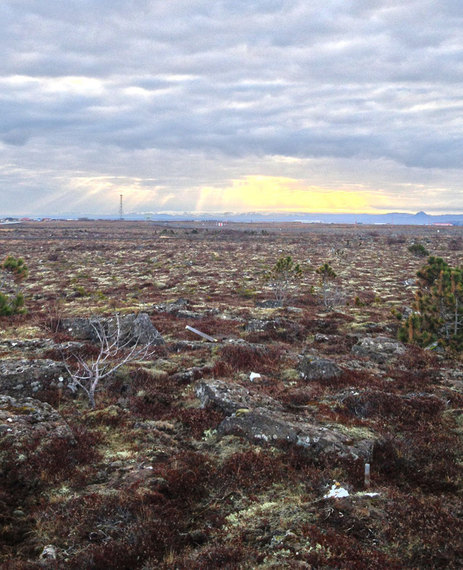 Learning about fossils, lava fields and volcanoes in Iceland. Photo by Katja Presnal.
2. Go on local micro-adventures
Next trip too far out to contemplate? Think about creating micro-adventures in your own area on the weekends. Some of the most least appreciated tourist attractions are the ones closest to us! Remember that you don't have to go far to give kids the traveling experience. Apps like Findery allow you to discover historic landmarks and local stories that you might not have heard of before. Check out the "Near" tab in the app to see what's around you!
3. Embrace culture and start teaching it at home.
During the school year, add some local attractions, like museums or theater, to your list of things to experience with the kids. Art galleries are some of my kids' favorite places to visit, and often offer collections from other countries/cultures.
4. Read travel books and watch travel TV shows and documentaries.
Another great way to travel without leaving home is to go to the library and borrow travel books. Kids love doing research on different destinations. Planning, dreaming, and researching your family's next travel destinations is great education on its own!
There are also great travel documentaries that will bring the world into your home. Movies filmed in exotic locations are another fun way to stretch your wings. Visiting movie locations is one of my kids' favorite ways to travel, or after the fact spotting the destinations they've visited in movies or tv shows they've watched.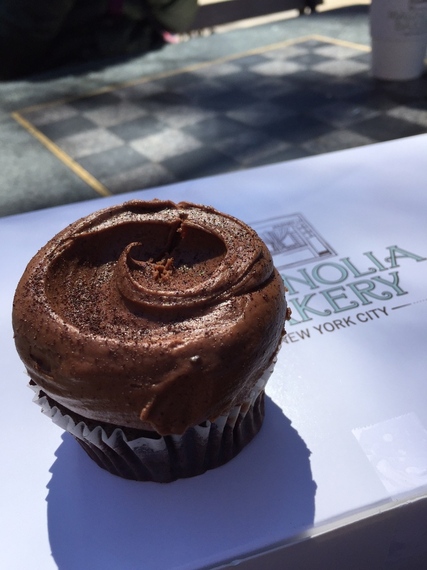 Just because the kids haven't watched Sex and the City doesn't mean we can't enjoy cupcakes from Magnolia Bakery like Carrie Bradshaw does.
5. Travel budget planning - very educational!!
Another fun activity could be creating a family savings project so you all start saving (or making) money for the next family trip? We sell essential oils as a family, and our teenage daughter is starting her own t-shirt line to fund a lot of fun world travel we want to do together. Whether it's garage sales, or having a little side business on eBay or Etsy, there are many ways a family can work together on the family travel budget.
You might have heard me say this before, but dinner time is a great time to "travel" with the kids. Make goals for this school year to offer your kids some cultural variety when it comes to food. Have culturally themed dinner nights, when you cook together dishes from different countries, and use Spotify to play music from that area of the world to add to the experience. Teach children to eat with chopsticks. Create an English afternoon tea experience at home. Shop for exotic fruits at the grocery store together, and then learn more about the country where they are from when you get home.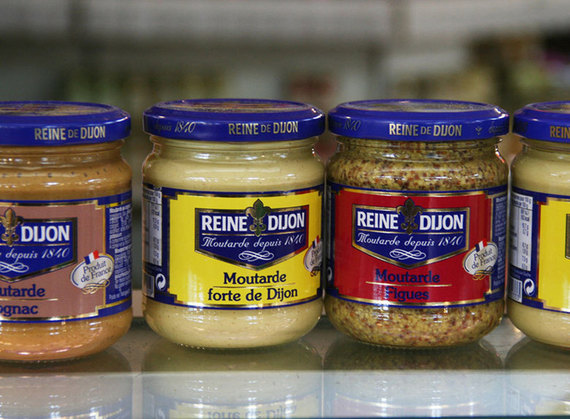 Education on travels can be as easy as learning about Dijon mustard from Dijon, France. Photo by Katja Presnal.
7. Sports and activities.
Our kids learned to ski in Colorado and tai chi in Indonesia. Perhaps your kid's soccer takes you to tournaments all over the country. Whatever the activity, you can add a travel element to it. Maybe when your baseball superstar goes to that camp in Cooperstown, NY, you can turn drop-off into a whole family event across beautiful upstate New York. Or maybe your family can train together for a 5K or marathon, or learn to surf together on your next beach vacation? Whatever your family sport of choice might be, you for sure can travel with it!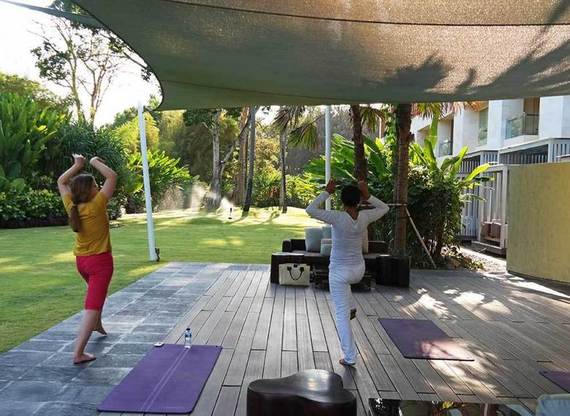 Teaching children about the world before they even set foot outside your front door is important. It helps them learn to be open to trying new things, and that not everything is the same as at home. Traveling with kids takes a lot of practice, and trips can easily be ruined by simple things like milk not tasting exactly the same, or favorite foods not being readily available, but it's always worth the challenge. Take my word for it and definitely don't wait until the next school break to experience educational "traveling!"
You'll find many more ideas for your next family adventure on my Findery notemap.
Popular in the Community