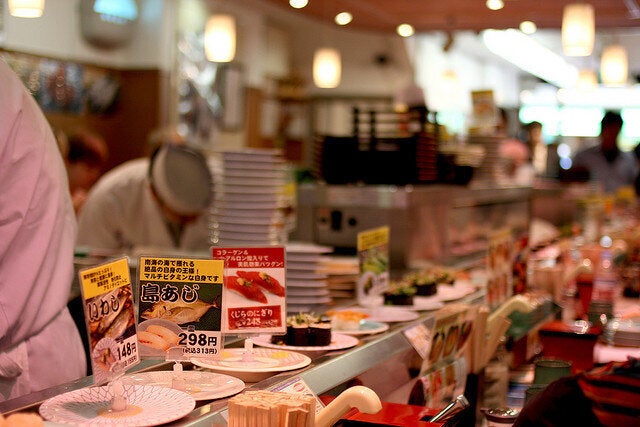 We've all been there. Whether in the world's most exotic of locales or the most cosmopolitan of cities, we discover that not all road food is necessarily good food. Though we may not all plan our vacations around high temples of gastronomy, that doesn't mean we shouldn't steer clear of bland hotel fare, tourist-trap cafés, or worse, homogenous fast food. The best eats tend to express a distinct sense of place, but are often hidden, local gems that elude the guidebooks. Whether I'm traveling for business, or purely for pleasure, I tend to view a new town or culture through a lens of food. More often than not, that hunger for authenticity and a foodie's whiff of sixth sense has allowed me navigate my own culinary journeys -- on the other side of the globe, or across town.
Long before you reach your destination, it doesn't hurt to do a little research ahead of time. What are the local specialties, and what's in season during your visit? Even if you don't fancy yourself as some sort of gastro-tourist, it helps knowing you're near the Chesapeake Bay just as soft shell crabs appear, or that your early summer jaunt up to northern Michigan will land you knee deep in cherries. If by chance you are flying blind, quickly scan the markets when you arrive -- chances are good if you chose a restaurant whose menu features those seasonal products. And as much as we all try to cram in some rudimentary crash courses in conversational foreign languages before our trip, learn some key food verbiage first and foremost. Here's an obscure example: it might be helpful knowing that a burger in a French café with the designation au cheval, is not, in fact made of horse meat, but simply the familiar beef patty topped with a fried egg. Had I known that at the time, I definitely would have ordered it!
If one of the major guidebooks tends to be on your packing list right after your passport, you're clearly a savvy adventurer. I make it a point to take at least one meal at any given city's established chef-driven restaurants, too, but the real fun lies in unearthing those places without stars and rankings. That's where we begin to find the true local color. Off-the-radar guidebooks might offer a more ground-level view of cheap, but satisfying options. While the established guides may help you chose where you're going to dinner, a quirkier resource might tell you where, and on which days, you can find a street market for a light, grazing lunch beforehand. Surfing around internet food forums will always yield local favorites. On a recent trip up the Maine coast, my wife and I happily ate our way through Elizabeth Bougerol's New England's Favorite Seafood Shacks, a fun book that truly captured the identity and specialties of each 'shack' we visited. It did, however, require veering off the highway, from which those delights would have remained unexplored. The road less-traveled is often full of delicious detours.
Nothing beats a personal recommendation from someone you trust. Double points if that source is a local expert. If a town's resident can show you around? You're in! Any written survey of a food scene, in print or even online, is at best only a static snapshot. A guided tour, or 'crawl', of neighborhood joints offers more than just a meal. We can learn much about a culture, about how real people live, by what they eat. Without the help of an expat food writer in Bangkok, I never would have ended up in the winding alleys of its market district, sampling a wide array of kanom -- novel street snacks and sweets. Years later, the sights and smells of Thailand continue to inspire me. In old San Juan, Puerto Rico, only a fellow chef would have led a hungry gang of mainland cooks to the best spot for heady sancocho, and another for a textbook lechon, that ideal expression of the pig and its juxtaposition of crispy, juicy, and fatty.
In the absence of a personal fixer, simple observation will reveal much in a new environment. Again, let the locals guide you toward your next meal. In Osaka, choose the noodle shop with the longest line; the wait will likely be worth it. After a jaw-dropping visit to Tokyo's sprawling Tsukiji fish market that ended just as many of its hawkers were taking their lunch break -- that is, at 7:00am -- I thought it might be a good idea to see where they ate. Lucky for me, I ended up at the counter in one of a dozen small restaurants that surround the market. To this day, that 'breakfast' of impeccable raw fish counts among my most memorable meals. If you're squeamish, you might not want to know exactly how recently your food was alive (perhaps it still is), but fresh is best. And don't be flummoxed over language barriers -- pointing at what the guy next to you is eating is usually a good start.
Once you've discovered that special place, embrace the moment. A meal is about so much more than the food alone. Our recollections are often filled in by the company around us and the overall atmosphere, even if we've long forgotten the specific dishes or the particular bottle of wine. It's that sense of a specific time and place that so many of our sense memories are attached. For me, those memories record a lot more than any snapshot would. Who knows, with a little practice, you too might begin to see a vacation spot with a new pair of eyes; when you travel like a chef, your stomach will thank you!