When I was very young growing up in England back in the 60's and 70's I was so lucky to have parents who loved to travel and at the time I didn't realize it but they were giving me the best of educations too!
Each summer my parents would plan an incredible 4 week camping trip around Europe, it wasn't about staying in fancy hotels but picking campsites in interesting places and planning the best driving route. We had an old dormobile (camper) which was packed with as much as we could possibly squeeze in, our breakdown kit, lights adjusted to suit the requirements for the rest of Europe and of course lots of maps. Then off we would head excitedly to catch the ferry from Dover to Calais, dad in the driving seat, mum with map in hand and me and my older brother and sister bouncing around in the back with no seat-belts to restrain our enthusiasm.
As we drove off the ferry in France onto the wrong side of the road my eyes were wide open taking in all the different sights and wondering where we would end up that night. There we were driving from country to country stopping wherever we wanted at campsites filled with people from all over Europe. I loved going to the camp store with my mum as we picked all sorts of different foods that we never saw at home. My mum would always try to speak the language but sometimes there was a breakdown in communications, one time I remember as she paid the lady at the desk I was offered to choose a sweet, which I was very excited about, only later did my mum realize it was instead of being given change!
After France and visiting wineries, where I'd actually be offered wine at 5 years old which I must mention my mum was more than happy to drink on my behalf, we stayed in Switzerland at a campsite in Interlaken with the Jungfrau as the backdrop, jumped on the infamous stairs from the Sound of Music before we headed on down to Italy. At each campsite I made friends and played happily with children whom I couldn't understand because they spoke differently to me but we always got over that barrier, we found our own universal language; it was the language of friendship we were different but we were also the same.
When the summer holidays were over and it was time to go back to school often we were asked to write about what we had done during the vacation, well I never had a shortage of things to say and write about. I absolutely believe that all the experiences I had gave me such a great understanding of people and places, that we can be very different but still get along and accept our differences. It also gave me the ability to not be afraid to try new things, discovery is wonderful and sometimes we even discover more about ourselves when we are in unfamiliar surroundings.
My wanderlust spurred me to travel alone to America, Australia, New Zealand and Jamaica, I even flew to Boston for a first date with my now wife, Laurie, something I am sure I would never have done if my parents hadn't given me the confidence as a child to experience the world!
Over the years I have continued to travel and I have tried to give my two sons the wanderlust that I have, our most incredible time was when we went to India, it honestly felt like we were in a movie. We were going for the inauguration of a school we had raised funds to rebuild after it was destroyed by the tsunami of 2004. It was in 2007 and my wife Laurie was the photographer for the occasion and both my sons gave speeches to the school, Andrew was 9 and Leo was only 6 and I was so proud to see them stand up in front of a whole village in a place called Sothikuppam situated in the Tamil Nadu region. The insight this trip gave us all was something we will never forget, we saw extremely poor children begging for money, they had no shoes on their feet, when my sons wanted to give away all their holiday spending money I knew they really understood how fortunate they were. When we actually arrived at the school we were surrounded by excited children who then put on such a colorful show for us outside dancing and singing in the sand. After the show all the children couldn't wait to meet us and as I looked at my boys interacting with children they couldn't understand it took me right back 40 years to my young days traveling with my parents.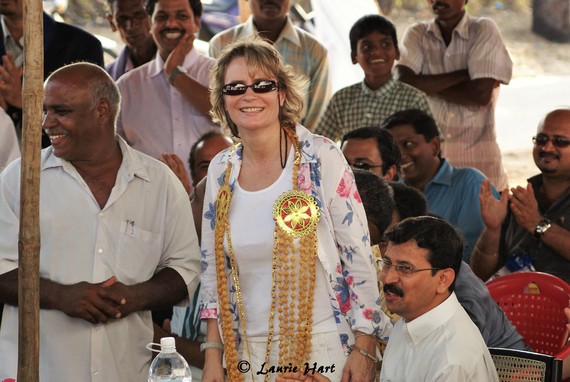 It is important to understand about being safe while traveling, you need to know area's to avoid and as a lesbian couple we are always careful to research as much as possible, about the places we are visiting, because there are still many countries that are opposed to same sex couples. India was in fact one of those places and we were told not to be openly loving to one another when in public, we didn't have any bad experiences while we were there and we were definitely off the beaten track.
The world is there to be seen and experienced and I want to see as much of it as I can with the love of my life and I will never be made to fear different countries and cultures just continue to explore their diversity and keep learning!