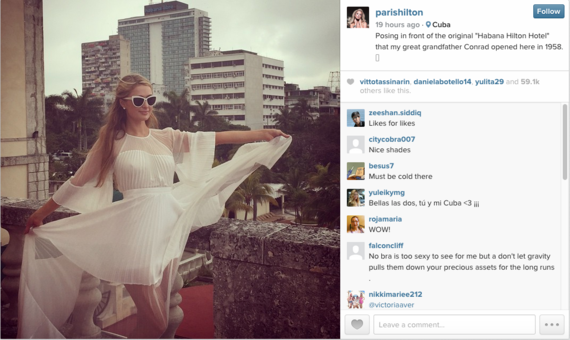 Each week now, the gates that have kept U.S. travelers from visiting Cuba are creaking open just a little more. If Paris Hilton -- who popped up in Havana last week unexpectedly -- can get there now, anyone can. Right?
Perhaps the most important development of the week was the announcement that as of March 1, MasterCard has removed the block on use of U.S.-issued credit cards in Cuba. The need to carry cash to cover all your expenses while in Cuba has long been one of the biggest pains about traveling there.
Stepping off the curb at Jose Marti International Airport in Havana with large sums of U.S. or Canadian dollars (or euros or pounds sterling) always made me a little queasy. If anything happened, there was no safety net; there was no easy way to get enough cash to get home. MasterCard's announcement (American Express has said it will follow suit as soon as possible) will give travelers some peace of mind, though the company has asked customers to check with their bank before departure to be absolutely certain.
A solution to another inconvenience to Cuba travel came from a website named Cheapair.com, which said Friday that it could now sell tickets all the way to Havana online with a single transaction. Visitors still need to go through a third country like Mexico, Canada or the Bahamas, but Cheapair lets users check a box saying they are going for one of the 12 categories of travel now permitted without a special license (professional research or meetings, education activities, religious activities, support for the Cuban people, etc.) and the entire itinerary can be ticketed in one go.
The company warned on its website that traveling to Cuba is still not for the faint of heart and said it still couldn't help with hotels on the island, but other online travel agents are sure to follow suit, so a solution to that problem is probably not far off.
One last announcement last week that could serve as an interim solution to anyone still leery of the logistics of traveling there came from a Canadian cruise company, which said that it could now sell tickets to Americans on its around-the-island cruises to Cuba.
Calgary-based Cuba Cruise's ship departs from either Havana or Montego Bay in Jamaica and calls on Santiago de Cuba, Holguin, Cienfuegos and the Isle of Youth. The people-to-people trip, offered in partnership with the nonprofit Fund for Reconciliation and Development, qualifies as an educational opportunity under the new travel rules.
On Friday, a second round of diplomatic talks between the U.S. State Department and their Cuban counterparts concluded in Washington with smiles all around. It now seems likely that President Obama will seek to remove Cuba from the list of nations that sponsor international terror, one of the Cubans' main gripes at the moment, and the two sides will agree to open embassies before the April Summit of the Americas in Panama.
The part of the process of interest to potential travelers is that the two nations will in the next few weeks exchange contingents of technical experts in a number of categories, among them civil aviation. Hopefully, those talks will proceed at a rapid pace and day is not far off when we can travel from Miami to Havana as easily as we can from Miami to Mexico City or Madrid.