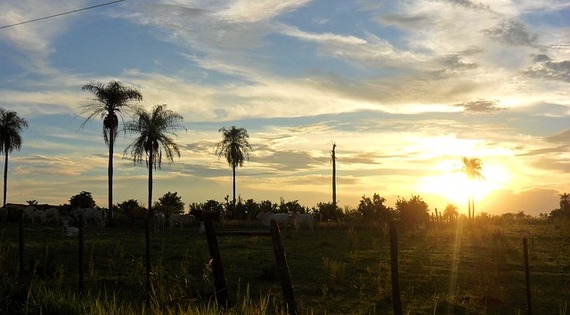 Tourists are uncommon in Paraguay, and worthwhile tourist information on why to travel to this country and what to do once you've arrived is hard to come by. Here's what I'd tell you about Paraguay, based on my recent visit with my family: It's worth the trip. This is a country with a past, a place with a romantic's soul.
If that doesn't get your attention, this might: This place is also a bargain. Everything is cheap. Right now, everything is especially cheap for anyone with U.S. dollars in his wallet. The dollar is at a five-year high against the guaraní.
It's not easy to get to know any country. It takes time to peel away the top layers and glimpse the heart and soul of a place, to begin to understand what makes it and its people tick, how things work, what's important, what's valued. I'd say that Paraguay is even tougher to know than most countries. This is a place of charmingly contradictory and contrasting perspectives.
As I said, tourists are thin on the ground in this country. Who do you meet in Paraguay?
Historically, Paraguay has been a place to disappear. Folks on the lamb from far and wide have sought out this country because it has something people who don't want to be found appreciate: Super low population density, at least in parts.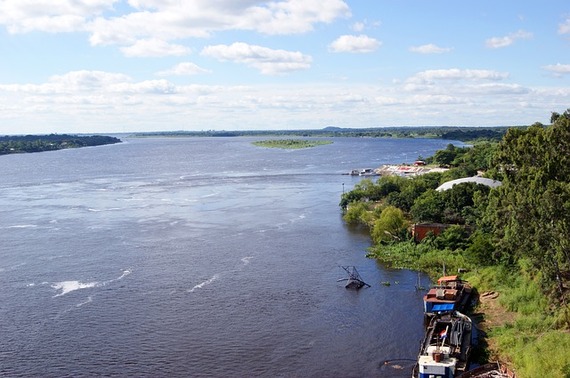 Paraguay is divided in two by the Rio Paraguay. To the east of the river is the Oriente; to the west is the Chaco. Paraguay today is home to 6.8 million people (as best as I can tell; it's tough to find consensus in Paraguay on anything). About 6.6 million of those 6.8 live in the Oriente, leaving 200,000 for the Chaco, a region larger than the entire country of Uruguay. There is but one real road in the Chaco, the Ruta de Chaco, that travels from Asunción to the Mennonite town in the center of Chaco and then on to Bolivia.
Easy in a place like that to get lost and never to be found again if you didn't want to be. That reality has contributed to Paraguay's reputation as a kind of global hide-out. But this is only one face of this country.
Paraguay's biggest problem is a lack of marketing. If Madison Avenue were on this, Paraguay would steal Americans' hearts. This country's story's got everything -- heroes, rogues, dictators, and true villains... cowboys, damsels, poets, and philosophers... intrigue, treachery, legend, hubris, and love affairs.
Paraguay is a country with a twisting, turning, complicated past that, at one time in its history, almost ceased to be at all. The Triple Alliance War, which pitted Paraguay against Argentina, Uruguay, and Brazil, cost this country 90% of its male population, 60% of its total population, and 25% of its land mass.
What was all the fuss about?
Like everything in Paraguay, it's hard to pin down an answer to that question. Locals blame the whole disastrous experience on the British and their tea. At the time (1864), Paraguay was a middling regional power with a booming economy based largely on agriculture... including tea. Paraguayan farmers produced high-grade tea at less cost than tea from Great Britain and decided to try to expand the market for it from the Americas to Europe. When Paraguay offered their cut-rate tea leaves to Germany and France, Britain responded with a vengeance.
Could tea be that important, even to the British? Paraguayans sure think so, though historians don't always agree and suggest other factors behind the conflict. Regardless, one thing is for sure: This country has only very recently even begun to recover from those six years of holocaust. In the end, women and children were fighting naked to try to defend what was left of their country.
Outside Paraguay and the region, few have ever heard of the Triple Alliance War. I share the story with you because I think it gives insights into what's going on in Paraguay today.
More than 90 percent of the country's male population gone and much of the total remaining population sick and wounded following the war, Paraguay did something very smart. It sent out a call, far and wide. Come, settle our fertile land, Paraguay offered the world, and we'll give you a small piece of it. You can farm and develop as a Paraguayan.
The global homesteading offer attracted adventurers, opportunists, and carpet-baggers, a mixed lot, for sure, whose descendants make up this country's eclectic modern-day population. It also explains the country's open-minded policies to do with residency and citizenship. This is the easiest place in the world to establish residency and to get a second passport. Paraguayans we've met with speak of it often and openly.
"You should become Paraguayan," one told me. "It's easy."
Of historic necessity and also, I think, genuine good-heartedness, these are very welcoming people who are trying, for the first time in their history, to make a go of democracy. Young Paraguayans we've spoken with are naively, innocently embracing the idea. Their enthusiasm for what the future could hold for their now democratic nation reminds us how worn and weary we've become. One young lady, an attorney, spoke with such pride of her country's past and such commitment to its future that I was inspired.
"Paraguay was rich before, and we will be rich again..."
I heard that refrain from many.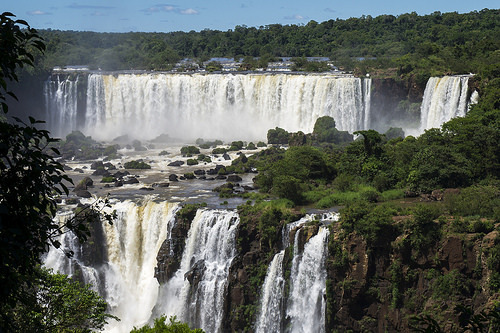 Most of the tourist attractions in Paraguay are natural (lakes, rivers, and waterfalls) and outside the city of Asunción. In the capital, I'd make one specific recommendation: Visit the train museum.
Asunción's Museo Ferroviario is a chance to step back in time inside the oldest railway station in South America. Standing out front, I debated whether or not to invest in a ticket to gain entrance inside. Turned out to be the best $2 I've spent in a long time. You can wander at will among the waiting rooms and offices of the old station. Employee records, train schedules, and handwritten passenger logs from as many as 150 years ago are displayed on original wooden shelves, desks, and counters.
Outside on the platform, you can climb up into the old dining car. Inside is all wood paneling and leather seats. There's a wraparound wooden bar and a wood stove for cooking.
"Why is this so much fun?" I asked my daughter, wandering up and down the aisle with me.
"Because you can explore at will. Nothing is restricted or roped off. No one tells you not to touch or not to sit. You can imagine a barman behind the bar, waitstaff, and passengers. We could be on our way to Argentina..."
We had the place mostly to ourselves. As we were leaving, a young Spanish-speaking couple was taking selfies trainside. Otherwise, it was us and the museum's curator, a friendly Paraguayan who, when he noticed my husband Lief looking up at the massive bell on the platform encouraged him to pull the rope to ring it. "Mas fuerte!" our new Paraguayan friend yelled out so Lief could hear him over the clanging.
After our train adventure, we continued walking in the direction of a hotel that friends had recommended as a good place for Sunday lunch. Our friends were right. On Sundays, the Grand Hotel de Paraguay lays out quite a spread. It's a traditional parrilla. Beef, pork, and chorizo are cooked over open flames then hand carved for your plate according to your directions. You enjoy it all in a big dining room with an elaborately hand-painted wooden ceiling and murals on all the walls. A harpist serenades, while children run in and out between the dining room and the courtyard. We were the only non-Paraguayans in the place as far as I could tell. All-we-could-eat parrilla, salad, and dessert was $12 a person.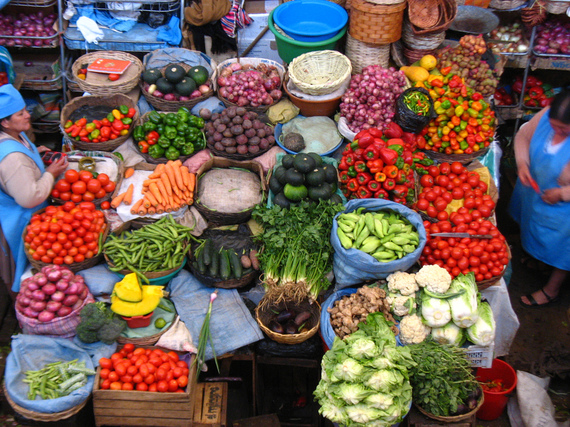 We spent the remainder of our Sunday walking through parks and haggling at a weekly market. Kaitlin bought a pair of boots and a cowgirl hat, and Lief negotiated for the purchase of a pair of steer horns that will be a nice addition to our great room. Quite a find for $40.
PHOTO GALLERY
7 Hot Travel Trends For Boomers
Calling all HuffPost superfans!
Sign up for membership to become a founding member and help shape HuffPost's next chapter