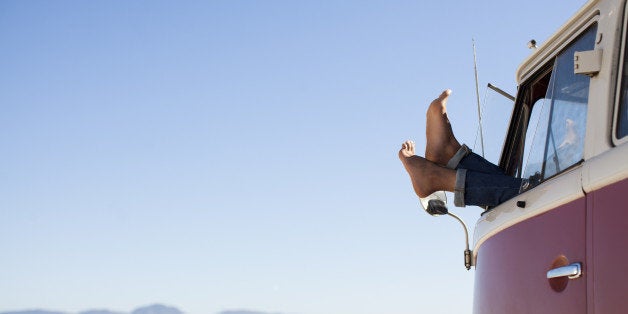 This seems like the kind of story we'd write in January, right? Well, we did. But we also want to pause at this midway point in the year, look at the trends we predicted, and see which ones have actually taken hold. From new ways to hang out with locals in foreign lands to the latest fees you've got to watch out for, these trends are shaping up to dominate the second half of 2014.
Travelers looking for authenticity and connection on their travels have a new ally in the burgeoning peer-to-peer/sharing-economy movement. House swapping and ride sharing are just the tip of the iceberg; you can also find organized ways to share meals and explore off-the-beaten path treasures with knowledgeable locals.
Experiential travel is our favorite trend entering the mainstream this year. Travelers, no longer content to merely visit the world, are finding new ways to dive into local life wherever they go. From rowing through Venice to harvesting grapes in Sonoma, we're discovering that doing is so much better than just seeing.
Nearly gone are the days when travelers, accustomed to constant connectivity at home, forgo their technology on vacation. Sure, some people still claim that vacation should be a time to untether from devices. But the thing is, having a smartphone that works abroad can be an incredibly powerful travel tool. Getting found when you're lost, discovering great local restaurants on the fly, adjusting travel plans on the go, and checking in at hotels are just a few of the perks of smartphones with international data plans.
Wellness travel has been a minor trend for years now, but it's only been this year that we've seen it really explode onto the scene. And its growth looks set to continue: According to a recent study from SRI International, wellness-focused travel is estimated to reach $678.5 billion in the next four years. The wellness-travel spectrum is broad, with a relaxing spa weekend on one end and serious medical tourism on the other. But all have the theme of finding a healthier version of you through travel.
Smartphones as key cards, more free Wi-Fi, a huge boost in wellness amenities—hotels large and small are embracing technology and looking for fun new ways to keep guests happy. And, frankly, after decades of the same old, same old, these changes are just what travelers need to get excited about choosing a hotel again.

Read More: Seven Super Hotel Innovations You Need to Know About
Expedited Security and Immigration
More and more frequent travelers are joining programs geared to speed up security and immigration screenings at airports. Domestically, TSA PreCheck and Clear both offer faster ways through security, while internationally, the federal government has a handful of "trusted traveler" programs that rely on prescreening and biometric identification. And while these programs require time, effort, and money up front, for many, the payoff—being spared the worst of security and immigration wait times—is clearly worth it.
Five years ago, hotels to which you could bring a pet (without smuggling it in the back door) were few and far between. But this year, we've been noticing more and more hotel chains actively promoting their pet-friendly policies. Marriott, Fairmont, Choice, and Best Western are just a few of the major brands that allow pets (with restrictions, and often with a fee). And Kimpton hotels welcome all pets, regardless of size, for no additional fee.
By now, we're used to being nickel-and-dimed for things like checked bags. But airlines and hotels, seemingly drunk on the potential profits of fees, are finding new and nefarious ways to quietly pile on even more charges. Cases in point: the fees many foreign airlines pack on to award trips; and resort, convenience, concierge, or housekeeping fees of up to $50 per night at hotels. All of which means travelers need to be more vigilant than ever when looking over a travel bill.
There's nothing new about apps, but they're getting increasingly better at being useful while you're traveling. Existing apps are adding features that come in handy right when you need them—for instance, TripIt has made it easier to share flight-status alerts with friends and family—and new apps, many of them specific to popular cities, are popping up all the time. There's never been a better time to be a traveler with a smartphone and an app addiction.
Traveling with RFID-blocking wallets and bags. Being careful about what you do on public Wi-Fi networks. Using apps that help you monitor your home when you're not there. These are things most of us didn't think about—usually with nary a consequence—a few years ago. But now, they're real concerns around the world. And so, as travelers, we add another item to the to-do list: making sure to secure our data while we're opening ourselves up to the world around us.
Popular in the Community