The most important thing to remember is that flexibility means savings. If you can move your travel dates, departure times, and itinerary -- even just a little -- far more fares will be available to you, including those better suited to your budget.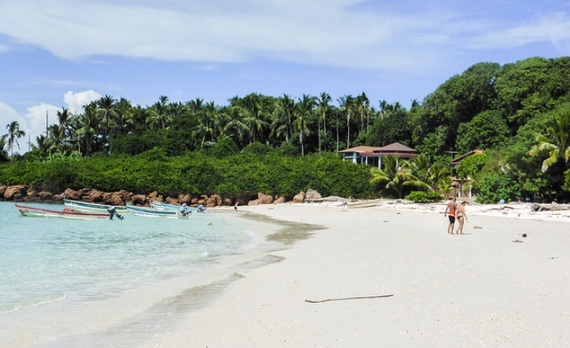 You can fly to countries like Panama for less when you know the tricks to finding the best travel deals. (Photo: Eoin Bassett, InternationalLiving.com)
Here are a few tips to keep in mind:

Don't wait until the last minute. Some airlines offer early bird discounts on reservations made up to three months in advance. That doesn't mean you won't find last-minute specials offered by many airlines -- but generally, buying tickets well in advance will earn you the best discounts. But don't book too far ahead. You'll rarely find the best fare prices offered more than three months in advance.

Consider an alternate airport. You can often get less expensive flights by flying to less-trafficked airports. The low-cost airlines started this trend by using these airports, and the bigger competitors now moving in have to match the fares of these lower-cost providers.
Turn to social media for deals. Social media has a major impact on the travel industry, and especially for those hunting for the best flight deals. By making a list of the airlines you most regularly fly with and following them on Twitter, Facebook, and other social media outlets, you can act quickly on the latest deals.
Try an app. Flight apps for your mobile devices are another useful way of finding the best flight deals. The majority of the larger web-based travel companies have apps that allow you to easily search flights on a mobile device. The best include Kayak Pro, Orbitz, Priceline, and Skyscanner.
Clear your web-browsing history. Ever find a cheap flight online, only to search for it again later on that day to discover the price has skyrocketed? All booking sites record web-browsing data and some (Travelocity, for instance) use the information to increase prices when they know you are interested in a flight. Next time this happens, try clearing your web-browsing data. You may just find the original price.
Google it. Google seems to have a hand in everything these days, and more and more savvy travelers are turning to Google Flights to find the cheapest flight options. Google Flights uses ITA Software, which it acquired in 2011. This is the same software that the search engines (Kayak.com, Orbitz.com, and Bing Travel) and the major airlines (American, United, and so on) use, so it makes sense for you to use it, too, to source the best available flights. It pulls up every fare with accuracy--sometimes catching prices that prominent search engines such as Kayak will miss. The downside is that you can't book your flights directly through Google--you'll need to link out to another site.
Frequent Flyer Loyalty Programs. Airline loyalty programs that award points toward free flights each time you fly are most advantageous for business travelers and others who do a significant amount of traveling. (We're using mileage rewards points to travel to an upcoming International Living event.) Even if you're not a frequent flyer, these programs can benefit anyone, and you shouldn't take a flight without signing up for the airline's program.
Most major airlines have a newsletter associated with their rewards program, which is a good way to understand what the program offers, rule changes, and any last-minute specials and other travel bargains. Another way to keep up to date with the latest offers is to follow the programs on Twitter or Facebook. The more memberships you have, the better your chances are of snagging a really good deal.