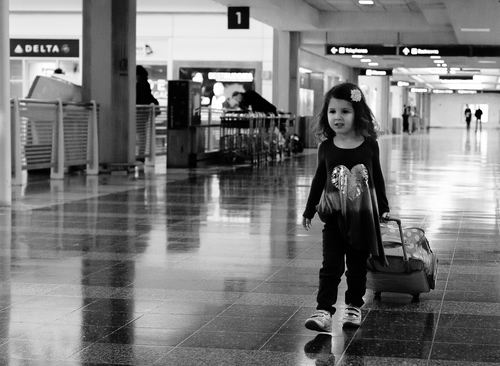 It's officially the holiday season. For many families that means it's time to take planes, trains, and automobiles to visit family and friends. While time spent with loved ones is undoubtedly worth the effort, getting to them with young children can be stress-inducing. Make your life easier with some tricks and tools to ease the pain.
Lee Scott, Educational Advisory Board Member for The Goddard School has some recommendations for making travel more fun, less stressful, and educational.
First, start by preparing your child as early as possible by explaining how long the trip will take and what you will do when you get there. If your child is old enough, Scott recommends creating a trip journal with a list of things to pack, a map of your route, and pictures of where you will be going. Leave space for notes and keepsakes you will gather along the way.
This helps with creative expression, organization, and planning and can help your child anticipate having fun on the trip.
Second, you can help your child learn how to make choices by voting on things
along the way. Examples are voting on where to stop to eat and the nicest color car you see along the way. If you are keeping a journal you can add the results. Learning to make choices and decisions are important executive function skills.
Third, you can help your child prepare a bin to take along. The bin can be filled with books, puzzles, markers or crayons and paper as well as something new. The process helps your child in organizational skills, reading, math, and creativity. There is also some gear that can help keep everyone comfortable and sane:
Travel Crib: If your little one sleeps in a crib at home the question of where he will sleep while on the road can be tricky. Hotel cribs and even those built for light use at Grandma's house can become rickety quickly. After test-driving many options my family settled on the Travel Crib Light from Baby Bjorn. It folds up small, is not tough to carry around, and has plenty of room to be comfortable for little ones away from home.
Travel Stroller: When traveling it's important to find a stroller that is light, folds easily and compactly, but is sturdy enough to handle whatever terrain you encounter. Sound like a stroller that only exists in your dreams? The Nano by Mountain Buggy was designed with travel in mind. It folds compactly enough to fit into the overhead compartment in an airplane. The small fold means it won't take up much space in the trunk either.
Travel System: If you will be traveling with a child under two who uses an infant seat a travel system is the key to saving your sanity. The ability to quickly and easily snap a car seat into a stroller will go a long way towards making your travel easier. I like the GB Evoq Stroller as an all-in-one package. The stroller comes with a car seat. When not using the car seat with the stroller, the seat can lie flat or used front or rear facing depending on your child's preference. Other great features for travel near or far include a large basket and a built-in ride-on board for older siblings who may need a lift once in awhile.
Bag: When it comes to travel with kids a large bag with tons of pockets is essential to staying organized. I am a huge fan or the Ju-Ju-Be B.F.F. because it holds just about everything. It has tons and tons of pockets making it easy to stay organized. Although technically a diaper bag the B.F.F. will last far longer than the baby stage as a travel or weekender bag.
Booster: When kids are in car seats there are few options to keep them safe on the road other than lugging around their big, heavy car seats. But, once kids are old enough to use booster seats things become much easier. Rather than dragging a larger booster seat around, try a smaller seat like the Safety First Boostapak. A Boostpack is perfect for travel because it is housed in a backpack that has some extra room for a child's belongings making it simple for a child to carry his own booster (plus some things to keep him busy in the car) himself.
Suitcase: At first I tried sharing a larger suitcase with my kids, but once they were old enough to have opinions about what they brought along on vacations I found that separate suitcases help us all stay happier and better organized. For my children, I like child-sized suitcases that provide just enough space for what they need without providing too much room for extra toys and stuffies that can easily get lost on the road. Trunki makes adorable suitcases sized right for little ones in a range of fun styles from busses and firetrucks to zebras, bees, and Hello Kitty. Unlike most suitcases for kids, Trunki is made out of hard, kid-proof material. Other kid-friendly features include four wheels to make it easy for kids to pull their own stuff around and, for times they are too tired to do so, a built-in seat on top so Mom or Dad can transport their child and their child's things with one hand.
Activities: There is one thing children on the road (or in the air) always need - activities. A travel desk from Manhattan Toy is a great solution to allow kids a playspace while on the road. It has a wipeable whiteboard on one side that can be used for drawing or a flat surface for just about any activity that can be done seated and a zippered compartment to hold toys and markers. Mahanttan Toy also makes adorable travel pillows that rest on a child's shoulders to keep hope alive that they will nap in the car. Another great activity for travel is a magnetic set like the Magnetic Fashion Set from Sevi.
Clothes: My kids absolutely love picking out their own clothes for trips and getting a new outfit or two that they are allowed to wear for the first time on a trip only adds to the excitement. Even if your kids don't get excited over new clothes they may need something new if you are going somewhere warm or to a dress-up event. If your little girl needs some warm-weather duds check out Lacey Lane's adorable dresses and accessories from Australia. For boys and girls who need something new for the holidays check out Rockin' Baby's adorable winter selections - and they even give clothing to a child in need every time something is purchased.
Related