Family travel with teens presents different challenges than when the kids were younger. Teen travelers want to be more active, involved, and independent than their toddler-selves. With the proper planning and destination, it's definitely still possible to plan a family adventure with teens that everyone will enjoy. I recently surprised my two teenage daughters with a trip to Universal Orlando Resort during A Celebration of Harry Potter weekend, and discovered flexibility and freedom that allowed "Universal" enjoyment for the entire family.
Universal Orlando's Celebration of Harry Potter weekend is a mini-Comic Con focused solely on J.K. Rowling's work. Fans dress in cosplay outfits, attend panel discussions with film stars, and hear special announcements about upcoming projects. Our daughters were in the throes of high school midterm exams when magical letters appeared. "I was completely surprised," said Evie (age 15), "there were no hints at all we were going." Then, after one more day of exams, we jetted off to sunny Florida.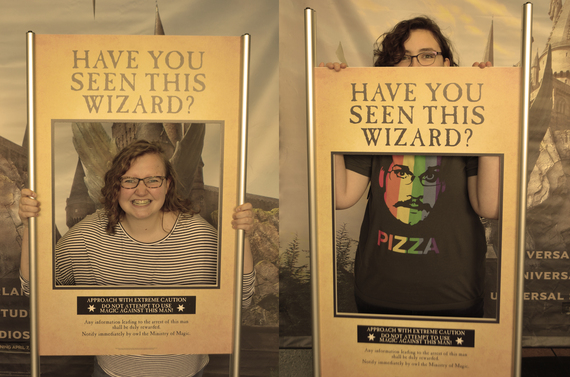 (L-R) Maggie and Evie Parfitt at Universal Orlando's Celebration of Harry Potter, image by Dave Parfitt
This was the family's first visit to Diagon Alley, and, based on the kids' response, Universal Orlando faithfully recreated the Wizarding World described in J.K. Rowling's books. "I felt just like Harry did when he first saw Diagon Alley," Evie said. Maggie (age 18) described her reaction thusly,
We couldn't find it [Diagon Alley] at first. We saw the train station, but kept walking by the entrance. Finally our strategy was to follow everybody in robes, and we saw they were walking through a brick wall. Evie thought I was insane because I was jumping up and down and screaming internally.
While our daughters enjoyed the Celebration of Harry Potter, they really just wanted time to tour the parks. That's where flexibility and freedom came into play. Maggie & Evie were old enough to explore together, and Universal Orlando's parks were the right size we felt comfortable letting them go. Everyone could do their own thing: Mom relaxed at the hotel by the pool, Dad attended the Expo and panel discussions, and our girls roamed.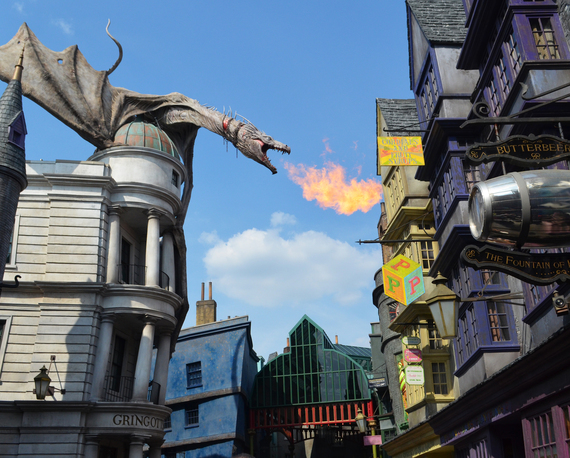 Universal Orlando's Wizarding World of Harry Potter - Diagon Alley, image by Dave Parfitt
Because the kids couldn't wait for the film star panel discussion, they armed me with questions if I had the opportunity to ask. Maggie wanted to know about Evanna Lynch's (Luna Lovegood) cat L'il Puff (must be a teen thing). Evie was curious what other character (besides their own) each of the stars, wanted to play in the Harry Potter films. I got my chance, and stars graciously answered my daughters' questions to the girl's delight.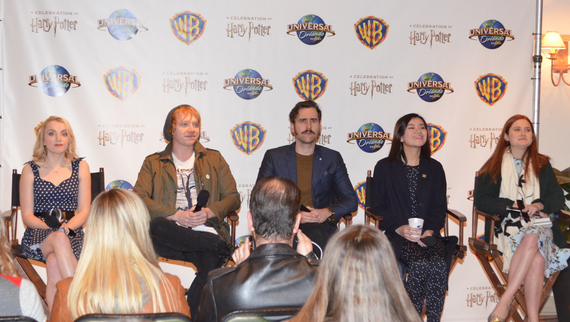 (L-R) Harry Potter film stars Evanna Lynch, Rupert Grint (Ron Weasley), Matthew Lewis (Neville Longbottom), Katie Leung (Cho Chang), and Bonnie Wright (Ginny Weasley) at Universal Orlando's Celebration of Harry Potter, image by Dave Parfitt
Eventually we met back up at the Celebration of Harry Potter Expo to get sorted into Hogwarts Houses. "I was nervous," said Maggie, "I'm very attached to my house and didn't want the Sorting Hat to tell me I wasn't in Ravenclaw." However, the #1 absolute best part of the Celebration of Harry Potter? Discovering Alan Gilmore, Supervising Art Director for the Harry Potter films and Production Design Consultant for Universal's Wizarding Worlds, in our cabin on the Hogwarts Express. I told him I admired his work, and introduced him to my daughters. Alan Gilmore could not have been more welcoming, and then took us on a personal tour of the hidden details in King's Cross Station as well as the London section of Diagon Alley. A wonderful parent child moment equally appreciated and shared together.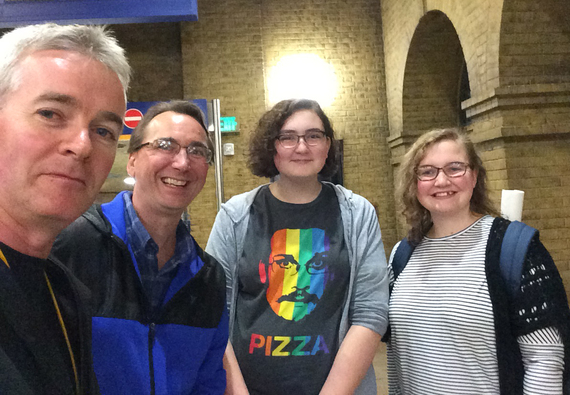 (L-R) Alan Gilmore, Dave, Evie, and Maggie Parfitt, image provided by Dave Parfitt
The secret to this trip's success was discovering our family's common interest and a destination with something for everyone. The entire family has shared in the love of Harry Potter, reading the books together as a family since our children were born and eagerly anticipating each successive novel. Everyone was excited to be immersed in Universal Orlando's Wizarding World together, but the resort offered enough opportunities for everyone to find their space. "I liked going to the parks together," said Evie, "but I loved going with just my sister, making our own choices, and doing our own things." And from this parent's point of view, we loved letting the kids be independent and hearing about their adventures when we got back together as a family.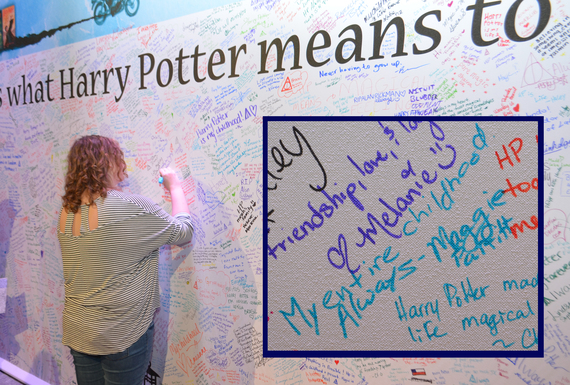 Maggie Parfitt shares what Harry Potter means to her at Universal Orlando's Celebration of Harry Potter, image by Dave Parfitt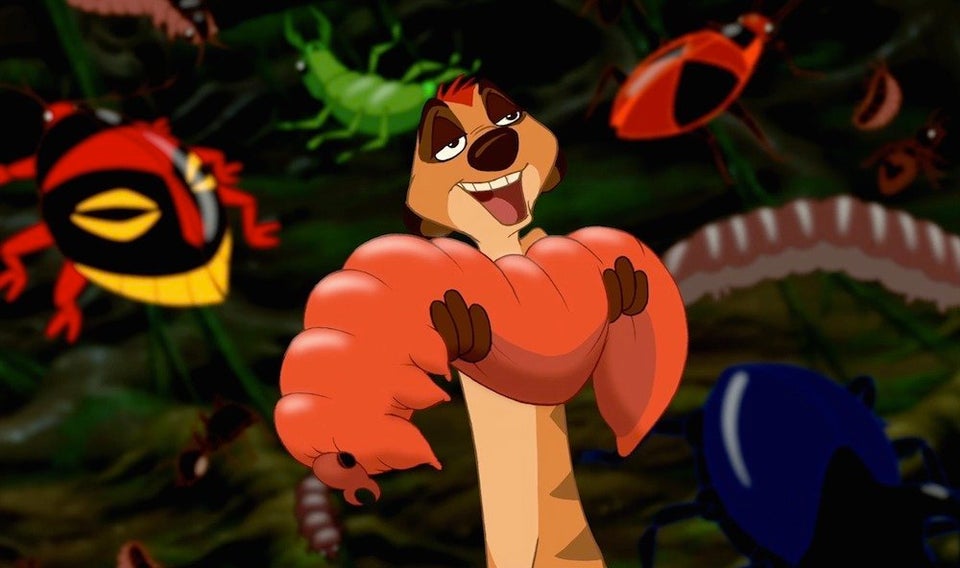 Disney's Hidden Mickeys