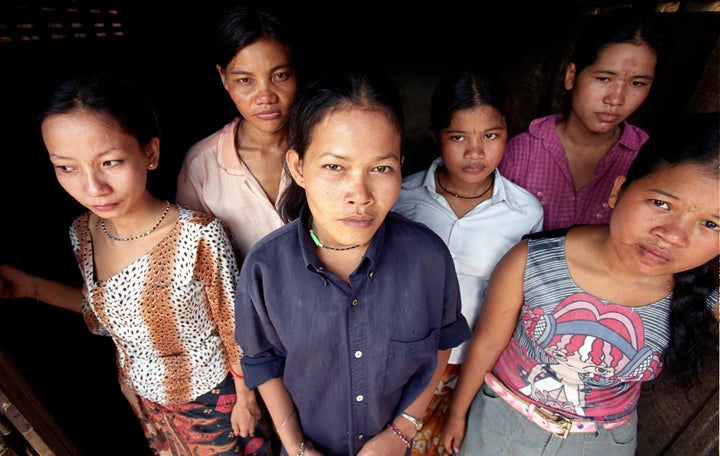 The hospitality industry is increasingly making things decidedly inhospitable for a certain kind of person: human traffickers.

Hotels, airlines and other travel-related companies are in a position to combat these criminals where they tend to operate. Whether transporting enslaved domestic workers into the country on a plane or pimping girls out in hotel lobbies, a portion of a trafficker's activity often happens in plain sight. Even though the very nature of human trafficking is covert, well-trained employees at committed, responsible companies can spot suspicious behavior and act.

"The lodging industry, while not responsible for these crimes, is well positioned to help prevent human trafficking by taking steps to stop the use of their hotels for these purposes," according to Marilyn Carlson Nelson, Chair of Carlson Companies which owns Radisson Hotels, and Country Inns and Suites among other companies. She has been a pioneer in her industry, leading her company to be the first to sign The Code of Conduct, a commitment to protect children from sexual exploitation in travel and tourism.

Signers to The Code agree to educate their customers, include a clause in contracts with suppliers repudiating exploitation, establish a clear company policy, and train their staff to be skilled in identifying potential red flags and knowing how to respond.

Travel-related companies are offering other kinds of help in combating the problem, too. Windham Hotels and Choice Hotels, for example, provide an account of hotel points to the anti-trafficking organization Polaris Project to use for emergency shelter for victims of trafficking.

Trafficking is modern day slavery. Its victims are trapped into performing sex acts or labor through threats of violence, fraud or coercion. According to the United Nations, 12.3 million people live in modern day slavery today - more than at the height of the trans-Atlantic slave trade. 80 percent of the victims are women and children and though trafficking may commonly be though of as an overseas problem, estimates are that hundreds of thousands of them are victimized in the United States.

"It runs the gamut from a large organized criminal network that's highly sophisticated all the way down to the individual pimp in the neighborhood," says Sarah Jakiel, Associate Director of Polaris Project. "The issue is much, much larger than anyone would guess."

Polaris, founded by Ashoka Fellow Derek Ellerman, runs a toll-free 24-hour hotline, The National Human Trafficking Resource Center (NHTRC), which receives about 1,300 calls a month. Among those calling in are bellhops, concierges and housekeeping staff, and flight attendants who think they may be witnessing human traffickers in action or have identified a possible victim. Depending on the details of the situation, a trained operator can supply information, notify law enforcement, provide legal and housing referrals and more.

Jakiel says the problem of human trafficking is growing even as awareness among the public is too. Yet while many travel industry employees certainly spot possible traffickers and their victims, not enough know exactly what to do next.

Jakiel says a veteran flight attendant has told her "many flight attendants can look back on their tenure and recall dozens of instances where their instincts told them something was wrong." Unlike when possible terrorist-related activity is occurring in flight, there is no clear protocol for airline staff to respond to and report a suspected trafficking situation. Jakiel would like to get airlines and agencies such as the Federal Aviation Administration and Customs and Border Protection together to create a policy that would help enable flight attendants, pilots, and others working in transportation to respond immediately and effectively. "The question is," she says, "how can we better address what we know to be happening on these flights both coming into the US and internally?"

And for all the potential the travel industry has to be the eyes and ears for identifying trafficking in progress, it has a long way to go in committing to reaching that potential. Though 1,000 companies around the world are signatories to The Code, only a paltry four are U.S.-based.

Carlson Companies led the way in 2004 and in 2009 Global Exchange, which runs international tours, signed on too. Earlier this year two more big companies signed on: Hilton Hotels and Delta Airlines. Carol Smolenski, Executive Director of ECPAT-USA (End Child Prostitution, Child Pornography and Trafficking of Children for Sexual Purposes), which created The Code, praises these companies, noting that Delta responded positively to Carlson Chair Nelson's powers of persuasion and the example her company had set, and Hilton's executives reacted to a vigorous online petition (demanding Hilton adopt The Code) by embracing the opportunity. The Millennium Hotel in St. Louis will soon sign up, too.

Unfortunately, this kind of corporate leadership on the issue is all too rare. "U.S. companies very, very much do not want to sign the Code of Conduct," laments Smolenski. "They don't want to be associated with an ugly subject and they're afraid that if they sign it then they are more liable for something happening on their premises than if they don't sign it."

"What's astonishing to me is that we have information about child sexual exploitation taking place at hotels all over the country. We have it because it's in the newspapers, in transcripts of trials, and press releases from the US attorney's offices. And we know the addresses of the hotels are out there," Smolenski explains. "I don't understand why the companies are not worried about their reputations when their name is in the paper as a site for a pimp having rented a room and running his girls out of it." Beside, she notes, if criminal activity is taking place on their property, adhering to The Code would not be the reason hotels would face legal complications. "Aren't they already liable?" she asks.

With the summer travel season underway, ordinary passengers and hotel guests can play a part in combating human trafficking, too. We can support the businesses in the US and abroad that have committed to The Code. We can ask the others we patronize to sign on.

We can also choose to travel with outfits that have human rights and social responsibility as part of their core mission, such as Gap Adventures. "As an international organization, Gap Adventures understands the responsibility to respect and protect the communities we work with," says Gap Adventures founder Bruce Poon Tip. In Cambodia, for example, Gap works with ECPAT and Childsafe Cambodia to train their tour leaders and offer opportunities for their clients to learn how to combat and prevent the human trafficking and sex tourism that plagues the region.

Anyone interested learning more about the issue or what kinds of circumstances suggest human trafficking might be happening can call the hotline at 1-888-373-7888.

The Code was a winner in Ashoka's Changemakers 2008 competition called Ending Global Slavery: Everyday Heroes Leading the Way. Ultimately, if more and more employees of travel companies become trained in how to deal with potential trafficking situations and their customers know what to look for and how to report it, we can all become the everyday heroes helping to end this horrific, shameful 21st century slavery.
REAL LIFE. REAL NEWS. REAL VOICES.
Help us tell more of the stories that matter from voices that too often remain unheard.