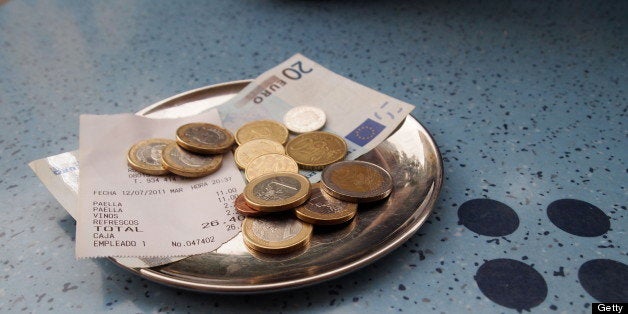 Globetrotters take note: According to the Global Business and Travel Association, international business travel spending is expected to rise 5.9 percent this year, so knowing how to be a savvy traveler is more important than ever. When it comes to handing out gratuities abroad, customs vary dramatically between cultures. Here's some advice to help you avoid being labeled the "Ugly American."
I reached out to two experts who know their way around the world, Peter Greenberg, Travel Editor for CBS News, and Doug Stallings, Editor at Fodor's Travel, for suggestions for some of the most popular business travel destinations. "In many countries, Americans are expected to tip to American standards whether or not the local population tips as much or at all, but there are certainly exceptions," says Stallings. "In almost all cases, an American should tip in local currency; tipping in U.S. dollars puts the added burden of requiring the person tipped to exchange the money and usually results in a loss of value on the exchange; and in most countries outside the U.S., restaurant tips are left in cash and not added to credit card bills."
"The first thing to remember is that throughout much of Europe, tipping is not automatic or even necessarily expected," advises Greenberg. "In a nice restaurant, give 5-10 percent, but make sure that a gratuity hasn't already been added to the bill, especially in the touristy restaurants. One or two euros per bag for porters and per day for maids is appropriate." And as a side note, Greenberg suggests to always tip the maids nightly instead of at the end of the stay. "You'll get much better service!"
When in London, Stalling advises to "Tip anywhere you would tip in the U.S. but at a lower level. However, tip only in restaurants that do not have a service charge added to the bill, and never tip a bartender in a pub." He also adds some advice about Rome, "Restaurants include service, so the most you would ever add might be 5 percent (and Romans rarely tip even that). Tip hotel service staff in hotels as you would in the U.S., and round up other bills (taxis, bar tabs, etc.) to the nearest euro or convenient amount. Do tip tour guides, but on the low end.
"Tipping is not the custom in countries like Japan and Korea. It's less frowned-upon in China, but keep in mind that you may already be paying higher prices as a foreigner, so tipping is not required," says Greenberg. "Do consider it in upscale, urban restaurants and spas in the major tourist zones of cities like Shenzhen. In Hong Kong you may see an additional 10 percent added to your bill, and no one will complain if you round up for taxi drivers," Greenberg adds.
"You simply don't tip in Japan," Stallings warns. "In most cases, it is not only not expected, but it is considered rude. The one exception would be a chauffeur hired by the day can be given 500 yen for a half-day, 1,000 for a full-day. If a hotel employee does a particularly important service for you, you can tip if the money is handed at departure very discreetly in a sealed envelope."
In addition he says, "Tipping is technically forbidden in mainland China, but Americans at big international hotels that cater to them are still expected to tip. Do it discreetly and in cash. You are never expected to tip taxi drivers, waiters in local restaurants, etc. Don't ever tip official government-licensed tour guides or drivers. And tipping is not done in Singapore. It is forbidden at the airport and discouraged by most hotels."

South Asia and the Middle East
"Tipping, or baksheesh, is practically a way of life in countries like India and Egypt. Not only is it expected, but it may be the best guarantee for good service," says Greenberg. "One recent traveler on a guided tour of Morocco complained that tipping all the guides and locals on excursions almost doubled the cost of her trip. Dubai may already charge a service tax to foreigners, so watch out -- otherwise round up or give 5-10 percent." Stallings says that when it comes to tipping in India, expect people to be aggressive in soliciting tips. "If you forget, rest assured that you will be reminded!"
Greenberg advises to check your bill first. "A gratuity may already have been added to the bill. If not, or if you want to add a little more as a thank you, hand the cash directly to the waiter instead of leaving it on the table. At higher-end restaurants in major cities, 15 percent is a generous, but appropriate tip. In more modest places, 10 percent is fine." Stallings weighs in, "In Mexico, you tip for virtually every service unless you are staying at an all-inclusive resort that forbids it, and these are very few in Mexico (ask if you aren't sure). In hotels, tip as you would anywhere else in the world when a service is rendered." He adds "Brazilians don't typically tip in restaurants and bars, where a service charge is often added to the bill. Taxi fares can be rounded up to a convenient amount, and hotel service personnel are tipped just as they are in the U.S."
"Just like the U.S., at least 15 percent at a restaurant is the minimum; better 20 percent in the big cities," says Greenberg.
"Not required, not frowned upon," says Greenberg. "Give 10 percent in a restaurant, round up in taxis and give a couple of dollars to the porter and maid." In Stallings opinion, "Australians simply don't tip and don't really expect it even in restaurants. The sole exceptions are in high-end hotels, where Americans in particular are expected to tip modestly for services like bellmen and in high-end touristy restaurants."
"Tipping is not common practice, and it's never expected, though most people round up bills to the nearest round figure," according to Stallings.
While Stallings advises always tipping in local currency, Greenberg says he likes to go to the bank and withdraw loads of $2 bills before any overseas trip. "They are still legal tender, and become an instant conversation piece when used as tips... and after all, at least for me, the best part of travel can often be the conversations you have with the locals!"
No matter where you're traveling, avoid account disruptions and unauthorized charges on your credit card by providing your credit card company with your plans. If you have a Citi credit card, you can log onto your account and use Citi's Travel Notification service to ensure you have uninterrupted access to your account especially when you're traveling in a foreign country.
Women & Co., a service of Citi, is the go-to personal finance source for women. By providing financial content, commentary and community, Women & Co.'s mission is to get women thinking and talking about personal finance. Founded in 2000, Women & Co. is one of the longest running personal finance websites dedicated to helping women strengthen their financial futures.
Popular in the Community