This article comes to us courtesy of InternationalLiving.com, the world's leading authority on how to live, work, invest, travel, and retire better overseas.
"That will put hairs on your chest, my lover." My lover? I try not to giggle -- Doom Bar ale is too good to spill. I'm in Padstow, a Cornish harbor town in England's far southwest. Today's refreshment stop is the Golden Lion, a 14th-century tavern packed with ancient mariners. Sporting a jaunty gold earring, this unknown lover-man looks like he's been a regular for at least 100 years. Along with theatrical seascapes, Cornwall specializes in quirky dialect. "Emmets" are tourists and an "oggy" is a Cornish pasty -- a belt-straining mix of beef, potatoes, swede and onion inside a pastry case. And it's not the first time I've heard "my lover" on this trip. Especially among older locals, it's used to address strangers as well as each other. It doesn't matter what gender you are -- or they are. Rather than an overly friendly invitation, it's a normal greeting.
Awash in tales of smugglers and wreckers, Cornwall is a favorite with UK vacationers. A peninsula jutting into the Atlantic, its coastline of bays, inlets, cliffs, coves and golden beaches covers almost 300 miles. Inland, a maze of lanes leads to lost-in-time villages anchored by squat granite churches and complete with inns, beer gardens and home-made pub grub such as fish pie and steak-and-kidney pudding.
Much of the coastline is part of the South West Coast Path -- at 630 miles, the UK's longest hiking path. For many ramblers, Cornwall's most dramatic stretch is between Padstow and St Ives on the north coast. The route passes by Iron Age hill forts, abandoned tin mines, sea caves, holy wells and smugglers' coves. Along with myriad seabirds, it's one of the best places to spot creatures of the deep. Dolphins, seals, porpoises, and basking sharks are no strangers to Cornish waters.
I visited in early May. The sea sparkles in Mediterranean shades of blue and turquoise, coastal paths are pink with sea thrift, and the moors are carpeted in heather. Primroses, frothy white angelica, and gaudy yellow gorse smother the narrow country lanes.
Cornwall's appeal doesn't fade in winter. Sub-tropical gardens flourish in the mild Gulf Stream climate, and daffodils often bloom at Christmas. Surfers ride the waves off Newquay's Fistral Beach all year round. With a resident population of around 22,000 that increases to 100,000 in summer, Newquay is the country's undisputed surfing capital as well as a major vacation resort.
Many tourist attractions stay open all year, too. They include the Eden Project, the world's largest indoor rainforest, and the Lost Gardens of Heligan -- one of the most intriguing estates in England with a historic collection of plants. And though winter opening hours are restricted to weekends, Grail Trail followers don't have to miss out on Tintagel Castle -- reputed birthplace of King Arthur of Round Table fame.
Cornwall belongs to Europe's "Celtic fringe." Like Wales, it has bards. Like Ireland, it has prehistoric dolmens and stone circles. Undergoing a revival in recent years, the Cornish language shares many similarities with Breton, the language of Brittany in northern France. This Celtic past gives it a split personality. On the one hand there's the Cornwall of cream teas, surfers and boat trips... the tourist highlights of Land's End and St. Michael's Mount, a castle-topped rock reached by a causeway. Then there's Kernow, the county's Cornish language name: a secretive land steeped in fairy lore and eccentric traditions.
Some traditions are extremely ancient. I visited Padstow on 'Obby 'Oss Day, May 1. Rooted in the pagan fertility rites of Beltane, Celtic May Day, it's one of the UK's strangest celebrations. The town puts up a Maypole, adorns its streets with flags and spring flowers, and lets loose a red and a blue 'Obby 'Oss -- dialect for a hobby horse.
Representing stallions, the 'osses are masked men. Each wears a huge circular frame draped in black cloth. Accompanied by musicians, they cavort around town, trying to capture young women to draw inside the cape-like structure. If you're of childbearing age, don't get too close. Should an 'oss catch you, superstition says you'll be pregnant within the year.
With sandy beaches, clifftop walks and countryside cycling trails, Padstow is as enjoyable outside of May Day. A jumble of pastel-colored cottages and cobbled streets, it's among Cornwall's most charming fishing ports. Plus it's on the gastronomic map thanks to Rick Stein, a TV chef who has a number of businesses here. However, few locals pay over $13 for fish and chips from a celebrity-branded takeaway. I can't fault Chip Ahoy on Broad Street -- it serves freshly-battered cod or haddock for half the price.
Three More Cornish Favorites
St Ives: Historic buildings, a harbor, beaches, surfing and art, too -- St Ives is home to a branch of the Tate Gallery and the Barbara Hepworth Sculpture Garden. After 19th-century painters such as Turner and Whistler were drawn here by the piercingly bright light, the town gained an arty reputation. The spider web streets behind the harbor are home to an astounding number of galleries and studios. There's an equally astounding choice of places to eat: pasty shops, fish-and-chip shops, pub grub, vegetarian cafés and seafood restaurants.
St Agnes: St Agnes' history is one of mining, but don't picture industrial dreariness -- "Aggie" is lovely. Walking down from the church, you pass a steep lane called the Stippy-Stappy along which the 18th century cottages are of the picture-postcard variety. Enticing inns include the Driftwood Spars (the crab linguini is delectable), which has its own brewery. Bolster's Blood ale is named after a giant who terrorized the parish until St Agnes slew him. With music and pageantry, May's Bolster festival recreates the story.
Along with classic mining landscapes, the coastal path hereabouts delivers giddying views down to Trevaunance Cove and Perranporth's golden sands, a favorite with kite-surfers. And don't miss Chapel Porth Beach with its caves, rock pools and National Trust café--a renowned spot to eat hedgehogs. Don't be alarmed. "Hedgehogs" are Cornish ice cream encased in clotted cream spiked with crushed hazelnuts.
Bodmin Moor: For a short ramble, head to Minions village. You should spot some of the moor's wild ponies, and it's no distance to the Hurlers Stone Circles. Said to emit earth energy, these three Bronze Age circles gave rise to a legend which claims they are men turned to stone for playing Cornish hurling on Sunday. It's just over a mile from the circles to the Cheesewring, an outcrop resembling a giant's pile of granite pancakes.
I spent a night on Bodmin moor at the Jamaica Inn. Lending its name to Daphne du Maurier's novel of smuggling and murder, this former coaching inn dates from 1750. I never encountered any of its 15 ghosts, but it lays claim to being one of England's most haunted pubs.
Near Bodmin Moor, St. Neot village has a holy well with a bizarre tale. Allegedly only 15 inches high, St. Neot spent his days praying in the well, up to his neck in water. The church's stained glass windows tell the story of how he miraculously brought fish back to life.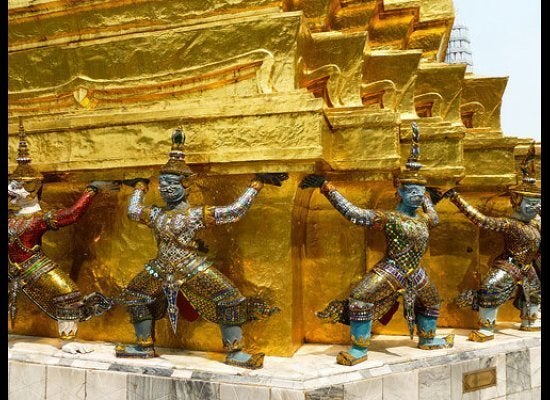 The Worlds Best Retirement Havens 2014 from InternationalLiving.com
Related
Popular in the Community