 Finally, the election is over and we can turn to something we can all agree on: food, glorious food.
A truly delicious meal can bring nearly anyone together; it can reach across the aisles of political parties, religions, even generations, delighting taste buds and conjuring warm, fuzzy feelings. I should know. Food was the key to my survival on a recent road trip through Ireland with my 14-year-old son and 70-something mother.
We met my mother in Boston, which turned out to be a great way to break up the trip up: LAX to Boston, then a quick flight from Boston to Shannon the next day.
Traveling with multiple generations is tricky. There are different interests, different schedules, and different paces. I was prepared to walk more slowly, listen to Bing Crosby and Wiz Khalifa and, of course, wait for my turn in the bathroom. But everyone has to eat, and it was there that we found common ground.
In Boston, we discovered Asana at the chic Mandarin Oriental Boston, where we indulged in crispy fried artichokes and sweet roasted scallops with smoky pork belly, along with tender, sweet pan-roasted foie gras with madjool dates prepared by Chef Rachel Klein. My son was wary of his Wagyu burger with a "crispy poached egg on top," and got a shock when the rich, yellow yolk nearly hit him in the eye. Fits of laughter ensued, setting up the mood for our trip.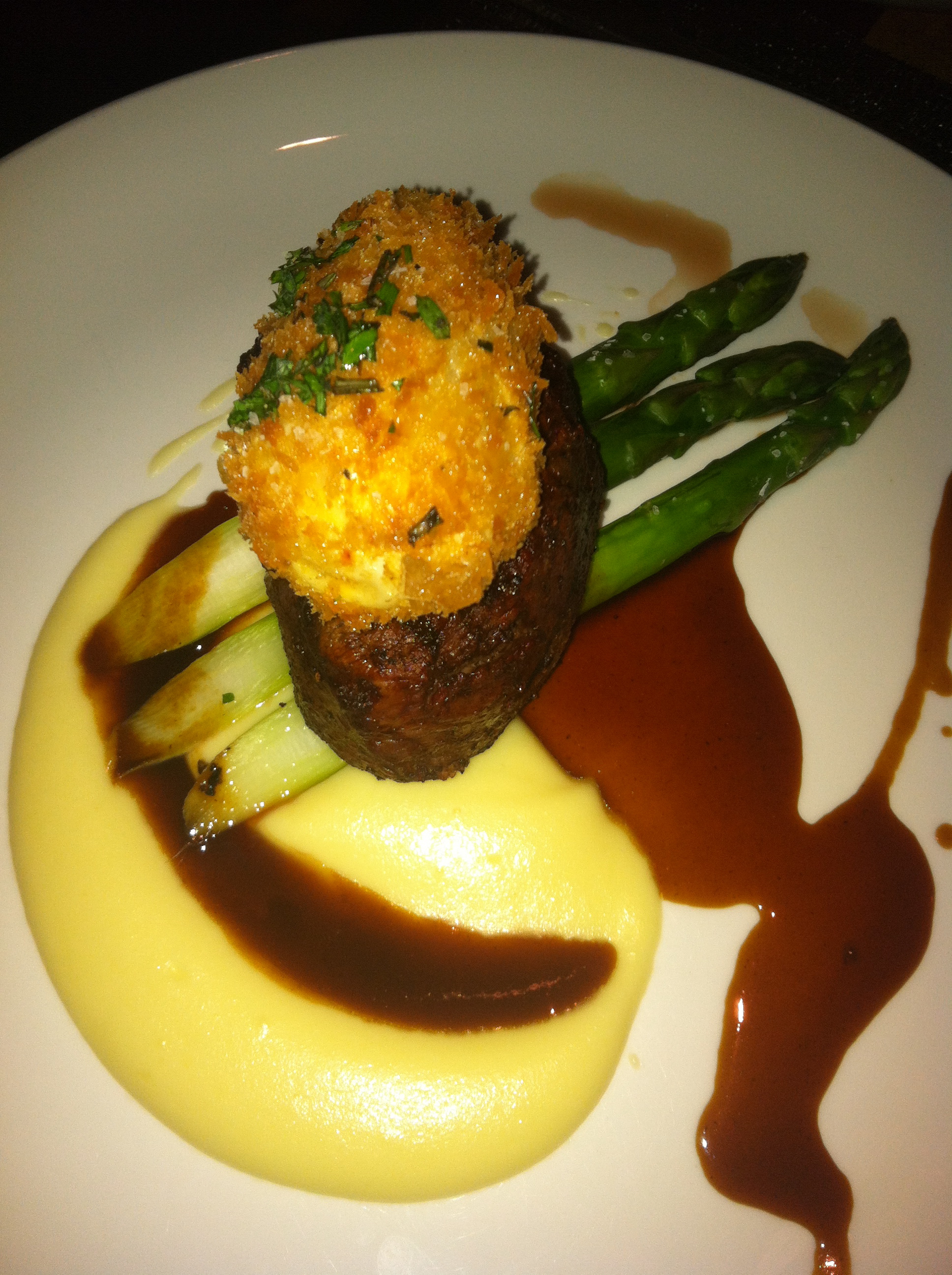 You might think that my first taste of Ireland was fish and chips or Shepherd's Pie, but you would be wrong. It was an airport cappuccino at 5:45 a.m. at the Shannon Airport, right next to the Dan Dooley Car Rental. Within minutes, I was nervously pulling out of the parking lot to these wise words of advice: "Stay left, look right."
Driving is all fine and good until you have to do it on the other side of the road. From the other side of the car. In the rain. After 15 minutes, we were all completely stressed out. "We need to find a place for breakfast," I said, pulling off the highway into the village of Ennis.
My first Irish breakfast was a sunny-side-up egg surrounded by back bacon, bangers (sausages) and black-and-white pudding, which is a mixture of (vegetarians, look away!) pork, oats, fat and, for the black pudding, blood.
I silently judged my son for being a sissy when he ordered pancakes, however, when they showed up, crepe-thin, fluffy and slathered in maple syrup, I begged for a few bites.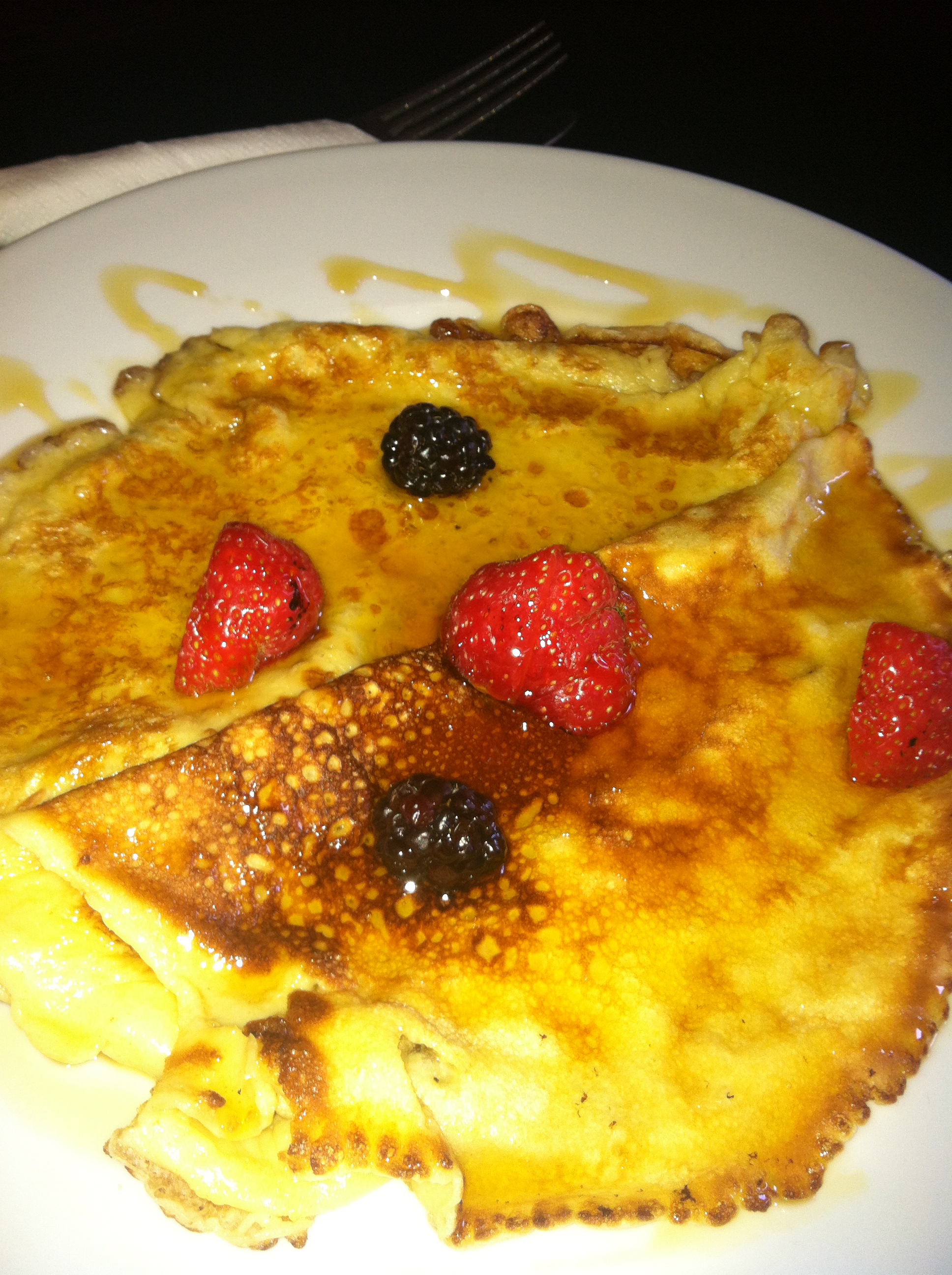 "Coffee with cream" is translated literally: clotted cream, just plopped on top of black coffee. It's good, but is more a dessert than a beverage.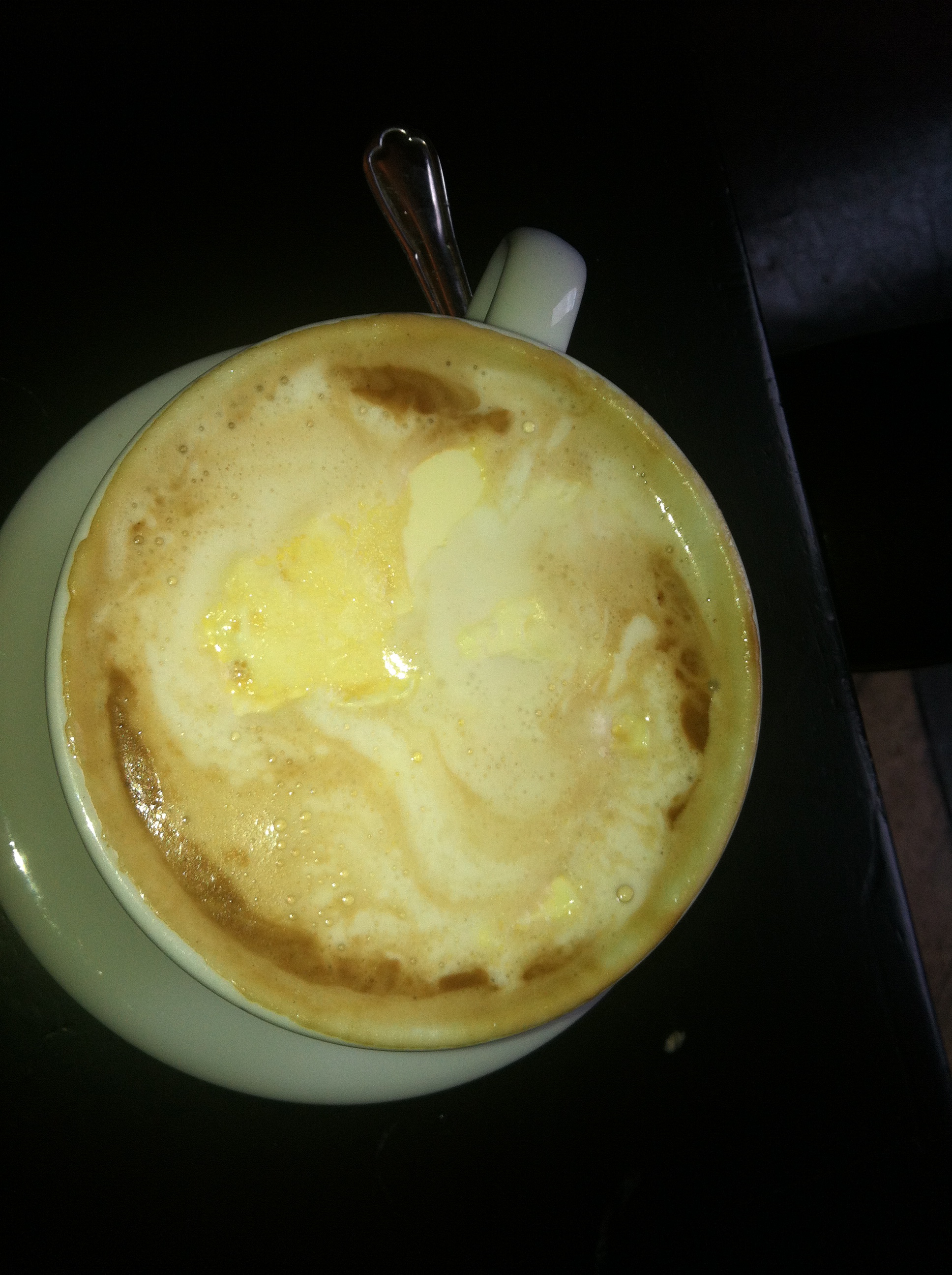 Shored up, we set out on winding roads to the Cliffs of Moher, where we took in nature at its most awe-inspiring.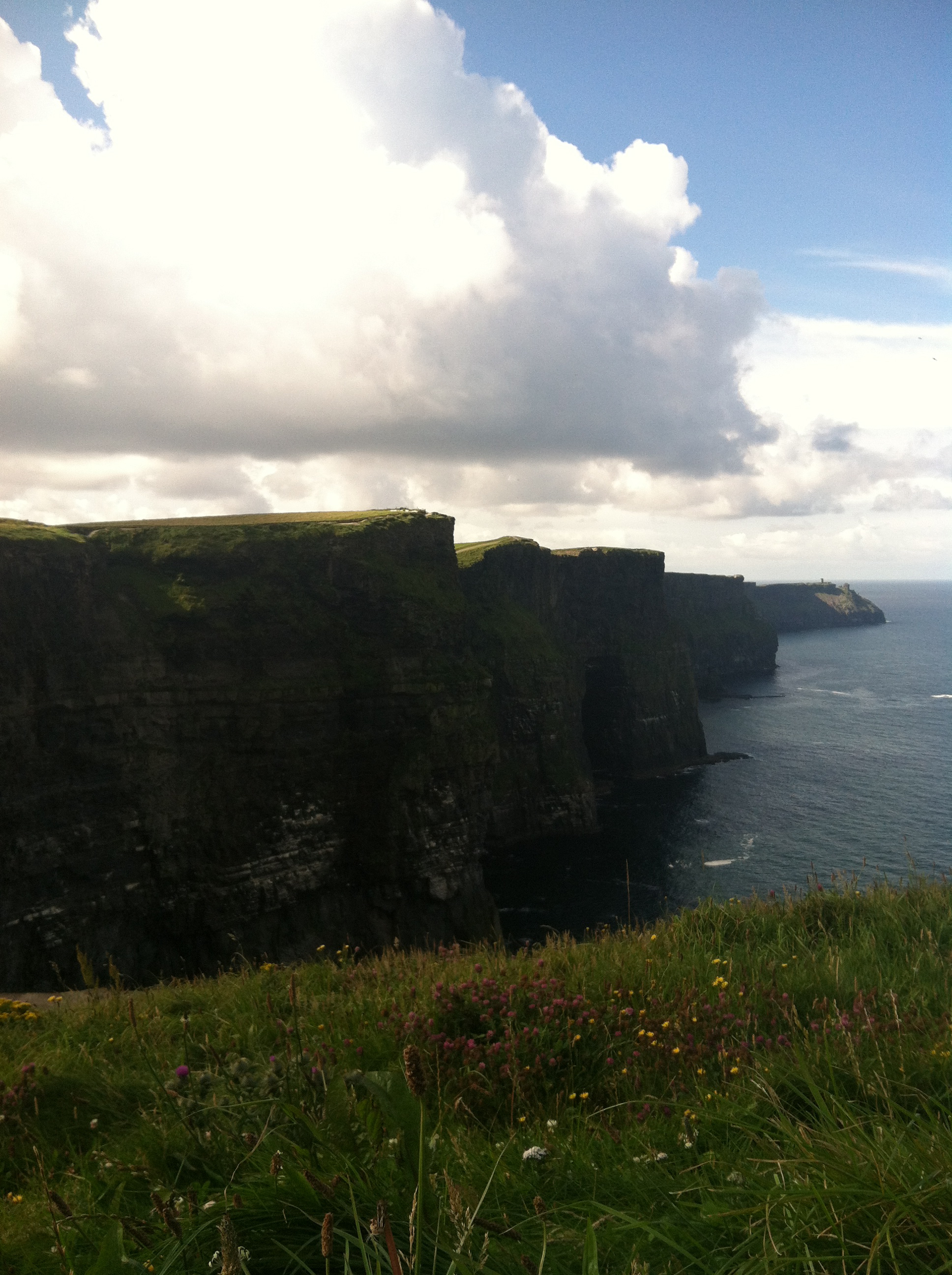 My mom made the short walk to the first viewing point, while my son and I walked so far along the cliffs that we began to see signs that said things like "Need to talk? Call Samaritans." We had no intentions of jumping; after all, we had Clarinbridge oysters to look forward to.
Back to that harrowing road where I saw my life pass before me along with every truck while mom and son got great views of the Burren. "Am I too close to the wall?" I asked repeatedly. "Am I going to hit the hedge?" We couldn't get to Clarinbridge soon enough. Home of the Clarinbridge Oyster Festival, the Galway Bay oysters are insanely fresh, plump, salty and sweet all at once. I felt sorry for my mother and son, who refused to taste them.
At the Abbeyglen Castle in Clifden, County Conmemara, there was a brief squabble over how someone was hogging the bathroom, but dinner and a glass of wine in the lovely, warm dining room erased it all. My Lobster Thermidor was buttery, rich and decadent, and mom's local Connemara lamb was fork-tender. Even my teen went out on a limb and chose the pork belly, which was succulent and flavorful. Finally, there was an obscenely decadent dessert table filled with pies, puddings, fruit tarts, chocolate cake and a fluffy, rum soaked Tiramisu.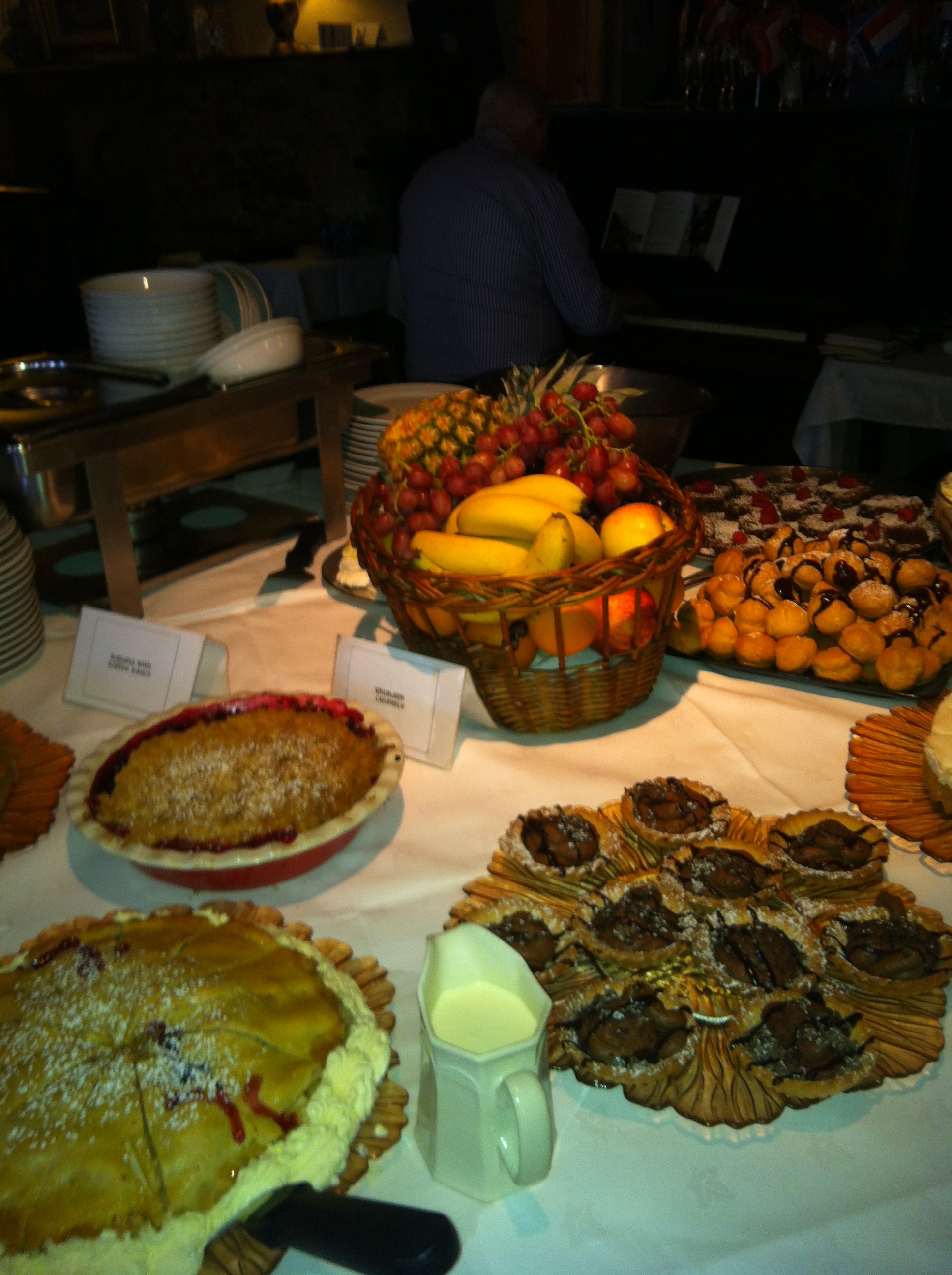 The day was wet as we headed out the next morning to Kylemore Abbey, a romantic castle that a man built for his beloved bride, which later became a Benedictine abbey when nuns fleeing Belgium during World War I took refuge there. The abbey and grounds are spectacular, down to the private chapel and lush, manicured walled garden. The rain made us wet, cold and hungry, which as everyone knows is the perfect excuse to drink piping hot tea with fluffy fruit scones, clotted cream and jam. The pretty, glassed-in tearoom reminded me of a greenhouse -- an excellent place to take in the view of the pouring rain while enjoying scones made from the nuns' own recipe.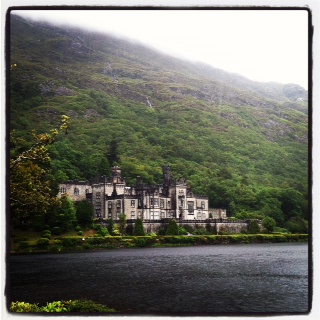 Back out onto the slick roads we went for a blessedly short drive to County Mayo's Ashford Castle, which was straight out of a fairy tale. There was so much to do at this stunning 16th century castle-turned-resort, from golf to equestrian and beyond. In the end we chose to divide and conquer. My mom loved relaxing in our room with its view of the drawbridge, and my son got to experience a hawk take off and land on his hand like a feather at Ireland's School of Falconry. For me, a simple walk in the rain to the stables made my day, as I tried to imagine the generations who had walked before me in this magical place.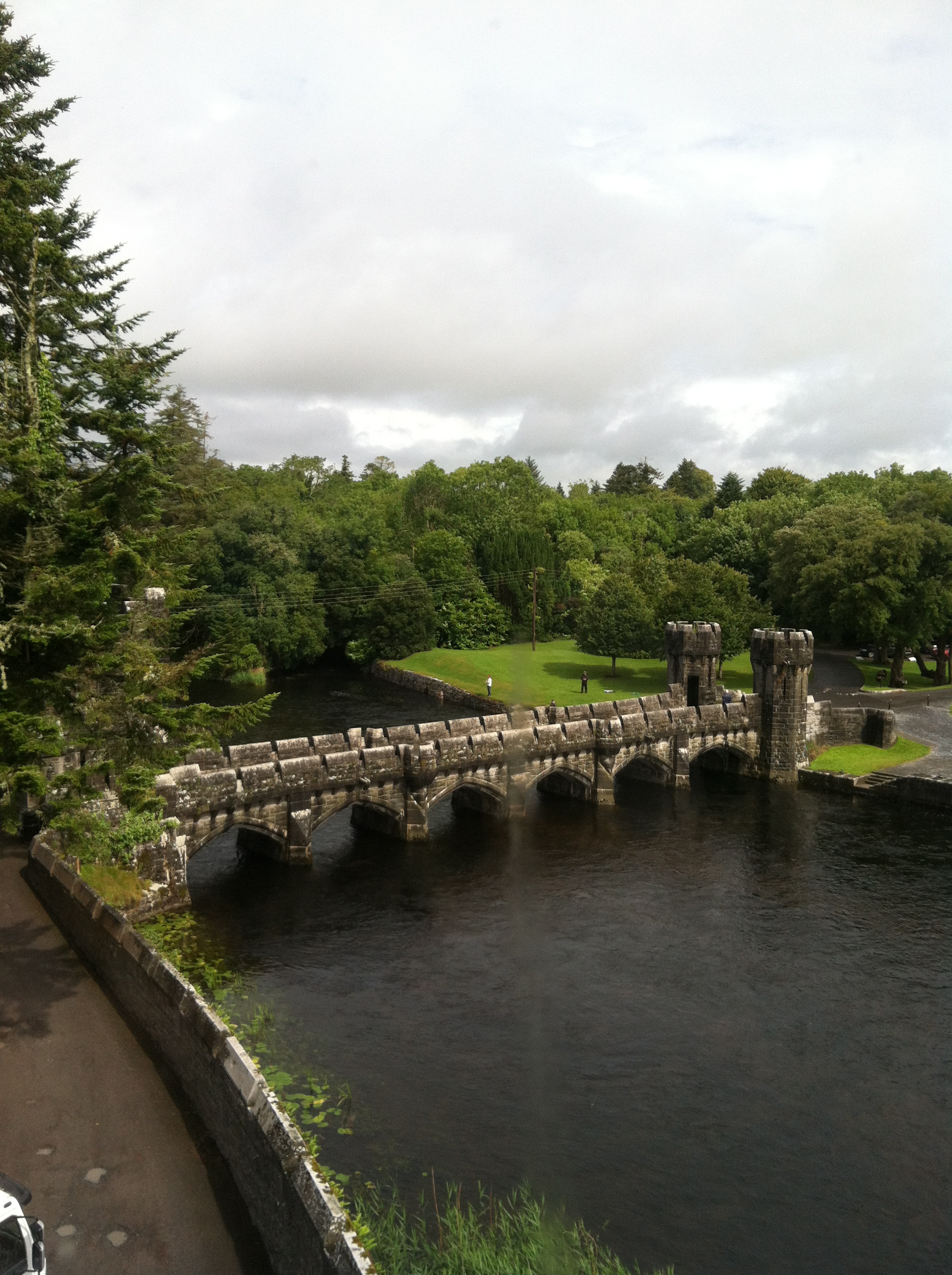 "I didn't know Irish food was so good," my son mused through a mouthful of warm soda bread and creamy Irish butter that evening in Cullen's, the castle's "casual" restaurant. Indeed, it had never been a destination I equated with fine cuisine, but clearly I was wrong, or at least tonight, amidst Galway mussels in a wine and pesto broth followed by crisp, beer-battered fish and chips.
We did have one disagreement -- over dessert. My mother, who has what I call a little "chocolate problem," insulted the innocent fruit dessert they brought her, and a family argument nearly ensued until we realized that we didn't actually have to share -- we could each get our own dessert. Sure, we gained a pound or two that night, but at least we averted disaster.
Next up: Westport in County Mayo, a bustling village known for its traditional live music. But wait... Matt Malloy's doesn't serve food -- so a quick stop at the West Bar and Restaurant for their signature seafood casserole ensued. In case you don't know what seafood casserole is, imagine this: lobster, scallops and local cod swimming in cream, topped by buttery breadcrumbs. Washed down with yet another pint of Guinness, of course. My pants were getting tight, but we were getting along so well, did it matter?
One of the coolest things about Ireland is that children are welcome in pubs, so everyone gets to experience the local music scene.
We made friends quickly in crowded Matt Malloy's, and were soon singing along with other patrons, tapping our feet to the rhythm of the fiddle. Just a short walk away was our hotel, The Westport Plaza, where a leprechaun had obviously left chocolates on our nightstand.
On to Dublin for one last day and night, and so far, so good in the tri-generational relations department. No family blowouts, yet. Okay, sure, we'd had a few skirmishes over the bathroom and the radio... and there was that one time I got really cranky after being up all night listening to synchronized snoring. But, for the most part, we were doing well. I turned in the rental car early, eager to let someone else do the driving.
We fell in love with the Shelbourne Dublin, a historic luxury hotel on the edge of St. Steven's Green, in which the Irish Constitution was signed. In fact, our dashing doorman Tom, dressed in tails and top hat, gave us a tour of everything from the elegant dining room to the Constitution Room, winning my mom over with his charming Irish manners and accent.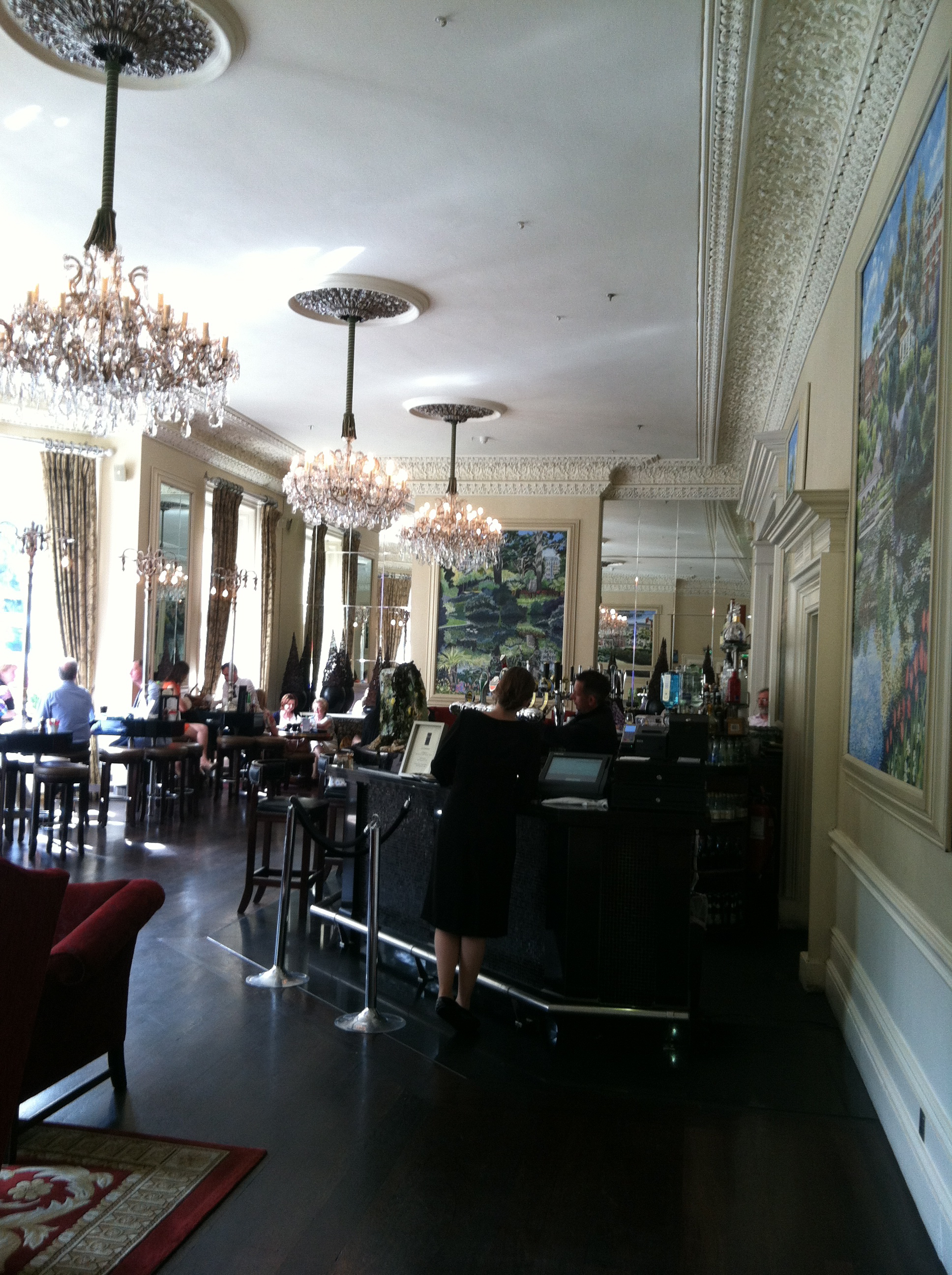 After a brief negotiation, we headed out to Grafton Street, where I refused to purchase my son anything that he could buy in a mall in America. A teenaged tantrum began to brew, and my mother made it known that she was done with our walk. "How much farther is Dublin Castle?" she asked in that tone I know so well. My serenity threatened, I conceded and hailed a cab to send her back to the hotel for a rest. Sometimes you have to know when to fold 'em.
That night, our last in Ireland, we dined at Patrick Guilbaud, the only two Michelin-star restaurant in the country. The restaurant is decidedly fancy, with its white tablecloths and polished silver domes covering dishes like lobster "ravioli," semolina pasta swirled with freshly poached, buttery lobster and Irish beef topped with foie gras, but there is also something quite sweet about it -- namely, the staff. Long-time manager Stéphane Robin is a more handsome version of Robert De Niro, and softer-spoken. While my son might have been bored with this place, we were saved by his visits and stories, such as how he once tried to impress Princess Grace by serving a flambéed pineapple, ultimately catching the tablecloth on fire.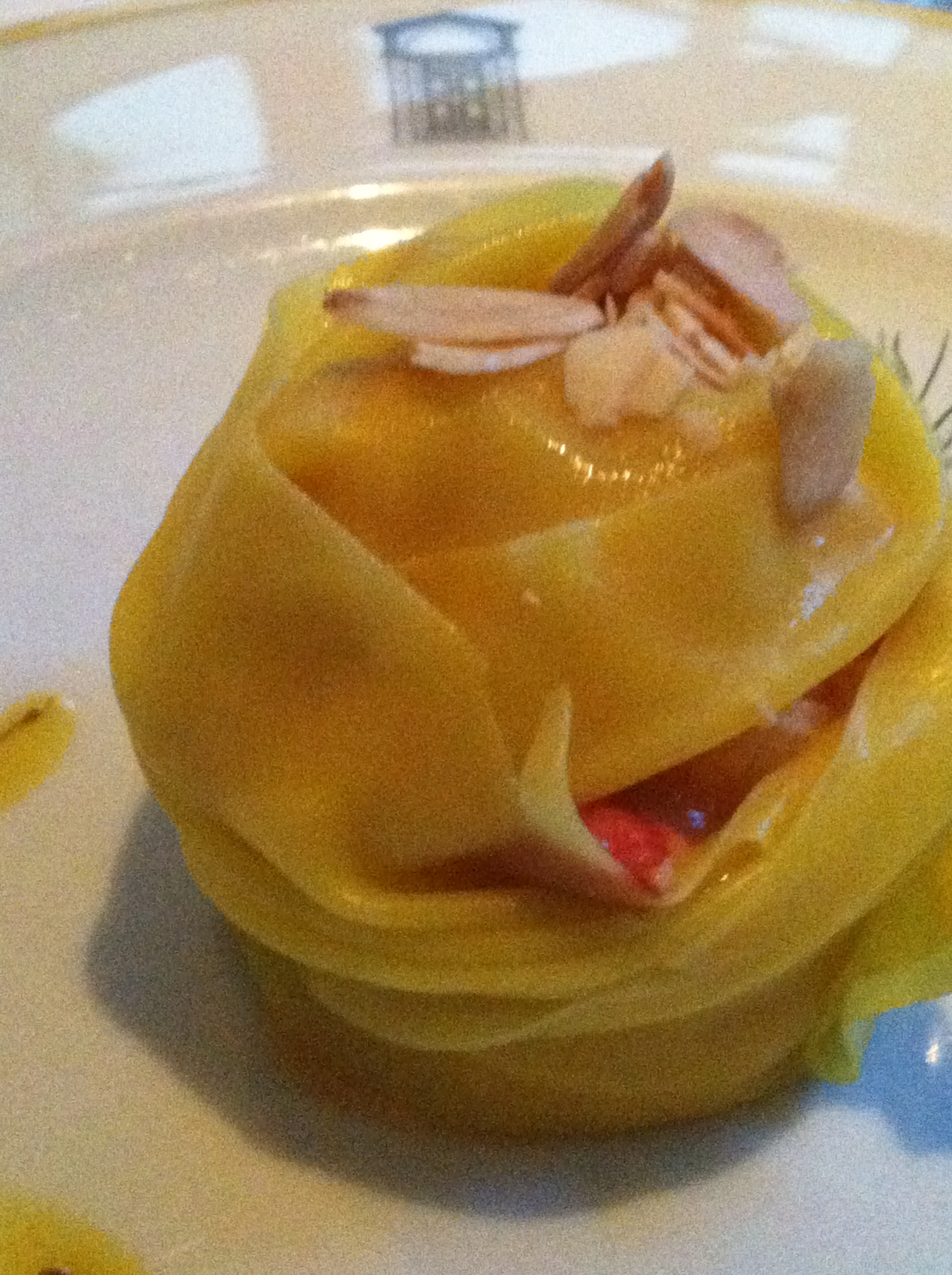 The food was divine, as one might expect, but it wasn't the food so much as breaking bread together that mattered. What mattered most was looking across the table at the two people I love most in the world, laughing, and knowing that these were memories we would have forever. Who cared that we had all gained five pounds on this trip? We had survived.