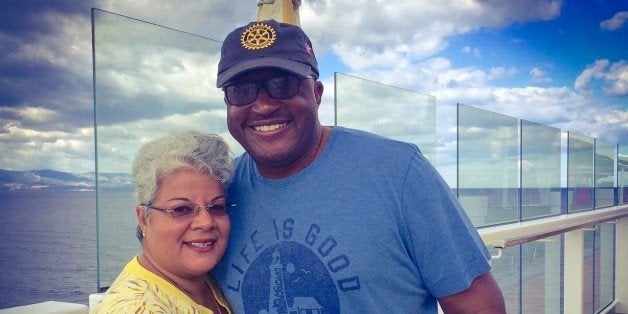 In mid-September I took my first trip to Europe. My wife and I of 32 years took our dream vacation. I studied architecture in college and always dreamed of going to Europe. I always wanted to see the buildings I studied and daydreamed about in school.
I am 58-years-old and a successful businessman, and I am also childhood sexual abuse survivor. I suffer from panic attacks and PTSD from this childhood trauma. I had buried this until I was 36-years-old and told my wife in 1992. That is when my panic attacks and PTSD raised it ugly head in my life. This is when my life changed and the journey of healing started taking place. It has been a long 22 years since I first told my wife in 1992. Over the years I always found a reason not to go to Europe. I had developed imaginary fears from my panic attacks and PTSD about going that far away from home.
In 2005 when our last child left for college my wife and I nicknamed ourselves the happy empty-nesters. We would pick a place in the USA and roam that part of the country for 7 to 10 days and not know where we would eat or sleep daily. We would talk to locals and just go with the flow of our journey. We had a blast, saw some incredible places and meet some really nice people on our travels, but something was still missing for me. I still was ready to get home to my safety zone from the compulsive worrying that comes from PTSD and panic attacks. Even though I was enjoying each adventure, I would still spend a lot of time worrying about will I ever get over the thought of having panic attacks and how my innocence was taken from me as a kid by a male babysitter. I hadn't had a full blown panic attack since 1994, but the fear that comes from them and PTSD just can take over your thoughts, just worrying will you have another panic attack in front of people.
I began to notice when I traveled, especially places in nature, a calm would come over me. I got into hiking and cycling inspired by my travels as the empty nesters. In 2012 two major things happen in my life, I started a blog where I share my journey of healing from my childhood sexual abuse. I realized we not only survive but can thrive, and I wanted others to experience the joy of healing from any childhood trauma.
Also in 2012, I took my first 5 day cycling adventure in Sonoma, California. That trip was a turning point -- along with my blog -- in seeing how could I heal and help others heal. On day 2 of my cycling trip I took a spill over my handle bars and got 6 stitches over my eye. I was wearing my helmet. Fortunately my wife is a retired RN and gave quick medical attention. She drove a vehicle along the cycling routes each day. The next morning I was out riding and completed all five days of the trip. Even all banged up from my bike accident, I felt the healing powers of traveling and being outdoors in nature. I knew two things: I was going to overcome my imaginary fear of going to Europe, and traveling was healing for me.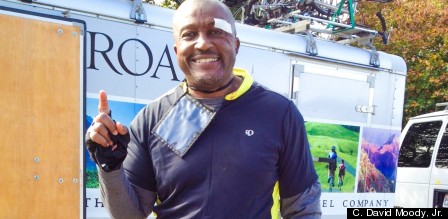 Post bike accident.
In 2013 I bought two tickets to Europe at an auction to benefit an agency that helps children of physical and sexual abuse. I had a year to use the tickets or lose them. Finally late summer of 2014 I had no more excuses -- the tickets were about to expire. I called a friend with a travel agency and asked to be booked a trip on a Mediterranean cruise with some time in Spain right after.
The time had finally come and those 18 days in Europe became the trip that changed my life.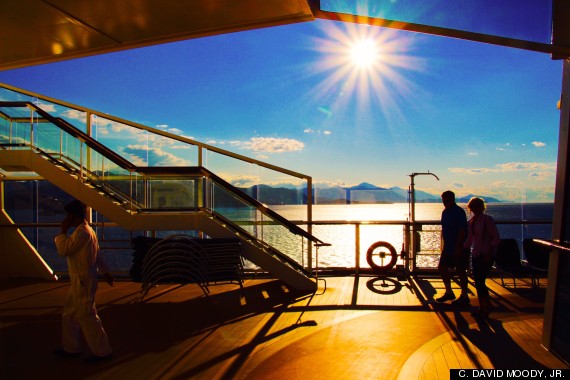 The trip was everything I ever dreamed it would be from my college studies. I saw the greatest sunsets and sunrises daily. I would stand and sometimes just sit for hours and marvel and ask myself, how did they build these 1000- year-old structures without tower cranes, concrete trucks, electricity, any other modern day construction equipment? But most of all -- I never once worried about panic attacks. I wasn't worrying about the past. I felt so free and at peace. I was not ready to come home. I wanted to keep traveling. I now know complete healing and internal peace is possible. I realized traveling and my camera were healing instruments.
Now to keep enjoying the journey of life and find a new adventure.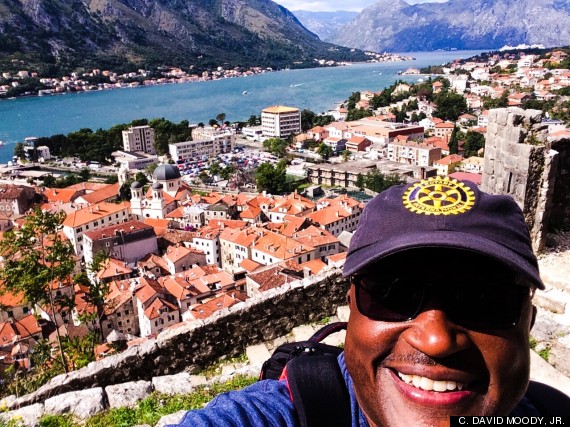 Had an unforgettable travel experience that changed the way you look at the world? Tell us your story! Submit your 500 - 800 word blogpost to travel-next@huffingtonpost.com.
Related