Isn't amazing how much things have changed over the past few years?
Before the boom in mobile technically, there wouldn't be kids sitting at a restaurant attached to their iPads or of a herd of teens at the local park glued to their smartphones trying to catch some Pokemon.
Seems like that time can be better spent on elsewhere ... like in a book, especially when 80 percent of low-income fourth graders are not proficient in reading and neither are 66 percent of all fourth graders, according to the Annie E. Casey Foundation. The inability to read has been associated with a greater likelihood of students dropping out of high school - according to the New York Times, children who aren't reading proficiently by fourth grade are four times more likely to drop out. When poverty is a factor, the student is 13 times more likely to drop out, reports AdWeek.
Emily Moberly, founder and executive director of Traveling Stories, a San Diego based nonprofit that helps kids fall in love with reading recognized the statistics and hopes to change things for the better, one book at a time.
"Growing up, books were my best friends (and yes, it took me awhile to admit that)," she said. "After college I moved to Honduras to write for a paper and teach. It was the first time in my life I had lived in a place without access to books. There was no library or bookstore and Amazon wouldn't deliver to me."
It was during that time when Moberly saw how lack of books not only impacted her, but also her teenage students. When she went home for Christmas she filled a suitcase with books, brought them back and made her students read every day.
"Slowly but surely they found books they connected with. Seeing them fall in love with reading for the first time inspired me to start Traveling Stories to give that same opportunities to kids everywhere," she told me.
Traveling Stories' focus as an organization is on helping low-income kids in America.
"Our team is small (one full time employee and two part time employees) but we have over 150 volunteers and six board members, including the involvement of co-creator of the Teenage Mutant Ninja Turtles, Kevin Eastman," said Moberly. "We're working hard to grow our programs to transform more reluctant readers into confident ones, empowering them to outsmart poverty in their own communities."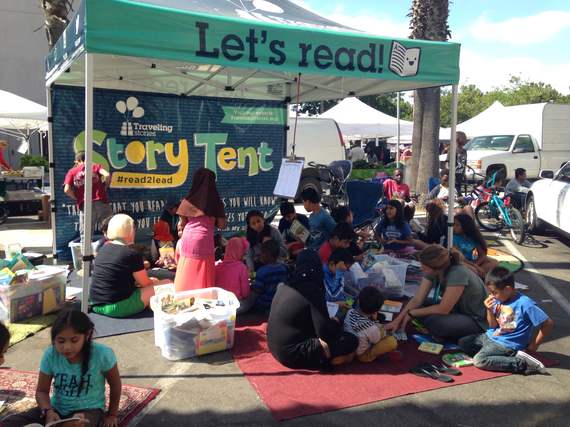 Traveling Stories currently has three programs in San Diego, California, one in Long Beach, one in Turlock and one that just opened in Toronto, Canada. In addition, the organization's team has helped build new libraries in South Sudan, El Salvador, Nicaragua, the Philippines, and Cambodia. And if that's not enough, the organization has a component that helps develop money management skills by the 4th grade.
All of the children who are part of the program are involved in the financial literacy aspect in the sense that they attend the program and are learning financial literacy skills, Moberly told me. She added: each kid earns a book buck for each book they read. If it's a challenging book, they can negotiate for more dollars. They can then spend the money on prizes. The organization purposefully stacks the store with prizes ranging in price and value.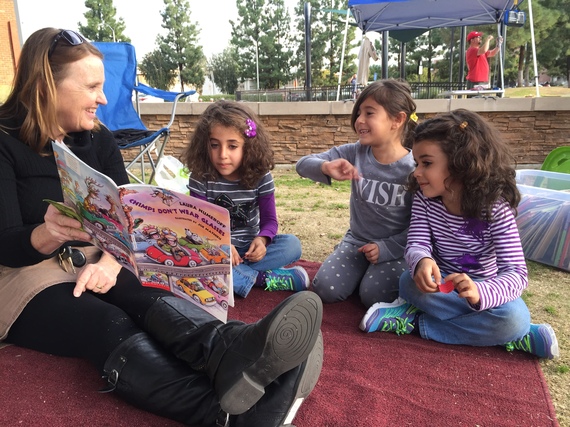 Last year alone Traveling Stories helped 2,000 kids in San Diego improve their reading levels and celebrated being a finalist for the National Book Foundation's 2016 Innovations in Reading Prize.
"[Because of Traveling Stories] my children want to read more and are excited to win. This special to me and has helped me encourage them more to read," said Dr. Al-Tabatabaer who has two boys in the program.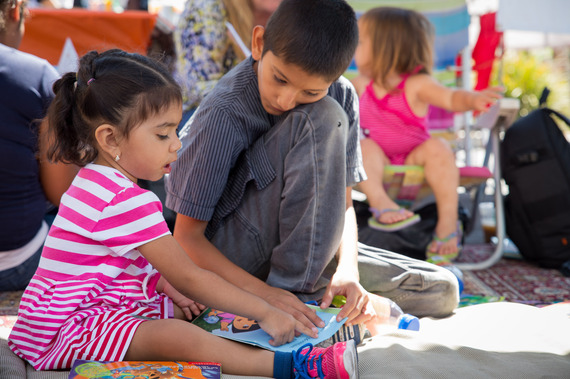 According to Moberly, other parents can relate. For more on Traveling Stories, follow their Facebook page.
I am always looking for a good 'people helping other people' stories to share. Keep in touch with me on Twitter at @MarisaASan and email your pitches to me at marisasanfilippo@gmail.com.
Photos provided by Traveling Stories.