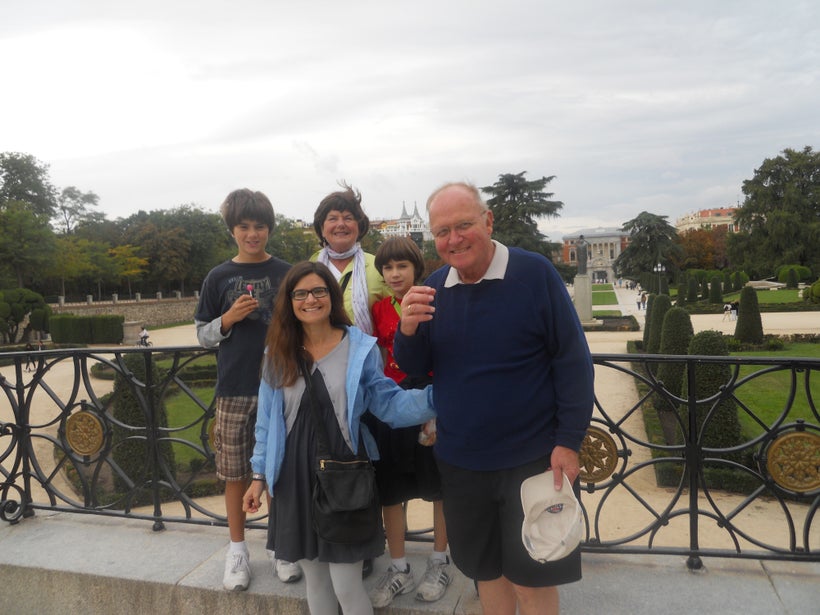 Summertime is just around the corner and along with it family trips. If you're like my family and have children, you might choose to do some of those trips with the grandparents. Taking the grandparents has many advantages, including increasing the adult-to-child ratio, which is important for me as my husband's job sometimes means he can't accompany us. But there are also a few things to keep in mind before you launch your intergenerational travels.
More adults means more support
Having more adults on board for your travels lets everyone relax a little more. When my children were little we took them to Disneyland and Legoland. My parents came along and helped to keep an eye on wandering kids or console them during the inevitable meltdown. Often a grandparent will have just the right tender yet firm tone that a tired parent is lacking. And when things really go wrong, they can lend a big hand. Once, when we were all in Madrid, I discovered that someone had stolen my wallet. I had to go to the police station and file a report, a long process involving much waiting. Since my parents were there, they were able to take the kids down the street to the park and entertain them until I was done (and my nerves had calmed a bit).
More adults also bring more ideas to the table. Years ago we took a trip to the Hearst Castle on the California coast and my mom had heard about a museum dedicated to John Steinbeck in Salinas, which was right on the way. My son happened to be reading some of John Steinbeck's books at school so it was a great connection for him. On our trip to Legoland in San Diego the drive took about nine hours. My mom came through again with the perfect car entertainment, a set of Planet Earth DVDs put out by the Discovery Channel. The kids sat mesmerized by photos of wildlife as we passed through monotonous California farmland.
It helps that my grandparents are seasoned travels. They practice little rituals when traveling that keep things fun. My dad, for example, likes to stock his room with snacks and drinks. After a long day at Disneyland or Legoland, Dad hosted cocktail hour in his room. The kids (and parents) loved this. It was a time to relax and review the day together before going out to dinner, when the kids would often be squirmy.
Many grandparents I talk with also mention bringing games along on their travels. Yahtzee, card games like Hearts, and Sequence have been some of our favorites. This was a great way to turn attention away from the screen and toward each other. If you have more space and down time, jigsaw puzzles are fun.
Just as kids need naps or rest time on busy trips, adults do too. And as my parents got older, we had to slow things down a bit. When we were in Spain I realized that my father needed a slower pace walking to all the sights. We had to adjust our plans a bit. Also, my parents weren't too thrilled with eating Spanish dinner at 10 p.m. We learned that restaurants opened for dinner at 8:30 and were usually the first ones there.
As it turns out, most grandparents are keenly aware of meals, both planning and preparing, and have their opinions about food. Although at times I might want to be more spontaneous, it makes sense to plan ahead (whether cooking or going out), so everyone knows what is coming. On a trip to the mountains last year, my mom wanted to review the meal plans ahead of time with me and it was a big help. We divided up the meals and they kept us on schedule with preparations.
In general kids behave better for their grandparents than their parents so travels are often a good opportunity to teach respect. This might involve something simple like waiting for everyone to come to the table before eating. It may also mean watching the movie grandpa has picked out instead of the cartoon you want to watch.
One lesson I learned in traveling with my parents was that deference was sometimes needed. Once, we couldn't decide where to go to dinner. (We should have decided in advance, before we were all hungry.) My 12-year-old son wanted one thing, my dad wanted another and I wanted something else. It was my birthday so I thought I should have the final say. But my son and dad can be quite stubborn. By the time they agreed with my choice, everyone was out of patience. I was in tears. Afterwards though, I decided that perhaps in these cases elders should win out. After all their years of taking care of everyone, they deserve to have the final say.
One of the more profound moments of travel for me, and hopefully for my kids, was the year we traveled with another family and their grandma to Mt. Shasta in Northern California. We got to participate in that family's traditions, which included their annual game of kickball and an informal talent show put on by the grandkids. Most meaningful, however, was that one of the parents brought a video camera and asked grandma to talk about her life. She recounted her childhood in rural China and her escape from the Communists to Taiwan and later to the United States. We were captivated by her tales. It inspired me to interview my own parents (and aunt and uncle) on a subsequent family trip. Even if you don't record their stories, travel is a unique time that provides space for hearing the stories of our parents.
REAL LIFE. REAL NEWS. REAL VOICES.
Help us tell more of the stories that matter from voices that too often remain unheard.
This post was published on the now-closed HuffPost Contributor platform. Contributors control their own work and posted freely to our site. If you need to flag this entry as abusive,
send us an email
.