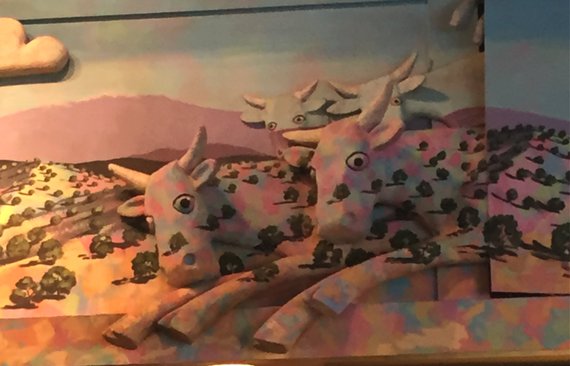 A cross-country road trip is accompanied by an endless parade of recognizable chain restaurants nestled at the ends of interstate off-ramps. Because there is something familiar and comforting about eating food with a known reputation, that's often welcome. But it's a fact. That well-known, chain-governed fast food fare or restaurant meal is going to taste pretty much the same no matter which state serves it up. Fortunately, there are some truly joyful alternatives, like the Range Café in Albuquerque, NM.
There are three Range Cafés, but anytime my husband and I pass through Albuquerque, we beeline for the one on Menaul Blvd. Though it is not at the end of an off-ramp, it is just a hop, skip and a jump from one, providing easy off and easy on interstate access.
We first discovered this dining treasure a few years ago when we spent the night at an area hotel. We asked the desk clerk if she could recommend a good place for breakfast. The rest is history. We fell in love with this quirky local restaurant with its inventive décor and its delicious offerings. Honestly, I don't know where they score their bacon, but it is extraordinarily scrumptious. I'm told they bake the high-quality slices, and perhaps that's the key to sealing in some of the rich flavor that gets left behind when bacon is pan-fried or grilled. Whatever they do, it seriously works.
The "range" concept is represented in living color by the many vintage toy stoves (ranges) that dot the walls, as well as by the 3-D murals and other décor that represent the western version of "range", as in "Home On the Range". Both concepts work to embody the vibe you get when dining there. It's like chowing down on a fresh meal by the campfire or filling your belly in Grandma's vintage kitchen. The experience is homey, tasty, and nostalgic. Fun fact: the original name of the restaurant was to be the same as the iconic song, "Home On the Range", but co-owner Tom Fenton thought that burly guys in pickup trucks just wouldn't be enticed to eat at someplace called "Home On the Range", so he and co-owner Matt DiGregory shortened it to "Range Café". The name fits perfectly.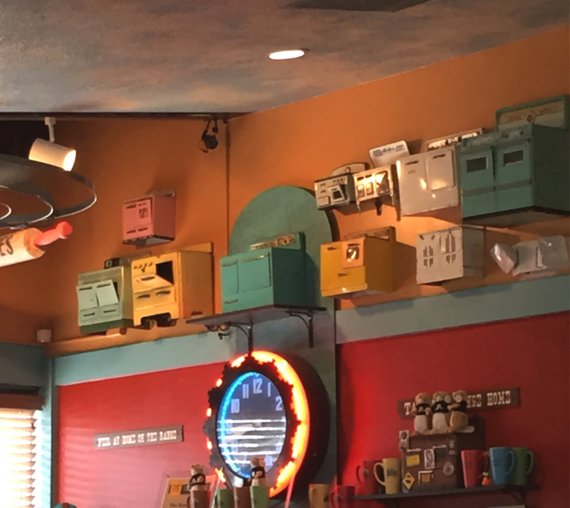 The Range Café offers traditional breakfast fare, like shaved ham and eggs, which makes my not-so-adventurous husband happy. But they also offer unusual specials that tickle my culinary adventure bone until it's vibrating with anticipation.
On our latest trip, there were two breakfast specials. The first one was Lemon Ricotta Pancakes with housemade lemon curd, for $8.50. Strawberry Meyer Lemonade mimosa was the suggested drink accompaniment. The other special (which I opted for on two separate occasions during our 4,400-mile round trip) was a Sweet Potato, Asparagus, and Wilted Spinach hash topped with two poached eggs and a decadently smooth chimichurri hollandaise sauce, for $9.00. Their drink suggestion for the hash was an Indian River grapefruit mimosa. I didn't partake of the drink, but I couldn't get enough of that wildly creative hash. Honestly, I hope it becomes a permanent part of the breakfast menu so that every time I pass through Albuquerque I can enjoy it. Then again, I'm not worried. Other specials I've had there have been a treat as well, so I'm confident that I'll be content with whatever the inspired chefs invent.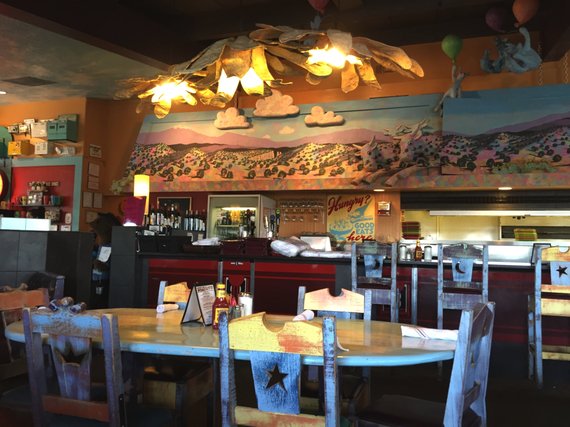 The Range Café also serves lunch and dinner, each with customized specials, but we have only visited for breakfast. There's no reason, however, to believe that other times of the day are not as memorable as the morning meal. Just ask the locals. When asked, they freely and enthusiastically attest to their reasons for returning again and again. I'm not a local, but I return again and again as well, at least every time I travel the I-40 through New Mexico.
The company's website is chocked full of interesting tidbits about the Range Cafes, along with full menus and entertainment options. The Café also has its own cookbook, and it's not only filled with recipes of great dishes created at the restaurant, it is also filled with the colorful history of the rise...and fall...and rise again of this unique establishment. The first Range Café burned down, but thanks to the community that so loved that first restaurant, it rose, phoenix-like, from its own ashes to become better and stronger and eventually spawn two sister locations.

Following in the footsteps of his predecessors Bill Clinton and George W. Bush, who both visited the Range Café during their presidencies, soon-to-be president Barack Obama stopped by during his 2008 campaign. He opted for the "Christmas style" chicken enchiladas, and he sent a slew of made-from-scratch pies and cookies out to his staff. Celebrities of all kinds apparently discovered the Range Café long before I got lucky. Just check out the wall of signed plates in the restaurant.
The Range Café is more than just delightful food. It's an experience to be relished and remembered. It's an unpretentious gem of an enterprise that you will not see from the interstate. But should you venture off just a little ways, you'll find cuisine that is expertly crafted from fresh, vibrant ingredients, served by a friendly, efficient waitstaff. Don't let the quite ordinary exterior fool you. It's what's on the inside that matters. The company refers to itself as "eclectic and funky". I just call it "yum"!
Soon, like me, every time you head west to east, or east to west, on the I-40, you may begin to think about what new specials await you as you pass through the Land of Enchantment, aka New Mexico.
Now if I could only get Misters Fenton and DiGregory to build a Range Café in my neck of the woods in California, I could become quite the happy "local".