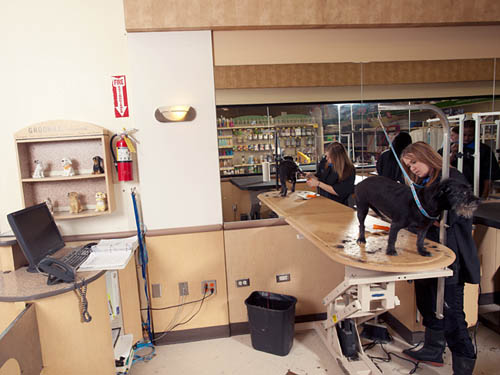 The restaurant kitchen where the frozen margarita was invented in May 1971 is today a grooming area inside this Dallas PetSmart. (Photo by Van Ditthavong).
This year, Texas marks the "terquasquicentennial" (a.k.a. the 175th anniversary) of its independence from Mexico. To commemorate the occasion Texas Monthly has dedicated its March issue to an insane 6,000-mile journey to 175 places that tell the story of the Lone Star State. The stops along this road trip are mostly unmarked, forgotten sites, but their significance and impact on both the state and the country is undeniable. Here are six stops that take you to some of the critical spots in the culinary history of Texas.
1. Among the many gifts Texas has given to the world (e.g., breast implants, heart transplants, Willie Nelson) Tex-Mex cuisine ranks near the top of the list. If you want to trace Tex-Mex's culinary lineage to its origin, head west to Marfa, Texas. While the Old Borunda Café shut its doors in 1992, for 100 years it served up handmade tamales, cheese enchiladas and tacos, all cooked on one of the café's several wood stoves. Diners would drive for miles to sample the cuisine, which drew heavily from the staples of traditional Mexican cooking, but with a twist. Today, several small shops have taken over the café's second and final location at 203 San Antonio Street, but you can stand outside on the sidewalk and imagine the smell of the chile gravy bubbling on the wood stoves. And if that makes you hungry, head down the road to Taco del Norte, a friendly spot in the old Greyhound bus station.
2. A Tex Mex meal is hardly complete without a frozen margarita. And today, February 22, marks National Margarita Day. For the delicious slushy variety, we have one man to thank. Mariano Martinez did not invent the frozen margarita, but he invented the frozen margarita machine. Inspiration struck him on May 11, 1974, as he tinkered with a soft-serve ice cream machine at his legendary Dallas restaurant, Mariano's. Today, that particular Mariano's is no more (though the Dallas-Fort Worth metroplex boasts six more). The building at 5500 Greenville Avenue has been renovated and is now home to a PetSmart. But working closely with Martinez, we identified the exact location within the PetSmart where he had his flash of brilliance that changed the libation world forever. The former kitchen is now the PetSmart's grooming parlor. That's right, dogs now get their fur trimmed in the exact spot where Martinez made his first icy concoction. As for the world's first margarita machine itself, it now sits in the halls of the Smithsonian, where it was named one of the top 10 American inventions. We agree.
3. It's not all Tex-Mex and barbecue in Texas. Don't listen to those who claim they invented the hamburger (I'm looking at you Seymour, Wisconsin; New Haven, Connecticut; Hamburg, New York; and Tulsa, Oklahoma), the world's favorite burger was dreamt up in Texas. (For more on this, see this story we published in August 2009.) To stand in the spot where it happened, you would head southeast from Dallas to Athens, Texas, and park around the courthouse square. In the 1880s, at a long-gone lunch counter located at 115 Tyler Street, a pottery-maker turned cook named Fletcher Davis began serving patties of ground meat between bread. Davis took his creation to the 1904 World's Fair in St. Louis, where a reporter for the New York Tribune dubbed it the "hamburger." No less a source of unimpeachable credibility than the Texas State Legislature supports this version of the hamburger's history, and in 2007 unanimously voted to declare Athens "the Original Home of the Hamburger."
4. After you have celebrated the birthplace of the hamburger, head southwest to Waco to the spot where the first Dr Pepper was served. On December 1, 1885, Charles C. Alderton combined 23 flavors at his soda fountain inside the Old Corner Drug Store to produce the world's first Dr. Pepper. While the drug store at the corner of Fourth and Austin streets has been demolished and turned into a parking lot, you can sample Alderton's formula for Dr Pepper at the Dr Pepper Museum a few blocks away at 300 South 5th Street.
5. Keep heading south now, down to San Antonio, where the humble frito got its start. Today, the Frito-Lay empire fries up chips around the globe from Jakarta to Moscow. But the company's origins are in a San Antonio café where Charles Elmer Doolin happened to have lunch one day in 1932 near his ice cream shop. Doolin so enjoyed the fried corn chip he ate with his meal that he enlisted his mother's help to raise the $100 he needed to buy the recipe and necessary equipment from the café owner. After Mama Doolin pawned her wedding ring to fund her son's venture, she let him cook up chips in the kitchen of her home, located at 1416 Roosevelt Avenue. Business boomed and Doolin would later move his operation to her garage, then on to Dallas, where the company--now a branch of PepsiCo--is headquartered today.
6. That Ruby Red grapefruit you enjoy at breakfast is a product of Texas's Rio Grande Valley. Albert E. Henninger was tending his grove of Thompson pink grapefruit trees in McAllen on March 30, 1929 when he noticed that a red grapefruit had fallen off one of the limbs. That same mutant branch would go on to produce more red grapefruits and Henninger received a plant patent for the new variety of grapefruit in 1933. Unfortunately, this particular item was impossible to link to a precise location. We simply do not know where that forward-thinking tree once stood. But go spend some time in the groves of Ruby Reds grow along Shary Road between FM 1924 and Mile 5 North Road in McAllen and you'll get a sense of what it wrought.
See more culinary innovations and the other 175 events and places that shaped Texas history at Texas Monthly's website. And try your hand in our road trip challenge at our special TX175 blog.

Calling all HuffPost superfans!
Sign up for membership to become a founding member and help shape HuffPost's next chapter