LAX bound with Houston Texas just a few hours away, I reflect on my quick trip thinking about how my plans were slightly derailed. See, The Abbey 2 evenings back to back was never in my plan nor for that matter was The Chateau Marmont on Friday. But as fate would have it, there was something far more exciting planned for me and their names were Fitz and Christie. Fitz and Christie, whose names have been changed to protect their identities, were on my flight from Houston to LA. And along for the ride as they embarked on their weekend journey to places where only the elite are satiate their fetishes, was I.
Fitz and Christie are quantified malleable erotic pleasure assistants. And this weekend, they have appointments with several strict machines seeking their companionship in LA.
"So Girls Night is Wednesday and I'll be doing a lap dance in the corner while the DJ mixes. A fantasy my client has had in the works for a while." Christie says noting that her client was in a 20 year "missionary style" relationship with a lazy lover and now fresh from a divorce, he is getting his feet wet in fetishes. Likening his excitement to that of a kid in a candy store. "Just imagine, I'm his shiny toy and whatever he wants, I'm going to do." Christie says that all this comes at a price and so long as payment has been rendered in full, there's never a problem. And her job for the next 5 days is to quench her clients thirst wherever he plans to take a sip.
As the pilot announces that we can move around the cabin 20 minutes into our flight, Christie excuses herself and Fitz and I continue our chat.
"Thursday is all about the boy's and Christie's going to be my "wing woman" for a ménage a trois that night" says Fitz noting that I'm selfishly interested in what he has to say. "Christie is the only woman I've ever had sex with and she is THE only one I would bring into a threesome. My Thursday client has never been with a woman so..." Fitz says. He also tells me that unlike Christie, he prefers to have many different clients as where she prefers week long companionships. "What can I say, I'm a whore" says Fitz with a smile.
Fitz says Christie has been his best friend since preschool, "we have no secrets between us" he says.
"We're both Oil and Gas babies, so our parents traveled a lot. It wasn't before long that we were running things ourselves. We're both NYU graduates, both worked for the same luxury retailer as makeup artists and now we're business partners in our startup makeup line! You know we have appointments with 2 online shopping channels next month in regards to either of them picking up our products. Not bad for a couple of wayward children!" says Fitz with a bright smile as he closes his eyes crosses his legs and gently settles back into his seat.
"My parents are strict Catholics...now if they knew HOW I was able to buy my Tesla cash and apartment in The Galleria without a mortgage at 24 years old, Baby let me tell you!!" says Fitz. Fitz goes on to say that his paid "romps" via Grindr and other hookup sites for gay males are his bread and butter. "We make more than a decent living." Fitz says that a thorough back ground check is done on every one of their clients before engaging in activities with them. He also says they call them romps because "hookups" sound "so sleazy!" "We high dolla missy!" says Fitz with a simultaneous snap of his head and fingers.
High dolla? How much is "high dolla" I ask to which Fitz smiles and says that being in the Oil and Gas industry isn't the only way to become a millionaire, but still doesn't tell me what they charge for their services. But does tell me that he swallows and he commands a pretty penny for that accommodation.
Deep in conversation, Fitz continues painting me a verbal picture with brush strokes in words leaving very little to my imagination. He says that it's not hard to find those wanting to explore deviant behavior with 80% of clients coming from Social Media and the other 20% from their clientele. "The one thing all these people have in common is money, lots of money!"
Wondering what is taking Christie so long, Fitz looks at his $34k Ballon Bleu De Cartier watch in 18k yellow gold and says, "She's been gone 10 minutes, either my girl is losing her touch or Daddy took some Viagra!" I ask what he means. "The Mile High Club Darling..." says Fitz with a side smile raising his right eyebrow. Speechless, I ask "Really?" "All prearranged. The older guy, gray suit who walked past us right before Christie got up? He's her 5 day "business" companion this trip. She's been his harlot for the past 4 years on and off. He likes role playing."
Fitz says that her "Mile High" client is the ex-husband to a Texas Socialite that keeps Christie "on call" as her makeup guru. He also says that although her Socialite client knows how to keep her finger on the pulse of the city, she wasn't emotionally available to make her husband's heart race in the bedroom. "That's what Christie took care of." One week later and "All Christie had to do was put the keys in the ignition" Fitz says describing how she drove off the lot with her custom $100k Maserati Levante.
Fitz says that they have also mastered "trade purchases" in which anything is up for barter. "We have a "menu" of fetishes. For Dr.'s wanting our services, a nose job equates to THAT fetish and liposuction totals THIS fetish. It's how I got this Cartier, from a luxury jewelry broker in Switzerland" says Fitz.
As Christie excuses herself, stepping in front of Fitz she sits in between us, smiles and winks at Fitz as he taps his watch. "Did Missy lose track of time?" he asks. "No, he got a little extra because I got a little extra" says Christie gleaming as she places hair behind both ears. "Four carat diamond earrings, an anniversary gift!" Christie says she met her client 4 years ago today and this was his way of gifting her for allowing him every indulgence as there isn't anything she wouldn't let him try with her. "The more I give, the more I get, it's that simple." And that was my "aha" moment.
With LA behind me, I reflect on what a great time I had dancing at The Abbey, the glow I got on my face from the sun shining down on me at Amber Rose's Slut Walk at Pershing Square and the sultry ambiance from The Chateau Marmont.
When I first saw Fitz and Christie taking selfies and posting to Social Media at 5 am last Wednesday morning, I wondered WHO would want to know WHAT they were doing so early in the morning. And now I know. Somehow I don't think I would have had as much had I not met Fitz and Christie. Let me rephrase that, I KNOW I wouldn't have had as much fun!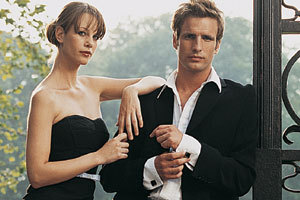 REAL LIFE. REAL NEWS. REAL VOICES.
Help us tell more of the stories that matter from voices that too often remain unheard.