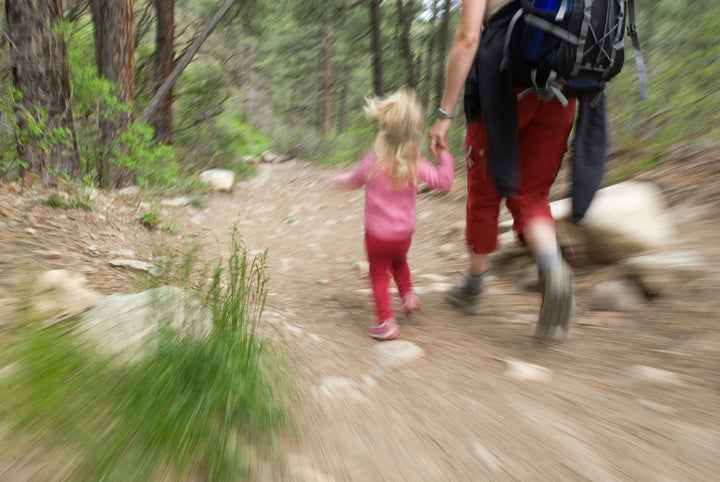 One week after my daughter Lulu was born, my ex admitted to committing numerous infidelities throughout my pregnancy. While I was still recovering, fresh from surgery, he chose to leave our family. Three months later we were enmeshed in a custody battle where he fought to have our baby girl with him as much as possible, but had his female lawyer argue (and win) that he was obligated to pay next to nothing in child support, as my income was higher than his. Simultaneously, I returned to work from maternity leave only to find my boss ruthlessly pushing me out of my job. It was an ugly, heartbreaking, and confusing period of my life that lasted almost a year.
At the end of it, I packed our bags and embarked upon a 4 month-long trip through South America as a single mom. By then Lulu was 10 months old. The trip had been a longtime dream of mine -- yet I never would have imagined that it would be a dream realized in the same year that I became a mother. As a broken woman who just endured the most devastating events of her life, it seemed as good a time as any to pursue an old dream. I would be damned if I let this tragedy define and ruin me. Not only did the trip turn out to be my opportunity to heal, it also became the chance to create and build a lasting relationship with my only child.
We first arrived in Buenos Aires, Argentina. Not knowing a soul, the two of us wandered around this beautiful city for weeks to discover its hidden corners. I was seduced by its European splendor, along with the passion of tango prevalent on its cobblestone streets and generously wide avenues. After a few weeks in Buenos Aires, we ventured onto the mountains and blue glaciers of Patagonia, and onto the jetset beaches of Uruguay. I took Lulu into the showering edges of Iguazu Waterfalls in the north, and we observed penguins in the very south, at the End of the World in Ushuaia. I reveled in one majestic landscape after another, empowered by nature's beauty that lay before me on many occasions, while at the same time looking down at the beauty that often lay asleep in a sling between my arms.
Following our adventures in Argentina, we traveled north to Brazil. We started in Brasilia, Brazil's capital, a city graced by the sensuous lines of modern-day architect Oscar Niemeyer's touch. Our 2 months in Brazil also covered many stunning, secluded beaches, vibrant cross-cultural cities, and musical delights that seduced our ears. What I remember most of Brazil however are the friendships we made during this period. Through the wonderful and hospitable people we met, I was told different stories of families -- of love, deception, broken hearts, and those of acceptance and forgiveness. Through these stories I soon understood that this foreign journey had lessons to teach that hit close to home, no matter how far from home I actually was.
Traveling has always exhilarated me as I suffered early on from wanderlust. This has not changed since I had my daughter, but traveling with a baby in tow is a different ball game. I had to coordinate her nap times with our travel schedule. I struggled to feed her without, at times, a kitchen on hand. I was challenged reading labels in foreign languages for baby products and baby food. Her bottles had to be boiled before use throughout Brazil as I was told not to trust the water. All the items that needed to be carried -- baby supplies, toys, books, etc -- and Lulu herself! She alone, who was still not ready to walk, was 20+ lbs. of weight to carry when I chose not to use a stroller.
The flip side to the difficulties of solo travel with a baby is the fact that a baby makes an instant conversation starter. Lulu was irresistible to those we encountered and although unable to yet speak a word in any language, she immediately, unknowingly had me talking with strangers. She broke the ice time and again and forced me to speak to people I would not have otherwise. On one tour after another, people remembered her name and would greet her wherever we would go. Women swiftly took to us in a protective manner, offering help and lending a hand. I felt often like the roadie to her rock star, yet in certain ways, it also felt as if Lulu was my own guardian angel.
There were challenges, yet I would do it all over again, and will. All this time alone with my daughter, traversing and seeing these spectacular countries -- my eyes fresh in experience and her eyes fresh in age -- the opportunity was and is few and far in between. We were protagonists in our own moving and cinematic film, live and in Technicolor. Never again will she be an infant, developing quickly with every new gesture, every new milestone, all in the backdrop of one striking landscape after another. It was in South America that we both experienced extraordinary things to enrich our senses, to awaken our spirits, and to open our hearts, despite our age difference. It set the stage for a lifetime of travel together, and more unique and remarkable moments to come.