Over 40 million tourists travel to Italy every year, making it the fith most visited country in the world. The capital Rome is by far the most popular destination in Italy, but some people rather travel to other cities or regions in the country, such as Milan, Venice or Turin. One of my personal favorite destinations, though, is located in the heart of Italy. Literally.
The beautiful Tuscan scenery is often praised in travel guides, blogs and books, and that's for a reason. Green hills are decorated with cypress trees, and most of the small Tuscan towns still breathe the atmosphere of medieval times. It is even said that time goes 25% slower in Tuscany, which means that you can enjoy your time in this Italian region even longer.
If you want to see as much as possible of Tuscany, I'd definitely recommend something that I call the Giro del Cuore, the route of the heart. This heart-shaped, 200 miles long trip (350 km) will take you to a dozen-or-so amazing Tuscan towns, such as Pisa, Siena and Lucca, which all have their own stories to tell. The absolute heart of Italy.
It is most common to start this road trip either in Pisa or Florence, as these cities both have an airport, but you can basically start anywhere you'd like. As the Italian trains can't bring you to every city on the route, it's best to rent a car in one of these cities. Also, especially when you're planning to take this trip during the summer, make sure to book your Tuscany hotels or B&B in advance, as beautiful cities like Florence and Siena attract lots of tourists in July and August.
The road trip in the slideshow below starts in Pisa, and will take you across the beautiful Tuscan countryside, before returning back to Pisa. The worst part of your trip will probably be arriving at Aeroporto Internazionale Galileo Galilei, as that's where your plane will be waiting, ready to take you back home.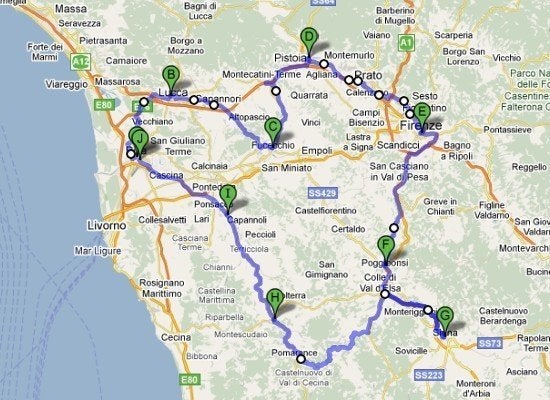 The 'Giro del Cuoro', the tour through the heart of Italy