Like others our age and with years of travel under our belts, my wife and I avoid group travel. We prefer to curate our own itinerary, pack light, explore at our own pace, and avoid the necessity of small talk with fellow travelers we'll never see again.
We just finished several days in Lisbon, a great city for older travelers in relatively good shape. Well-conditioned legs and lungs help handle Lisbon's seven hills, each with a variety of fascinating neighborhoods, narrow passageways, restaurants and shops.
It's a highly visual city of cobblestoned streets and tiled buildings. People are friendly, and, at least in spring 2015, the dollar is equal to the euro. Portugal has always been a bargain. Now it feels like they're giving it away.
Our boutique hotel, Casa Balthazar, has eleven rooms hidden in a restored 19th-century house behind a massive wood door. The room, overlooking courtyard and pool, has kitchenette, dressing room and bath. All is modern and well appointed. A sumptuous breakfast is brought daily. Location, central to everything. This was a splurge at about $170 a night.
Taxis, if you choose to use them, are incredibly reasonable. Airport to hotel, no more than $15. Around town, fares rarely top $8.00. Tips? Simply round to the nearest euro.
Our first night we dined at Cervejaria Romiro specializing in shellfish. Nothing fancy here. An eTablet menu displays language of choice. Lobster, prawn, clams, crabs.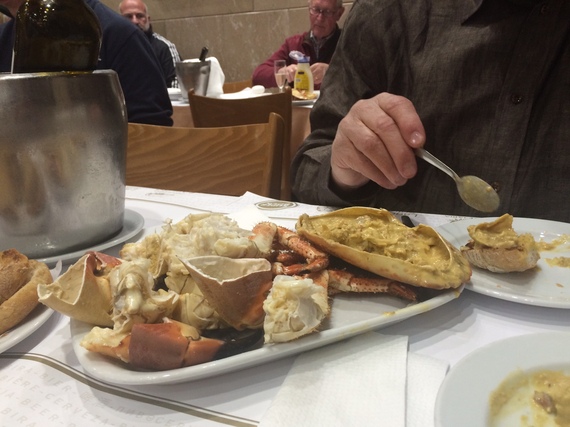 Like all Portuguese restaurants, there's a couvert, bread. butter, sometimes olives, cheese, etc. to take the edge off while sipping a glass or waiting for the main. Don't eat and you're not charged. But the cost of a few euros aside, it's all so good that you can't resist. At Romiro, the food comes quickly. So does the Vino Verhde, Portugal's specialty. As expected, it's several cuts above what we buy in the states. Light, crisp, sometimes with a slight fizz. Perfect with seafood, for which Lisbon is known. An exceptional meal of crabs and prawns. Total cost for two (with 15 percent gratuity), around $80.
Next day we navigated our way around the city center before exploring Alfama, a hillside community of narrow streets and staircase passageways leading to hidden squares with tiny galleries selling everything from art to artisanal foods, crafts, and clothing. Along the way we ducked into a Lilliputian cave where we lunched on olives, ham and cheese accompanied by cups of vino and finished with tiny cups of ginja, the Portuguese liqueur distilled from wild sour cherries. There are many such places dotting the neighborhood. Total cost for two with tip around $15.
That night our destination was Solar do Presuntos, known for offering only the very best. Somewhat upscale from Romiro, it was true to its reputation. Awaiting us as we sat down was a more extensive couvert including cheese, sausage and ham. Then the entrees arrived. Octopus that could have wrapped its tentacles around the Nautilus. Sea bream, splayed on a plate with delicious creamed spinach. A bottle of vino (even better than the night before) and chocolate merinque, subtitled "The World's Best," which, of course, It was. Two people, with tip: around $100.
The next day we awakened late, walked around the corner and took the train to Sintra, a UNESCO World Heritage Site 30 minutes from town. In the center is Palacio Nacional, the midieval palace occupied by royals until the late 19th Century. It's immediately recognizable for twin conical chimneys rising from a hangar-size, wood-fired kitchen. High above it and accessed by a narrow serpentine road, is Pena Palace, an enormous architectural confection built in the mid-19th Century by King Ferdinand II, Prince Albert's artistic first cousin. We took a car as far as possible and walked the steep path to enter this warren of ornately decorated rooms housing interesting art and terrific collections. Lunch between stops was at Tasca de Xico, where the Salade Nicoise and Salade de Gomba were exquisite. Along with the requisite glasses of vino verhde, the check came to about $30 (tip included).
That night our bodies craved meat, and the hotel recommended going next door to Cafe Buenos Aires. Our reservation was for 8:15 and few tables were occupied. By 8:45 almost every table was full and the two women running the front of the house were literally running to keep up. We ordered flank steak with vegetables and potatoes and skipped the Vino Verhde in favor of their recommended red of the week. Both entree and wine were superb. Did I mention the empanada appetizer? Or the tempura beans, a delicious Portuguese specialty? With tip, about $70.
A waitress along the way had recommended Tasca do Chico in Alfama for Fado, the soulful Portuguese singing accompanied by the country's unique 12 string guitar. We handed our taxi driver the name and address, and he got us close enough so that with a short walk and inquiries to a few shopkeepers, we found the place, a boite seating around 30. We sat on narrow benches and ordered a carafe of red. Soon a man positioned himself between the two guitarists and, eyes closed and hands in pockets, sang songs of love that, words and language not understood, spoke to our souls. Later in the evening a chanteuse made us know we had just heard something special. Others at the table agreed. We were entertained for two hours with seats an arm's length from musicians and singers. Total cost, with generous tip: $10.
We visited a few historic sites, each beautifully displayed and simply explained, with English on all signage. And we found some terrific and well made casual wear for a fraction of what comparable items would cost in the states. People are friendly, and most neighborhoods are clean and relatively safe for people like us who think about those things. And, at least for now when the dollar is strong, Lisbon is a bargain for American travelers.
PHOTO GALLERY
10 Trips You NEED To Take In Your 50s
Calling all HuffPost superfans!
Sign up for membership to become a founding member and help shape HuffPost's next chapter