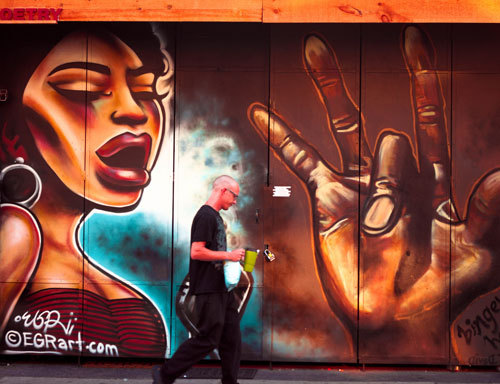 Street art in Kensington Market | Photo credit: Y'amal on Flickr
Traveling on a budget doesn't mean you have to stay in crowded hostels crowded with college kids or live on a diet of macaroni hot dogs. Traveling on a budget doesn't mean sacrificing the travel experience. Inexpensive trips can be planned simply by getting to know a destination well enough to find the best value options. While it may seem tough to find bargains in Toronto -- one of the most visited cities in Canada -- they do exist. Here are a few of the best tips for traveling to Toronto on a budget.
There's no denying that Toronto winters are cold -- often bitterly cold -- but that's why it's the best time to find deals on flights, accommodations, and dining.
The spring and fall shoulder seasons are also good times to hunt for prices lower than those during the busy summer months.
Look Into Alternative Accommodations
Most vacationers will hop on a major hotel search engine to look for accommodations. While those booking websites are easy and fast, they are not likely to offer the best value for your dollar. Websites where locals rent out private properties like Kijiji (the Canadian version of Craigslist) and Air BnB often have well-priced gems for travelers, especially families who would like access to a kitchen.
If you're traveling with a group, these vacation rentals often have an option to rent multiple rooms, which means sharing the cost with your companions and paying a fraction of what you would if you rented separate hotel rooms.
Every city has a few restaurants and districts favored by locals for excellent yet affordable dining, and Toronto is no exception.
Join the line at California Sandwiches in Little Italy -- one of the 'best' sandwiches in Toronto. You may have to wait in line, but it's more than worth it for a gourmet sausage, veal, or eggplant sandwich for only around $5.00.
You can't go wrong in Toronto's downtown Chinatown where low prices and massive portions are the norm. Try Nguyen Huong's bahn mi (a traditional Vietnamese cold cut sub) for just $2.00 or Gold Diamond's happy hour dim sum starting at just $1.88. In Chinatown East, Ka Ka Lucky is famous for its succulent entree of pork ribs and rice for $8.00.
Kensington Market is another excellent place to hunt for cheap meals from around the world. With Big Fat Burrito, The Grilled Cheese, Dark Horse Espresso Bar, Torito Tapas Bar, Simon Sushi, Seven Lives and countless other restaurants all offering meals for less than $10.00, finding good affordable meals in Toronto is a lot easier than you may think.
Other Budget-Friendly Destinations:
You don't have to blow your budget on expensive tours or tourist destinations to get a taste of the real Toronto. The following destinations are free of charge but are all brimming with history and culture.
Saint Lawrence Market: There's a reason the Saint Lawrence Market was named the best street market in the world for food by National Geographic. While everything you buy in the market may not be cheap, the vibrant atmosphere is 100 percent free.
The Distillery District: Browse one of the world's largest collections of expertly preserved Victorian Industrial Architecture in the pedestrian-only Distillery District. No chain businesses are allowed in the district, so you're guaranteed to find unique shops, galleries and restaurants.
Harbourfront Centre: It doesn't matter when you choose to visit Toronto, Harbourfront Centre will have free cultural activities like ice skating, live music, and lectures open to the public. And if you don't feel like taking part, Harbourfront Centre's scenic location on the shore of Lake Ontario provides a wonderful view.