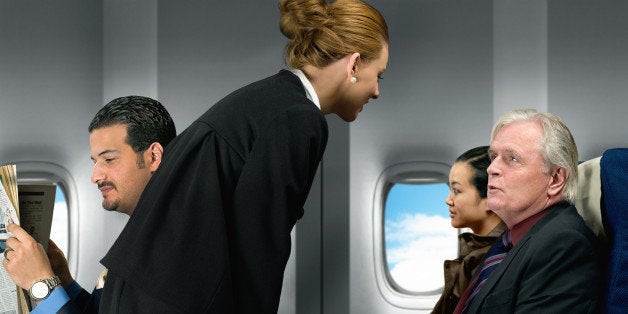 Susan was traveling with her husband to Hawaii to celebrate their 50th wedding anniversary. Bob, who had been diagnosed with Alzheimer's disease three years prior, could no longer work or drive or plan anything on his own, but he could still walk, talk and live a relatively normal life. Before boarding their plane, Susan went to the bathroom and asked Bob to wait for her at the gate. But when Susan returned, her husband was gone. Bob was trying to board the wrong plane.
Summer is the most popular vacation time of the year; and for many, a chance to finally relax and rejuvenate from the stressors of work and daily life. However, for caregivers and people with Alzheimer's, traveling can be the exact opposite and can present a host of challenges that must be considered before the trip begins.
Traveling is a complete disruption of routine, which is one of the only stabilizing factors in an Alzheimer's patient's day-to-day life. For someone who is often confused and unaware of their surroundings, travel can be very disorienting and difficult to handle. From my experience counseling Alzheimer's patients and caregivers at Banner Alzheimer's Institute, I have learned several ways that families can adjust travel plans to accommodate the person with memory loss and make the vacation go as smoothly as possible.
Deciding if Travel is Feasible
If you are unsure whether a loved one can handle travel, I recommend planning a "staycation" in your hometown. By staying in a hotel room nearby and eating out three meals a day, you are able to mimic what travel will be like. This is a good test for how the person with Alzheimer's will react during a real vacation. If their symptoms immediately worsen, you can take them home easily.

For families whose patient is in the early stages of Alzheimer's, I recommend taking that long-awaited trip you've been planning to make before their symptoms worsen. By the time their Alzheimer's progresses to its moderate stage, they may already be disoriented enough to think they are not at home when they actually are -- which makes traveling even more disruptive.
It's important to remember that some trips will be far too demanding for your loved one, and the best thing you can do is take a break from caregiving and arrange for someone to provide respite care for the patient. When arranging care, have the temporary caregiver come stay with you a couple days before the trip, or arrange a short stay in an assisted-living community.
Travel Tips for Caregivers
Here are some more travel tips I've gathered based on my experience with Alzheimer's patients and their families:
1. Plan, Plan, Plan (and plan some more)
The most important thing you can do before traveling with an impaired loved one is to prepare. Think ahead of what can go wrong and how you can problem-solve these issues before they arise. I often tell Alzheimer's caregivers to hope for the best, but plan for the worst. You may need to skip out on an event or activity if your family member is having trouble adjusting. Or, you may need to end the trip early and go home. By having alternative plans in place, you will be better equipped to deal with stressful situations as they arise and will help limit the discomfort.
2. Arrange for Special Accommodations
Ahead of the trip, you can arrange to have special accommodations for your family member during the travel process. Some travel agencies specialize in travel for people with disabilities -- they can help set up services and get access to special lounges at the airport. You should also consider arranging for a wheelchair escort to the airport gate to minimize waits in security lines. Avoiding these lines can eliminate a lot of stress and fatigue. Additionally, you can carry around a notecard that discreetly shares information about your family member's memory problems, so that service people can easily be made aware.
3. Prepare for Wandering
Having your impaired companion wander off during travel is very common and very unsettling. With everything else going on, caregivers can sometimes forget how impaired and confused their traveling companion really is. I recommend giving him or her the same surveillance you would a young child. I also recommend dressing them in easily recognizable clothing and bringing a recent photograph to show people in the event they do get lost. You should also ensure they have some type of identification information on them, such as an ID bracelet.
4. Allow Time for Rest
When making travel plans, allow ample time for rest. I recommend planning your trip around the "best time of the day" for the person and not planning any activities for the night you arrive at your destination. Fatigue can amplify an Alzheimer's patient's confusion, so it is important to try to stick to their normal routine.
5.Manage Increased Anxiety or Confusion
If your loved one with Alzheimer's is experiencing increased anxiety or confusion, it is important to find a quiet place where they can calm down. Anxiety can present itself in several ways -- increased movement, statements about the crowds, loss of eye contact, etc. The earlier you can recognize increased anxiety and remove the person from the uncomfortable situation, the easier the problem will be to manage. Try to reassure the patient, find a comforting distraction and let them rest. The worst thing you can do is try to entice the person into staying longer or try to minimize the anxiety they are feeling. Sometimes the best idea is just to go home early.
Caring for a loved one with Alzheimer's disease can often feel like a lonely and helpless struggle. It is important for caregivers to share tips and common experiences with each other so no one feels alone. The Alzheimer's Prevention Registry is an online community of people who have been touched by Alzheimer's in some way and are dedicated to ending this horrible disease. Registry members receive news updates about Alzheimer's research, brain health and upcoming clinical trials. They also connect on the Registry's social media pages (Facebook & Twitter) to share stories, get advice and find inspiration. Join the Registry today: www.endalznow.org.
Related
Popular in the Community