"Sex tourism" always seemed like a distant, dirty problem, certainly something I'd never encounter on my own travels. Well, little did I know.
About 15 years ago I arrived in Havana to catch some of Cuba's jazz festival. As a solo traveller on a tight budget, I rented a room in a private home of two elderly women, who doted on me like a grand-daughter. I was touched by their hospitality and genuine concern for my safety.
But one day I came home from a concert, wandered into the living room, and encountered a fifty-something Frenchman with a Cuban teenager leaning shyly against him. My hosts awkwardly introduced me as their Canadian guest, a fact which prompted this child sex offender to eagerly ask if I would translate as he negotiated a weekly room rate. As if nothing was wrong.
I'll never forget the girl catching my eye and nervously looking away. I mumbled something about not feeling well and made a bee-line for my own room. Even today, I still feel queasy - and guilty - when I recall that moment. Admittedly, I was probably too scared to confront the creep, and at the time I didn't really know what I could do.
However, through my work on World Vision's No Child For Sale awareness campaign, I have learned of some ways that travellers can protect children from exploitation. Here are a few things to consider, especially when visiting developing countries where children are drawn to tourist areas to earn incomes, whether through street begging, selling souvenirs, or even prostitution.
1) Report any suspected sexual exploitation of children immediately to relevant authorities.
Don't intervene directly, or you could put yourself or the child you want to help at even greater risk. If you see a Canadian attempting to sexually exploit a child, you can report it through cybertip.ca.
2) Don't give to child beggars or street vendors.
It can be difficult to know what to do. If you give money, will the child keep it? Or will it go to an abusive adult who is forcing them to work? Don't make child exploitation profitable. Giving money directly to children keeps them on the street, out of school and vulnerable to abuse.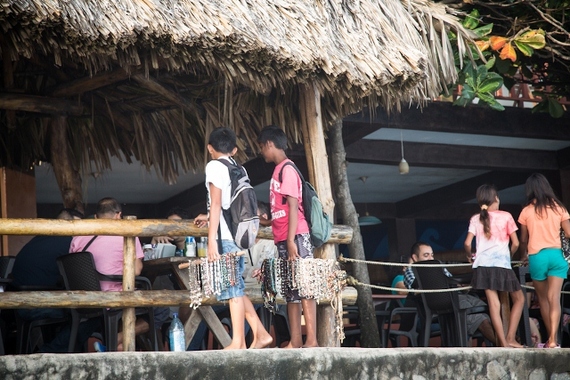 3) Shop at stores that sell souvenirs made by community-based organizations.
Souvenirs should not be tainted by exploitation. Look for souvenirs from organisations that provide training for people to earn incomes by making handicrafts, jewellery, artwork and other souvenirs.
4) Never be alone with local children or take them away from their guardian or home.
Avoid physical contact. In developing countries, children are often keen to hold your hand and play with you. It might seem cute and friendly, but for these children interaction with foreigners can be dangerous, as they become too comfortable and trusting around strangers.
5) Ask permission before taking someone's photo. If it's a child, ask their parent or guardian.
Make sure the content of the photo is appropriate. Don't take photos of children with little clothing on. Often as a result of poverty, children may be in public without adequate clothing. If in doubt, don't take the photo. It may be tempting to share your travel experiences on Facebook or Twitter, but your first priority should be protecting the identity of children you meet.
6) Choose the right hotels and tour companies
If you see a business where a child is being exploited - for example, working long hours in a hotel -say something, and then take your business elsewhere. Try to choose hotels, tour companies and other businesses that implement child protection standards, such as The Code, an initiative driven by the tourism industry to fight sexual exploitation of children.
7) Do not participate in 'day trips' to orphanages.
Children are not tourist attractions. Research shows that short-term orphanage visits can damage a child's emotional well-being. Children need consistent long-term relationships with their caregivers. Remember that orphanages are children's homes, where many are recovering from intense trauma. An endless cycle of strangers passing through can cause even greater psychological damage as children build and then are forced to end relationships.
8) Do your research before volunteering.
Sure, it's great if you can 'give back' to a community when you are overseas, but unintentionally you may be putting children at risk. Do not volunteer with any organization that does not ask for a résumé, references and police reports in advance of your arrival. Without even these basic checks the organization can't know who they are letting in.
Governments also have a critical role to play in keeping kids safe. Just last month, the government of Canada introduced legislation to better protect children at home and abroad. A key measure will require registered sex offenders to provide more information when they travel outside Canada. There will also be increased information-sharing between the National Sex Offender Registry and the Canada Border Services Agency (CBSA), to keep better track of certain registered sex offenders.
The bottom line is children rely on grown-ups for protection, no matter where they live. As tourists, we need to understand our impact on local people and above all, speak up when we see child abuse or exploitation. Would I go back to that day in Havana? In a heartbeat... and I'd be heading straight to the local police station.
Calling all HuffPost superfans!
Sign up for membership to become a founding member and help shape HuffPost's next chapter