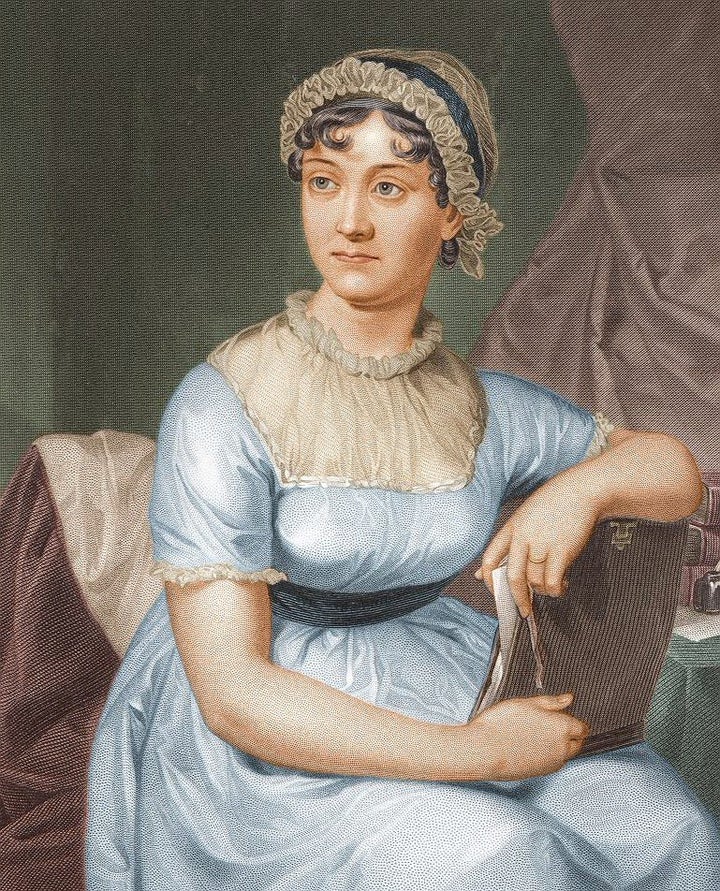 My favorite memory of Emma is reading it in a hammock at the edge of my uncle's orchard outside Tel-Aviv. I loved it best among her books at the time, and I'd brought it with me almost as a talisman since I'd never been so far from home.
Austen was like home for me. It's what Anatole Broyard wrote in Kafka Was All the Rage: "Books were our weather, our environment, our clothing. We didn't simply read books; we became them. We took them into ourselves and made them into our histories."
With all my Austen novels, I went through various editions when previous ones wore out, but I was reluctant to get rid of any of them because of my marginalia and because each was redolent of the time and place in which I read it. The "Israeli" Emma is darkened by suntan lotion stains; opening it, I remember that sunny day and reading in the shade.
Austen became an author I knew more than well. I not only read her books over and over, but read about them and about her, and read her letters. I steeped myself in Austen wherever I went, and that's one reason I recently did an Austen mash-up.
Pride and Prejudice: The Jewess and the Gentile imagines what Lizzie Bennet's family might have been like if they were Anglo-Jews coping with both subtle and obvious prejudice in Regency England where Jews had fewer rights than Christians.
It's not remotely a sequel or a prequel. I've sneaked my own story into Austen's as a tribute, to join forces with an author I admire, to rub shoulders however briefly. I wanted to be her collaborator, so I took her story on a voyage to explore a different kind of prejudice: the anti-Semitism that was rife in her England.
Some readers don't get the book at all. They completely miss how much Jewish content there is or conversely don't like the Jewish content, dismissing it as "narrow." One reader even called my mashup "plagiarism," which demonstrates a total misunderstanding of the whole idea of a mashup.
But then other readers love it. Jane Austen herself would likely not have been surprised by such divergent reactions, since she dryly observed that "One half of the world cannot understand the pleasures of the other."
REAL LIFE. REAL NEWS. REAL VOICES.
Help us tell more of the stories that matter from voices that too often remain unheard.