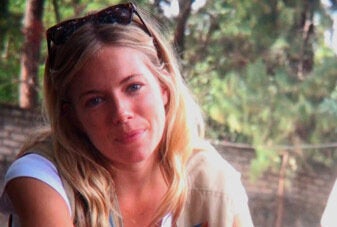 I'm sitting in the dark, due to a huge rainstorm as I write this, from the balcony of the International Medical Corps guesthouse in Bukavu, eastern DRC. We left Goma at the crack of dawn and sandwiched ourselves onto a boat that was full way beyond capacity. And we laughed the whole way because despite the immense darkness that exists here, this country is beautiful in so many ways. Bukavu feels far more like a city and is certainly more developed than Goma, but it is equal in beauty and in charm. We visited Panzi Hospital where IMC is training doctors and which has become world-renowned because of its incredible work with thousands of women who are in need of surgical repair for a condition called "fistula," a severe gynecologic rupture. It's a frighteningly common condition in eastern DRC because of lack of obstetric care, and the epidemic of rape.
Panzi Hospital's Founder and Director is Dr. Denis Mukwege, often referred to as "the savior of women " and was named by a prestigious Nigerian newspaper as African of the Year in 2008. But this man is beyond labels. He shared some of his experiences with us and as you can imagine, they are horrific. The youngest rape victim he has had to treat was a three year old girl.
I have to admit that after yesterday's displacement camps in Goma I was feeling pretty desolate. But visiting this hospital today felt as though there is a glimmering the light at the end of a long and dark tunnel. There are women everywhere who have suffered innumerable traumas and they are finally being given the treatment and care they deserve. This place is set up like a full on sisterhood. And the strength of women in numbers was powerful and inspiring.
Tomorrow we drive to Chambucha which is about a hundred kilometers north of Bukavu. The drive can take up to nine hours as the roads are treacherous and muddy from the rains. We have been briefed that this is an extremely volatile area. Lately there has been a marked increase in rebel activity. As I write I'm told there are ongoing actions occurring and the wounded are being brought to the hospital where we will be. Obviously, we have increased our security measures for the trip, but we all thought it was essential to see the work being done on the front lines of this conflict. IMC is providing the only health care in the area, and it would be futile to come all this way and not visit one of its most extreme and vulnerable areas. Communication is virtually impossible due to its remote location, so I will write when we return (weather permitting) on Friday.... (Don't spare the horses!)
REAL LIFE. REAL NEWS. REAL VOICES.
Help us tell more of the stories that matter from voices that too often remain unheard.