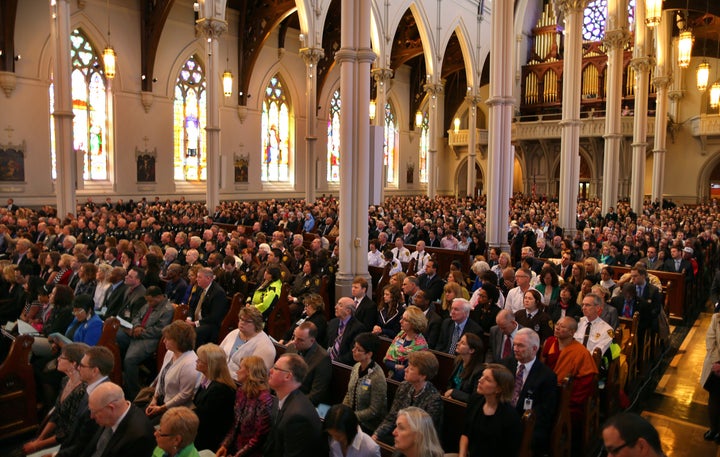 We know not through our intellect, but through our experience. ~ Merleau-Ponty
On the occasion of the anniversary of the 9/11 attacks, I am revisiting my thoughts on the diversity of responses to public tragedies; whether disbelief, anger, fear or ambivalence, they are beautifully reflective of our humanity. I did not come to this understanding via rational means; following my difficulty grieving the loss of a childhood friend who had been on one of the planes to crash into the World Trade Center, it took seven years and an unlikely series of synchronicities for me to fully appreciate that the quality of singular reactions matters little when considering just how deeply connected we all are. ~ 9/10/2013
The morning of September 11, I was at the John Hancock building in Boston, when we received word that two planes had crashed into the World Trade Center. The following day, I was working when I learned that Lynn, one of my childhood friends, had been on the planes, en route to a Hawaiian vacation with her boyfriend; from news reports, I would learn that they had met when they were undergraduates at Bryant College. When I told my well-meaning boss why I had to go home, she offered to hug me; in that instant, I felt my whole body flinch. I did not want to be touched, a visceral reaction so potent I decided that I needed to quit my job.
The next two weeks were foggy. I felt the same sensation, over and over, of a sharp needle threading its way through my chest. I drank too much wine. I prayed for Lynn's family every day. I pored over pictures from birthday parties and other outings, remembering what a natural-born comedian and mimic she had been, how much pleasure she took from cracking jokes, even from a young age. I wasn't surprised to see that she'd grown into an elegant, beautiful woman. I went to Lynn's memorial service, where I saw old friends and her parents, but couldn't escape that unyielding constriction in my chest; the more I tried to rationalize my way out of grieving, the tighter that thread became. I hadn't seen Lynn since our high school graduation seven years earlier. What right did I have to mourn her?
The closest I came to crying that day was when I gave my mother a bottle of quince-scented lotion, before the wake. In an effort to lighten the mood, she said enthusiastically, "Thank you! I just love this portable bottle I can take with me everywhere I go!" My brother started laughing and said, "Do you mean as opposed to the stationary one you have mounted to your bedroom wall?"
My inability to cry was odd. When I was a kid, my mother told me that I had "the gift of tears" because I cried easily, and often. As an adult, when a blind date told me he would never follow his dreams because he made too much money in his unsatisfying job, I made a beeline for a cab, in which I sobbed all the way home. I seemed to have no hang-ups about a good ol' cry, and yet, when it came to 9/11, I was frozen.
This bothered me for a long time. I theorized that the event was too public -- in newspapers, on television, the only topic of discussion at bars. If Lynn had died in a less public way, like, say, in a car accident, my sorrow would have been far less complicated. This, I knew.
During sleep, I confronted my feelings more directly. In the twelve months following the tragedy, the landscape of my dreams was lit up by messy, sprawling emotion. In this place, the notion of embracing some neat, compartmentalized, socially-acceptable sliver of loss was, for lack of a better term, a joke. A complete joke.
In one dream, I stood barefoot in icy snow, inching toward a shiny automobile filled with friends, conversation, life. Lynn stood outside the car door, her long thin fingers reaching for my hands, which were covered in dirt. Behind me, a red barn stood against a stark gray winter sky. In this dream, I knew Lynn had already died, and as I looked at her hand, her offering, I felt tears spilling out the corners of my eyes. I knew where I wanted to be, but the car was so far, and my feet so cold.
"Come on," Lynn whispered to me, her hand still outstretched as she called me closer to the group. "Don't be afraid."
Years later, on the eve of a 2008 trip to Southeast Asia, I was running around packing when I knocked over a box of photographs. With little time to spare, I shoved everything back into the box and kept ticking off my to-do list. An hour or so later, I noticed three items that I'd forgotten to pack: two were photos from a wedding in Maine and one was the program from Lynn's memorial. When I realized that the day I was flying halfway across the world also happened to be her birthday, I decided to bring the program with me on my two-month trek. Maybe I would finally figure out what this right-to-mourn question had been about after all.
One month into my trip, I traveled to Angkor Wat, to see the temples. I had been looking forward to staying at the hotel I'd booked online, with its torch-lined pool and lush garden. But when I arrived late at night, exhausted from a day of travel, and went to look at the room, I found a gigantic, fuzzy tarantula on the wall, hovering near my would-be bed. No way in hell was I sleeping there.
I went back to the tuk tuk driver who had dropped me off and said I needed a new place. He said, "Sure," and proceeded to bring me from dumpy hotel to dumpy hotel, places where I could have slept in a hammock for just $3. After an hour of searching in the dark, I'd had it.
"Please," I begged, wanting to sleep someplace where I felt safe. "I am alone, I am alone, I am alone." Finally, he finally pulled into a decent hotel. The Angkor Inn had nondescript, clean rooms. This would do.
As I stood at the front desk, my own words "I'm alone" were stuck in my head, like an unwelcome mantra. I passed my credit card to the innkeeper. Just then I turned around and saw two young men, one thin and short, the other taller and rounder. They wore baggy shorts and baseball caps. In a flash, I thought: They're from New York. They work in finance.
After an introduction, in which I learned they were from New York and worked in finance, the shorter one, named Rob, said, "Want to have dinner with us?"
Twenty minutes later, the three of us were sitting in the second floor of a Cambodian restaurant, eating as I fought to keep my eyes open. We'd covered the basics ("Where have you been in Asia?" and "How long are you here for?") when the conversation suddenly shifted.
Brian said, "We're here to visit a health clinic established in my friend's name. He was killed in the World Trade Center Attacks and his parents established a foundation in his honor, the Peter C. Alderman Foundation. This is one of the projects they fund."
I thought of the funeral program tucked into my suitcase and took a sip of my water.
"Do you mind if I come with you on the tour of the clinic?" I asked.
"Sure," Brian said. "We're going the day after tomorrow."
In two days, I would open my eyes to a blue sky and go to breakfast before the clinic tour. I would tell myself that I was celebrating Lynn's awesome life and that I didn't need to share this with my two friends. For reasons I still can't explain, I would end up sharing with Brian and Rob the mystery of Lynn's funeral program having fallen from my closet the night before this trip. I would listen carefully to Brian as he spoke about all the people he knew who were affected by the World Trade Center attacks. His best friend had known the couple who went to Bryant, he would say, as I put a forkful of eggs into my mouth. When I heard these words -- "the couple who went to Bryant" -- I would be suddenly aware of everything: the sounds of children playing at a nearby school, the cloudless blue sky, the hum of an air conditioner, the brisk pace of a housekeeper rushing past the pool. I would say, "The couple from Bryant? That was my friend." The three of us would look at one another for a long moment.
It's so easy to forget that anything, truly anything, is possible, until a moment like this arrives.
As uncanny as this coincidence seemed, there was another standout moment from that trip. The day between the clinic visit and my arrival in Siem Reap, I went to Angkor Wat, the twelfth-century Khmer temple with five cone-shaped towers meant to represent the five peaks of Mount Meru. Once there, I crossed the moat and wandered for hours in the temple complex as the hours unfurled.
Finally, I walked toward the exit. The time was mid-afternoon, and with temperatures soaring, there were few tourists. A middle-aged, portly Asian man approached me, holding what looked like a rotten mango. "What is this?" he asked.
"Mango?" I shrugged, uneasy.
He then explained he was a minister, hailing from Korea. Where was I from?
"For the first few years after 9/11, I visited there with my family every year."
Most people, when I mentioned New York, said things like "Great city." I asked him why.
"For the anniversary," he said.
I squinted, wishing I'd brought my sunhat.
"Did you know someone who died?" I blurted.
"No, but my daughter, when she heard the news, she cried for three days straight."
When I inhaled, closing my eyes for an extended moment, he added quietly, "It's very sad, what happened. Very, very sad."
I'd never cried for Lynn in waking life, and now, seven years later, under the hazy, sweltering Cambodian sun, I understood that that was OK. I imagined this man's daughter in her apartment in some small town in Korea, folded in half as tears struck her like bolts of lightening.
His daughter had cried for me, for all of us.
The day before, our tour of healer villages ended with an evening picnic on the moat that circles Angkor Wat. Rob, Brian, and I sat with the clinic staff, telling stories and laughing as the sun dipped behind the trees, cooling off the tropical air. I zeroed in on my favorite moment from earlier that day. In the backseat of the car, I had looked out the window to an expansive yellow field that we were zooming past, and realized, Subjective grief is simply the road in. That old thread in my sternum pulled completely loose, I turned to Brian and asked, "What was Peter like?"
As we picnicked, the glassy surface of the moat below us reflected everything: the sky, the trees, the towers of Meru, the rippled figures of tourists crossing the bridge in small clusters. I looked at Brian, Rob, and the clinic staff and suddenly had to laugh when I thought of what I'd said to the tuk tuk driver. I'd never been alone, not once.
If you'd like to donate to the Alderman Foundation's meaningful work, please see this article.
Related