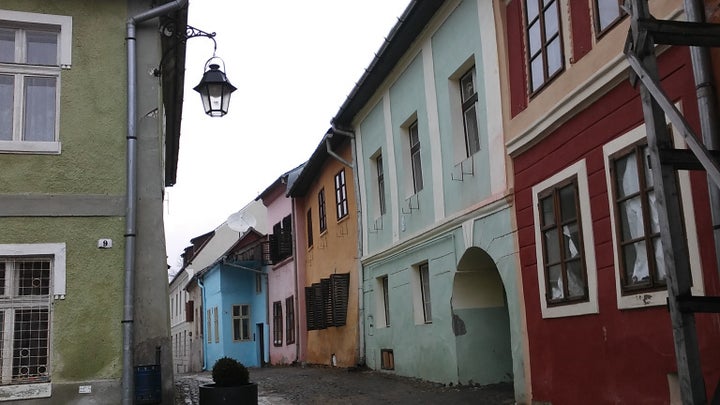 I was wise for putting Transylvania on my bucket list, and I am thrilled to have finally made it to this magical destination.
Two weeks in Romania has allowed me to explore five different towns with many similarities in architectural attractiveness, delicious food, and cozy Transylvanian atmosphere, yet each place offered some unique experiences. Here are the various highlights of my tour through Transylvania, which included busy cities, serene little villages, and castles tucked away into the forest.
Architecture Highlight: Unirii Square (Union Square)
The Main Square of Timisoara's Old Town is definitely the city's most stunning sight, where every church, museum, cafe, and restaurant surrounding the square has its own captivating style unique shape. Timisoara is technically not part of Transylvania, but Unirii Square had the same relaxed energy and colorful elegance of the other towns we visited.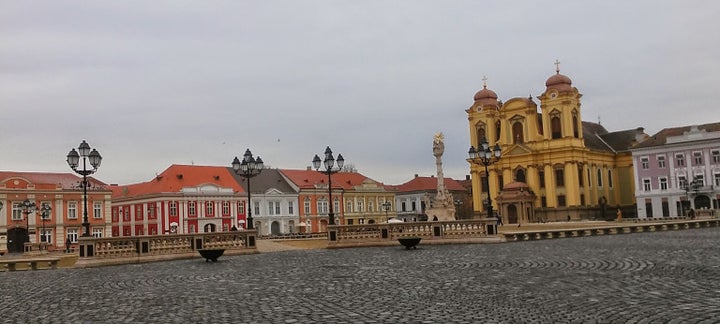 Food Highlight: Pumpkin Ginger Soup
After hours of wandering around in the cold Romanian winter, nothing tastes better than a heartwarming bowl of soup in a warm cafe. No available photos of this meal, the soup was devoured before any cameras could be utilized.
Random Interesting Experience: Seeing protests outside our window
Romania recently passed a law which decriminalized certain corruption in the government, causing thousands of Romanians to take to the streets in protest. We were able to witness a few of these demonstrations as they coincidentally passed right by our apartment window. Though these protests formed out of opposition to the government, they were surprisingly peaceful in comparison to all the recent protests in the USA where things often turn violent.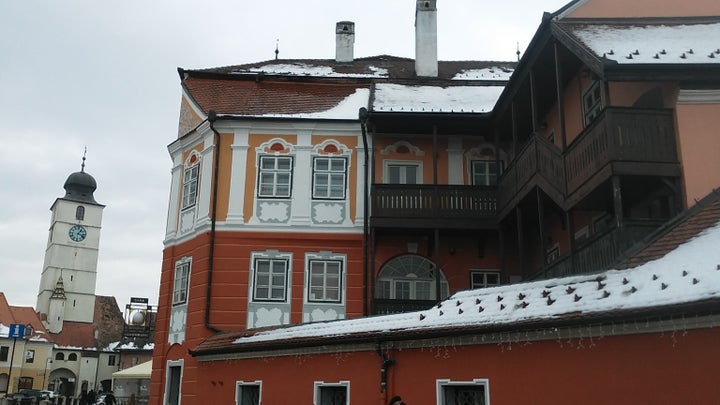 Architecture Highlight: Old Town
Every single street in Sibiu's Old Town reveals a sense of colorful charisma, where big majestic and decorated buildings mingle with small, simple homes to create humble yet captivating scenes even in the most deserted alleyways.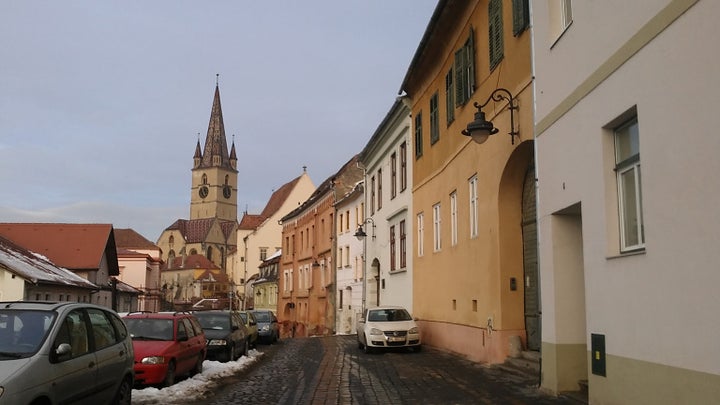 Food Highlight: Atrium Restaurant
This restaurant put a modern twist on traditional Romanian cuisine, and once again, a warm soup infused life into our frozen bodies.
Random Interesting Experience: Buying wine
Whether we entered wine stores as an escape from the cold, or out of pure love for this wonderful beverage, we often found ourselves browsing through wine selections at every chance we could. It took us a while to master the Romanian terms for different wine flavors, but eventually we improved at navigating through the chaos of the wine shelves.
Architecture Highlight: Peles Castle
While the Peles Castle is actually located an hour outside of Brasov in a small village called Sinaia, this impressive palace outshines anything we saw in Brasov itself. Built in 1873, castle's extravagant displays of interior design are just as impressive as its magnificent exterior. Every inch of the place exudes luxury, and we even had to wear plastic bags on our shoes so as not to dirty the pristine palace with our muddy, commoner shoes.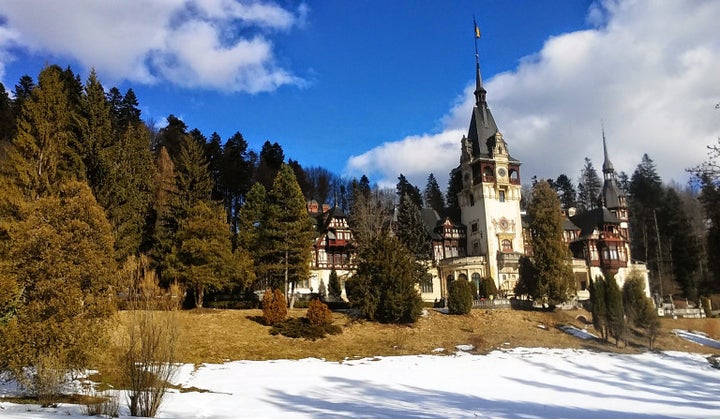 Food Highlight: Cheap bakeries
In order to save money and satisfy the sweet tooth, we made many trips to the little bakeries that pop up around every corner. We tried everything from croissants, cakes, and cookies, to savory bread loaves with seeds or cheese, and not one baked good cost more and a dollar.
Random Interesting Experience: Bran Castle
Bran Castle, also known as the location inspiration for the Dracula story, made for an informative day trip even though it wasn't much more than a tourist trap. Originally built in 1378, this castle is obviously much older than Peles, and therefore less impressive. The physical highlight of the palace was the interesting design of the interior courtyard, but the best part of the trip was reading the informational posters on the walls about the history of the castle and the Dracula stories.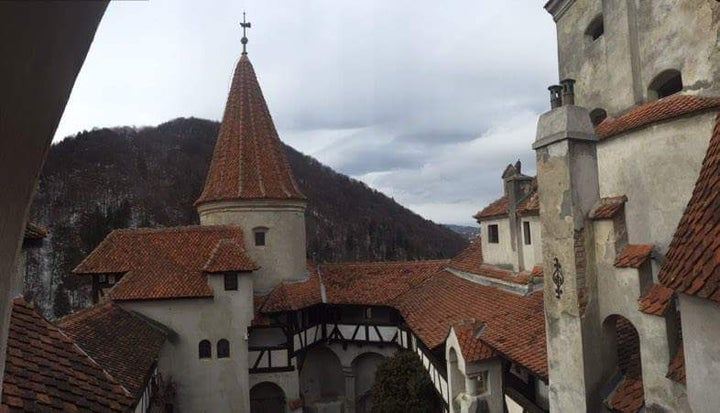 Architecture Highlight: Clock Tower
The most famous landmark in the Old Town, the Baroque-style clock tower was built in the 13th century and is now home to a small, modest history museum. From the top of the tower, you can enjoy the most amazing view of the vibrant colors, winding alleyways, and rustic red tile roofs of the town below.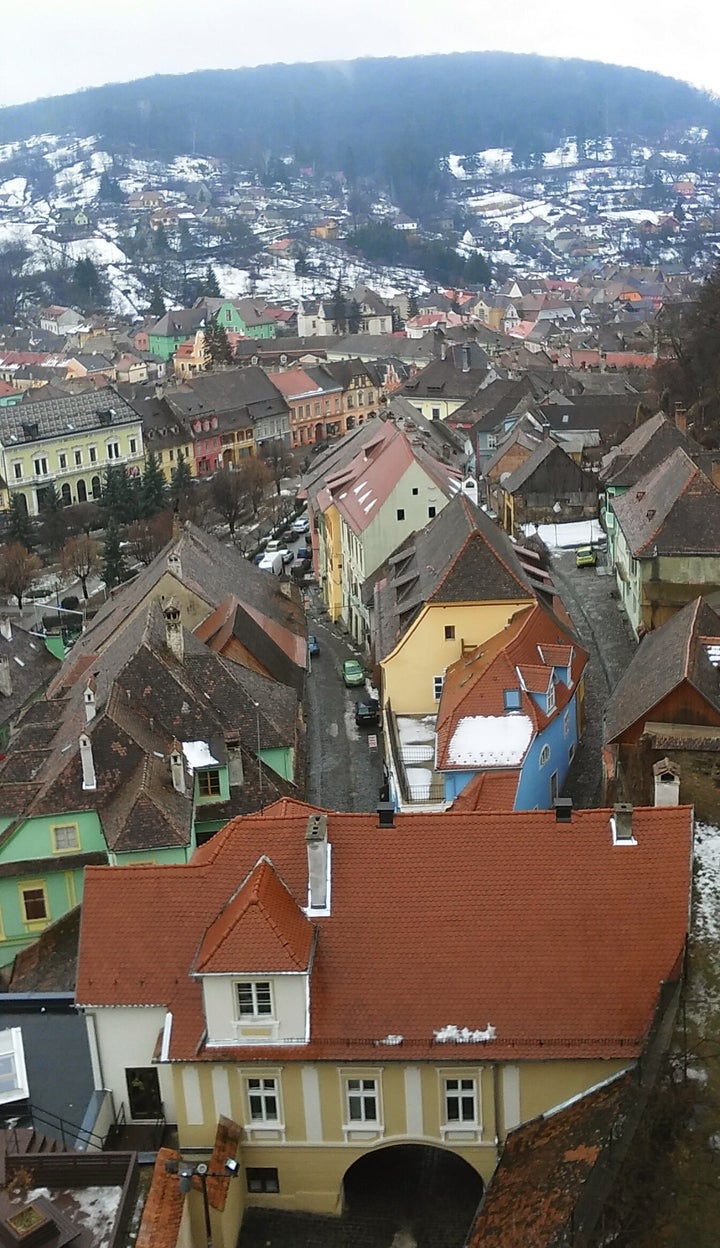 Food Highlight: Eating a huge, hearty meal for an incredible price
After hours of walking around in the freezing rain, we refueled ourselves with four wonderful food dishes including soup, schnitzel, beans, and a massive salad for only around 10 dollars total.
Random Interesting Experience: German Cemetery
Sighisoara is labeled one of the Fortified Saxon cities of Transylvania, and therefore has a significant German population and influence. After climbing up a tall, spooky staircase in the Old Town, we discovered the eerie German Cemetery, where gravestones rest peacefully amid the snowy silence of the deserted park.
Architecture Highlight: Unirii Square and surrounding streets
Right in the center of the Old Town lies a massive public square, which is home to the city's most famous landmarks, the Matthias Corvinus Statue and St. Michael's Church. The spacious boulevards lining the square and branching off into the urban center are full of large and impressive buildings that evoke a sense of proud majesty.
Food Highlight: Zama and Samsara Teahouse
Because Cluj-Napoca is the largest city in Transylvania (and the second-largest city in all of Romania), the food options were plentiful and I couldn't pick just one highlight. For our obligatory traditional Romanian cuisine, we ate decadent polenta dishes at a restaurant called Zama. For a relaxing afternoon, we drank loose-leaf tea while lounging on giant floor pillows at the eccentric and quirky Samsara Tea-house.
Random Interesting Experience: Climbing Cetatuia Hill
To take advantage of the sunny days we fortunately encountered in Cluj, we journeyed up to the top of the Fortress Hill which overlooks the city. In addition to the nice workout from climbing lots of steps, the hill offers the opportunity to observe city life from above and capture the beauty of a peaceful sunset.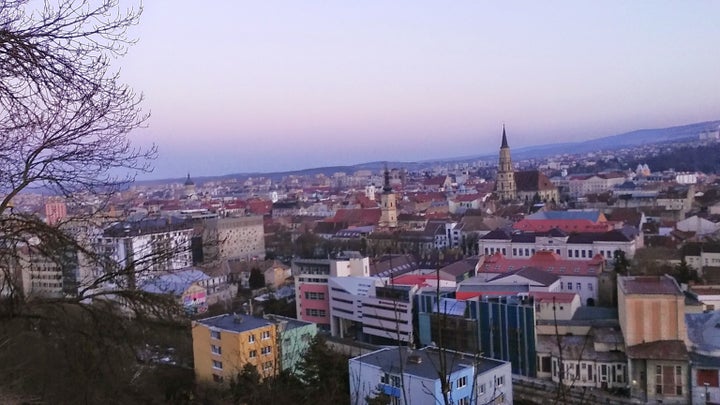 I feel incredibly lucky to have walked the charismatic streets of these gorgeous Transylvanian towns, and I think more people should consider Romania when touring Europe. The colorful Old Towns and magnificent architecture rival that of western Europe yet the cheap prices make this country extremely affordable. I enjoyed every moment of this journey, from taking scenic train rides, to browsing through foreign grocery stores, to getting lost while searching for our airbnbs, to embracing the occasional snow flurries. I was wise for putting Transylvania on my bucket list, and I am thrilled to have finally made it to this magical destination.
Related
Popular in the Community