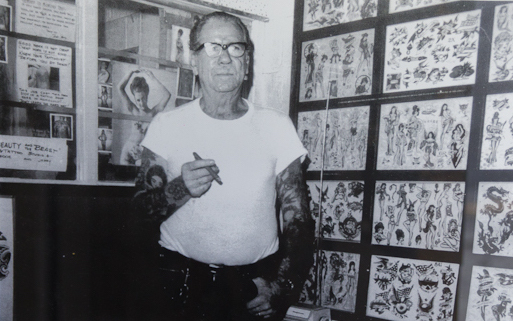 Like many good stories worth telling, this one began with a bottle of rum. I am a longtime unabashed fan of the spirit, and the sunny, tropical associations that come with it. The Sailor Jerry brand, in particular, speaks to me with its beige label sporting stylized font and an ukulele-strumming hula girl - who almost promises a lifestyle of relaxation.

But what is the story behind that hula girl, and the man who created her? Born Norman Keith Collins, he who would take on the nickname of Sailor Jerry, and become a revolutionary tattoo artist, a repeat serviceman, and one of Hawaii's more colorful icons. But it was as a tattoo artist where he left his greatest marks. He combined American designs, and was inspired by Asian influences in a signature style consisting of nautical themes and irreverent images. And when you think of "old school" tattoos of pin-ups, anchors, and so on, it's a good bet you have a Sailor Jerry piece of flash in your mind.

So, on the occasion of his 105th birthday in January, I was in Oahu, Hawaii. My journey became a fantripping adventure dedicated to exploring the stomping grounds of, and gain insight into, Sailor Jerry -- a larger-than-life figure whose impact is still felt, and seen, on tattoo artists and enthusiasts the world over.

The Sea

Born in 1911 in Nevada, Collins was a troublemaker and adventurer at an early age. He made his way to California, and road the rails, which is where he started hand poking tattoos. After ending up in a tattoo shop on South State Street in Chicago, Collins enlisted in the Navy to see the world. As told to me by Sailor Jerry Brand Ambassador Ashley Marsh -- who assisted with a lot of Collins' history -- he traveled to China and Japan, and ended up in Hawaii in the 1930s. And he never looked back.

Before everything changed in 1941, Sailor Jerry's Hawaii was relatively underpopulated, still incredibly overcome by lush nature, and a native personality. I wanted to feel a little of that wild Hawaii - dropped in the middle of the pond that is the Pacific, far away from the mainland -- that Collins encountered.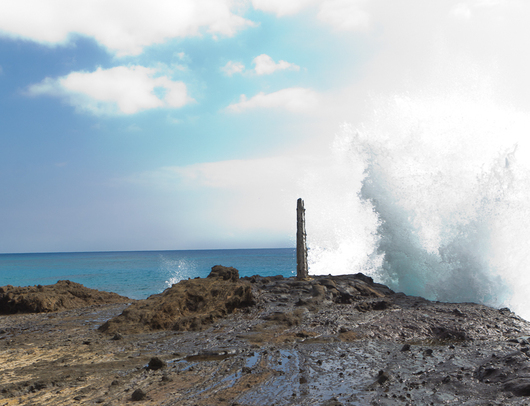 Photo by Tracy Chan

The Halona Beach Cove and Blowhole on the southeastern shore of Oahu seemed like a good spot for that. Although it became famous as the location for the love scene in From Here To Eternity, the cove is an unspoiled area to soak up the natural beauty. I scrambled down the sharp, slippery stones, and found myself on a gorgeous patch of sand, surrounded by massive rock formations with a dark, mysterious-looking cave in the rockwall behind me. The current was too strong and dangerous for this mainlander, so I dipped my toes in and waded out just a tad.

From there, I headed left to the Halona Blowhole, a natural attraction formed thousands of years ago. It is a dangerous area where multiple people have died, and I remained far enough away to watch waves crashing into a cave below, which launched a geyser of water high into the air. As if the natural beauty wasn't already enough to make me think about relocating there, the humpback whales added an extra shot in this cocktail of paradise.

Another spot I recommend going to to get a taste of what Collins' Hawaii must have been like is Makapu'u Beach on the eastern end of Oahu. The area is known for being a bodysurfing destination, and I was feeling slightly more brave at this point. In the course of 20 minutes or so in the water, I did manage to body surf - badly. But more often than not, I was being tossed around like a rag doll on the shore break. This particular rag doll was flipped, hit hard against the sand, was sucked back in when trying to swim to shore, and also lost his rag-doll swim trunks. Proceed with caution.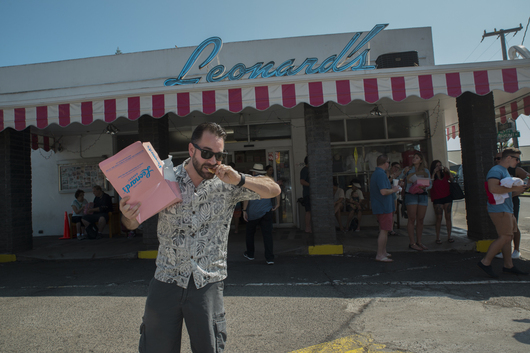 Photo by Kelli Bullock Photography
Where to eat: After a day at play in the water, treat yourself with a local donut. The Malasadas from Leonard's Bakery back in Honolulu are a must-have of old and new Hawaii. The Portuguese donuts without holes are flaky, doughy sweets. I recommend trying the ones coated with the li hing mui sweet/sour/salty powder. I don't know if he did, but it's not difficult to imagine Sailor Jerry digging on a box of these back in the day.

What to drink: After a dip at Makap'u, I recommend taking in the sea vista at Rumfire at the Sheraton Waikiki, and enjoying their signature Mai Tai with their "killer" mix. It is one of the best Mai Tais I've ever had, and possesses that perfectly balanced flavor of the iconic tiki drink without being too fruity - with the booziness is hiding right underneath. But if you want a boozy flavor, try the $18 1944 Mai Tai which is pretty much straight alcohol (and still delicious).

The Service

As previously noted, Collins got the "Sailor" part of his nickname honestly, and enlisted in the Navy in the late '20s (the "Jerry" part came from a prickly family mule of the same name, whom Norman's father thought shared a similar personality with his son).

During his service, Collins explored Asia, and gained much inspiration from that culture's rich tradition of tattooing. In a way it made sense for the future trailblazer to learn from those masters; the tattoo fad actually began in America in the late 19th Century when wealthy tourists traveled to the Far East and would get these decorative souvenirs. Then, around World War I, tattoos became associated with sailors, marines, rascals, and outlaws, with parlors flourishing in port cities - like Honolulu.

After his stint in the Navy, Collins settled in Hawaii and focused on tattooing. He opened the Tom & Jerry's shop with "Painless Tom," located at 13 S. Hotel Street in Honolulu, where he catered to the servicemen coming into port. But after the events of Dec. 7, 1941, the attack on Pearl Harbor, he tried to re-enlist at age 30. He was unable, due to health, but did join up with the merchant marines where he navigated supply ships.

It is difficult to say if Collins ever moved about the base at Pearl Harbor, but he most certainly tattooed the men stationed there, and could relate to Navy living. The Pearl Harbor memorial is a crucial stop to appreciating Sailor Jerry, and is an important one to understanding world history.

The memorial commemorates the 2,403 lives lost, and more than 1,000 wounded, in the surprise attacks by Japanese forces. It is an educational, poignant, and somber stop in Hawaii, and well worth the time. In addition to the exhibits, take the ferry to the USS Arizona Memorial off of Ford Island. Designed by Alfred Pries, the stark-white structure sags in the middle (to represent strength on two ends) and straddles the remains of the sunken battleship - a tomb for approximately 900 men below -- just below the water's surface and still "bleeding" oil 74 years later.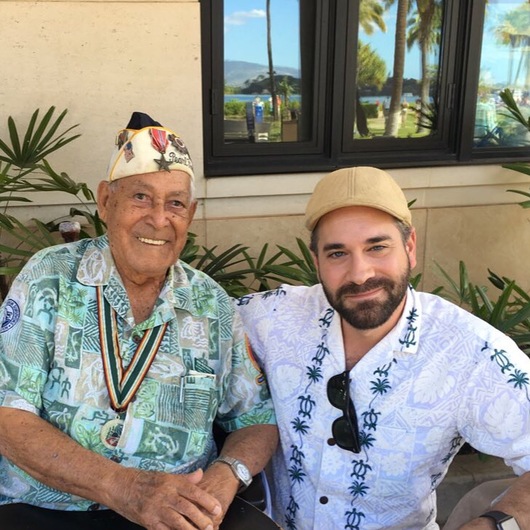 After visiting the Arizona, and reflecting on the tragedy of the attacks, I was fortunate to find something to "enjoy" at Pearl Harbor: Talking with some World War II veterans. In particular, I was delighted to speak with Herb Weatherwax, a native Hawaiian and survivor of the Pearl Harbor attacks. Weatherwax now volunteers at the memorial, but also speaks with visitors outside the visitor's center and signs his autobiography Counting My Blessings. Known as "Uncle Herb," Weatherwax grew up running with a rough crowd in Hawaii before enlisting and traveling the world.

Although he's too classy of a guy to get into some details, he did speak of the sailors he knew who would flock to the Hotel Street District during their time off to get themselves to blow off steam. He also said he never ended up getting a tattoo - he said he just didn't see the appeal - but was in the minority in that regard amongst his servicemen.

The next stop on my Sailor Jerry tour was to Section T, Plot 124 at the National Memorial Cemetery of the Pacific, also known as "The Punchbowl": Norman Keith Collins' grave. Because he was a veteran, Collins has the honor of being buried here. Taking up most of the Punchbowl Crater, the 34,000 graves and memorial is a testament to those who served in the U.S. Armed Forces. While there, I walked through the rows to pay respects to the other men and women who served, and paid close attention the names etched in the walls leading to the memorial; these were the ones who were never recovered from battle.

Where to eat: It is about a 20-minute drive from the Pearl Harbor memorial, but the Highway Inn on Ala Moana Boulevard in Honolulu is a perfect spot for traditional Hawaiian cuisine. Established in Collins' era of 1947, the spot has a rightly earned rep for its beef stew and naau puaa (pig intestines cooked with luau leaves in a soupy base). But the Highway Inn also has contemporary items, such as poi (mashed up taro root) or retro-style dessert like poi Twinkies and a pineapple upside-down cake with kiawe-bean flour. Try the killer kalua pork shredded pork as well.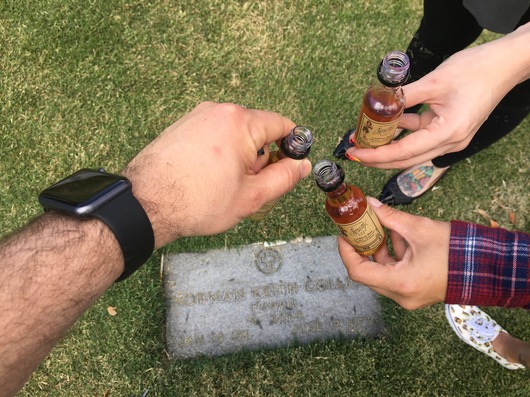 What to drink: This might get me into trouble, but I took a mini bottle of SJ rum to Collins' grave site, toasted the man with some friends and had a straight shot of the stuff before pouring a bit out for the old sailor.
The Seedy

Even before the attack on Pearl Harbor, the Hotel Street District and Chinatown was the place to go for servicemen who had a few hours off and were in the mood for mischief. But once the war started, the red light district offered a booming business of bars, brothels, and tattoo shops. Instead of tourists, the patrons of the Chinatown establishments were on their way to, or back from, war.

The expression "Stewed, Screwed, and Tattooed" summed up the activities of the area as servicemen would get four shots of whiskey, visit one of the more than a dozen legal brothels, then get some ink. Due to wartime curfews, all the seedy behavior normally relegated to nighttime was happening under the hot Hawaiian sun. Sailor Jerry's shop at 1033 Hotel Street was renowned for being the best spot for the "tattooed" part of that trifecta.

These days the brothels are gone, but there are still signs of the daytime "nightlife." Dive bars, trendy spots, Chinese markets, upscale foodie joints, strippers, frat boys, tourists, and locals; a hipster sheen and old-school grime still covers Chinatown, and makes it both a place you want to hang out, and a place you might want to avoid. I recommend the WWII Red Light Tour to get the inside scoop, or just go for a stroll and catch a glimpse of the relics still on display (like the old Club Hubba Hubba "live nude shows" sign and Taxi signage offering a flat rate for sailors back to base).

And if you happen to be in town around June 11 this year, join the Sailor Jerry Festival. Heading into its second year, the fest celebrates Collins' impact on tattoos and Oahu. According to its website, it features SJ-influenced art, live music, a pin-up themed party, costumes, classic cars, and, of course, tattoos.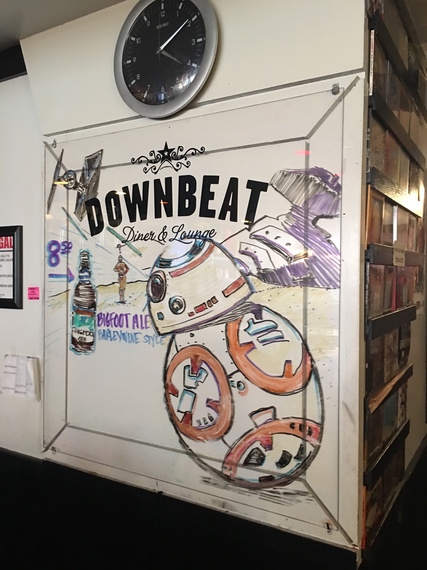 Where to eat: Do not go to the Downbeat Diner on 42 N. Hotel Street because you're concerned about calorie counts, go there because you want to dig into some ultra local Honolulu grub. Diet be damned, order the Volcano fries with gravy, cheese, garlic, and Cajun seasoning. Then get the Loco Moco (a hodgepodge of a dish, supposedly originating in 1949), with a Big Island beef patty with Downbeat gravy, two eggs over easy over brown rice. And cajole a friend to order a Teriyaki burger you can take a bite of.

What to drink: Head to Bar 35, at 35 N. Hotel Street, for a classy but straightforward bar experience. They've a lot of brews on tap, but I prefer the simple approach of ordering a Chinatown-appropriate Sailor Jerry and Ginger, made with Cock N Bull ginger beer.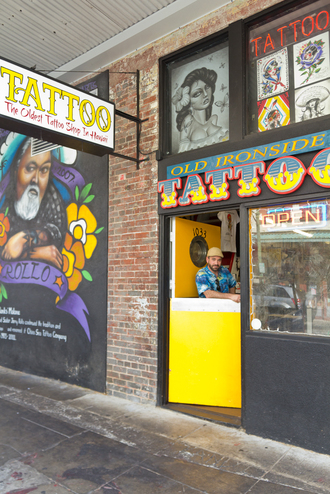 Photo by Tracy Chan
The Shop

Old Ironside Tattoo at 1033 Smith Street (previously known as China Sea Tattoo Company), is the former location of Sailor Jerry's shop, and pays homage to the man with its name, which was yet another moniker for Collins (as was Hori Smoku).

Getting a Sailor Jerry flash here was a big part of my fantripping adventure, as it is a mecca of the American tattoo style. Walking in, I imagined what it might have been to see Collins at work in here, before his heart gave out and he died in '73.

I picture a big guy, over six-feet-tall, wearing a white tee, smoking a pipe, and rocking a pencil-thin mustache. He'd be working on those classic designs of patriotism, sex, gallows humor, and representations of life and death. He introduced purple ink to the industry, so maybe I'd look out for a tattoo of a pin-up girl in a violet dress with bold lines and brilliant shading. Despite American sentiments against the Japanese during the war, this patriotic, incredibly conservative (and anti-government) artist communicated with tattoo masters in Japan so he could perfect his own craft. So I would keep an eye out for that inspiration on the walls. And since he hated reporters and publicity, I would remain on my best behavior so he didn't kick me out, or beat me up.

While I cannot comment on what the shop looked like back in the day, it still feels like a place Collins would inhabit. His work is all over the place, along with the work of other industry giants influenced by him. Murals on the wall outside the shop commemorate Collins, as well as his protégé Mike "Rollo Banks" Malone, who took over for SJ. Simply, the man is honored here.

Although I do not have the honor of serving, and I am not a sailor, or much of a rascal, I do possess a bit of his devil-may-care approach to life, and share the wanderlust I think Collins had.
I was able to get an appointment with artist Anthony Vicar, a local guy who is one to know for those in the know. I settled on a traditional SJ piece for my second tattoo: A Hawaiian hula. Over the course of an hour, give or take a few minutes, Vicar brought the beauty to life on my leg. As this 21st century expert was making his mark, we chatted about his style, and it was not lost on me how much Collins had made a mark on him.

And on my final day, I ended up with a classic Norman Keith "Sailor Jerry" Collins piece of art - completed in his town, and on his own tattoo shop turf in Chinatown.

Where to eat: The Pig & the Lady on N. 83 King Street is a Vietnamese fusion joint that is hip but not pretentious. The daily noodle soup, by chef Andew Le's own mom, should not be skipped. The Vietnames Pho French Dip, a banh mi with brisket and pho broth on a baguette, tastes like comfort food from far-off lands. Throw in an order of the Laotian fried chicken for good measure, and try to eat only one of the little wings.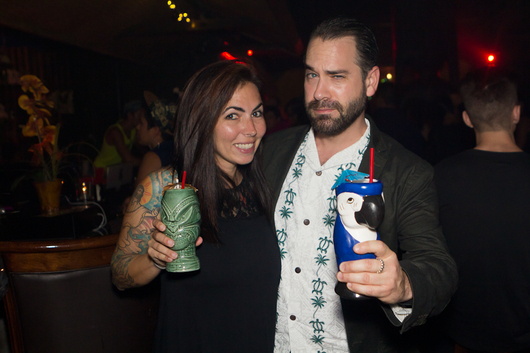 Photo by Tracy Chan
What to drink: Scarlet tiki bar at 80 S. Pauahi St is a straight-friendly gay bar with amazing tropical drinks served in expectedly kitschy mugs, and surrounded by a festive atmosphere. It was zany, campy, and colorful. The Painkiller here is an over-the-top cocktail that will perhaps sooth your ills, but more than one will add to them. Tread carefully.

If you cannot make your way to Hawaii for a Sailor Jerry excursion, there is a great online community of fans. And to learn more about the man, check out the excellent documentary Hori Smoku Sailor Jerry: The Life of Norman Keith Collins. Written and directed by Erich Weiss, it is available to watch on YouTube.
[The author of this article was not paid to endorse any product or location mentioned above]