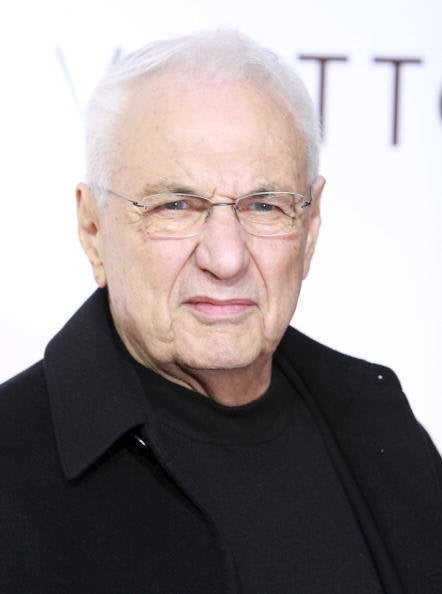 On June 4, the celebrated architect Frank Gehry and I will bring our continuing public conversations about his life and times to the West Coast. At the Getty Center in Los Angeles, and previously at the New York Public Library and the Free Library of Philadelphia, I'll ask him a lot of questions about how he thinks and how he works. He'll then answer most of those questions, balk at a few before answering and come up with a few answers that have nothing at all to do with my questions.
Our onstage chat sessions follow the publication of my new book, Conversations with Frank Gehry, published by Knopf in late April. Gehry essentially initiated the book in December, 2004, when at age 75, he'd been thinking about his legacy and approached me about working with him on an oral history. Having enjoyed our many interviews in the past for assorted newspapers, magazine and books, I was very interested, and what began as an oral history soon developed into Conversations with Frank Gehry.

On and off for these many years, Gehry and I have been talking about his early years in Toronto, his move to Los Angeles at 17 with his family, and the architects, artists and others who influenced or inspired him. Most of our conversations took place in his studio at Gehry Partners offices where we'd sit at the far end of his conference table. Each time I'd visit, the table would be covered by new things most on his mind at the time -- a building model he was thinking about, a product prototype, perhaps a stack of construction photographs from an ongoing development.
Onstage, as at the conference table in his studio, Gehry and I dissect the inspiration, ideas, and process of designing monumental works like the Walt Disney Concert Hall in Los Angeles or the Guggenheim Museum in Bilbao, Spain. And each time we do, I marvel at the range and intersection of experience, imagination and influences that result in these and other Gehry projects.
Gehry's grandfather was a Talmudic scholar who taught him to be curious and ask questions, and the two of them would often talk about the Talmud when they were at the family hardware store fixing clocks or cutting glass. His grandmother, in turn, had a wood stove, and as a child Gehry would go with her to a neighborhood shop for left-over wood pieces. When they got home, she would fill the kitchen floor with pieces of raw wood in all kinds of shapes, and the two of them would sit on the floor together creating little cities, bridges and, buildings. When Gehry and I talk about his choosing architecture as a profession, our conversation usually leads back to those times with his grandmother.
In addition to such architects as Le Corbusier, who Gehry calls "number one on my hit parade," Gehry has also been greatly influenced by visual artists. Some are artists he knew like Robert Rauschenberg or Charles Arnoldi, and others are simply artists he admired or studied over the years. Gehry associates say they're often looking up paintings he's referred to in design discussions.
For Gehry, everything is inspiration. A Giotto chapel in Padua came to mind during his design of the Conde Nast employee cafeteria in New York, for instance. The cover of my book is a sketch and photograph of a building complex in Dusseldorf, and his inspirations for that building included both the 20th century bottle paintings of Georgio Morandi and a Renaissance painting by Giovanni Bellini.
Art seems to be where Gehry turns in difficult times as well. At one point in our conversations, when he was talking about a particularly difficult design process, I asked him quite simply how he managed to keep inspiration going at such times. Here's a short excerpt from my book with his reply:
Gehry: I tell my students when you're stuck, go to a museum. I do it myself. I'll go to a museum and look at a painting, and that always uncorks me. I'll always find something in the painting. I do it with literature a bit, too, and with music. Concerts make me explode with ideas. It's just uncontrollable. Sometimes I can't even focus on the music, I get so carried away. But the best trigger for me is going to the museum.
Isenberg : Given the design of your buildings, does sculpture have a particular attraction for you?

Gehry: Yes, but painting more. Sculpture is more definite. Painting is more ephemeral, so you can read more into it. You're freer to interpret from paintings than you are from a 3-D object. You can fantasize more. It's not that the images you're looking at are translatable into a building; it's the fact that the images are there and they're so beautiful. They're so filled with ideas."