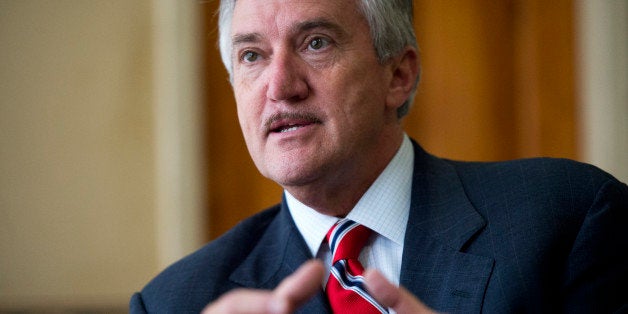 Travis Childers has won the Democratic primary in Missisippi's Senate race, the Associated Press reports.
Childers, a former congressman, bested a field of three other Democrats in Tuesday's contest. If elected in November's general election, Childers would be the first Democratic Senator to represent Mississippi in over thirty years.
Below, more details on the race from the Associated Press:
Six-term Republican Sen. Thad Cochran and tea party-backed challenger Chris McDaniel collided in Mississippi on Tuesday in a ferocious battle between insurgents and the establishment in a party divided along ideological lines.
The Senate contest between Cochran and McDaniel in Mississippi drew top billing, a heated race between a 76-year-old pillar of the establishment who has helped funnel millions of dollars to his state and a younger state lawmaker who drew backing from tea party groups and former Republican vice presidential candidate Sarah Palin. The campaign took a turn toward the sensational when four men, all McDaniel supporters, were arrested and charged with surreptitiously taking photographs of the senator's 76-year-old wife, who suffers from dementia and has long lived in a nursing home.
Cochran's supporters advertised in at least one black newspaper in the race's final days as they appealed to traditionally Democratic voters to extend his career.
Vicksburg Mayor George Flaggs, a black Democrat who served for 26 years in the state Legislature, said he was supporting the white, Republican incumbent. He said the senator has secured federal funding for a U.S. Army Corps of Engineers research station in his city, adding, "It is incumbent for me to vote for Thad."
State law required the primary leader to gain at least 50 percent of the vote to win the nomination outright. The presence of a third Republican on the ballot, Thomas Carey, raised the possibility that a June 24 runoff between the top two finishers would be needed.
The race was arguably the year's last good chance for the tea party wing of the party to topple an establishment favorite in a Senate primary, following losses in Texas, North Carolina, Georgia and Kentucky.
The impact of the race seemed less in the national battle for control of the Senate, where Republicans need to gain six seats this fall to capture a majority. Former Rep. Travis Childers and three others sought the Democratic nomination to oppose the winner of the Cochran-McDaniel race in Mississippi, a state that last elected a Democratic senator in 1982.
Calling all HuffPost superfans!
Sign up for membership to become a founding member and help shape HuffPost's next chapter
BEFORE YOU GO
PHOTO GALLERY
Senate Seats Up For Grabs In 2014