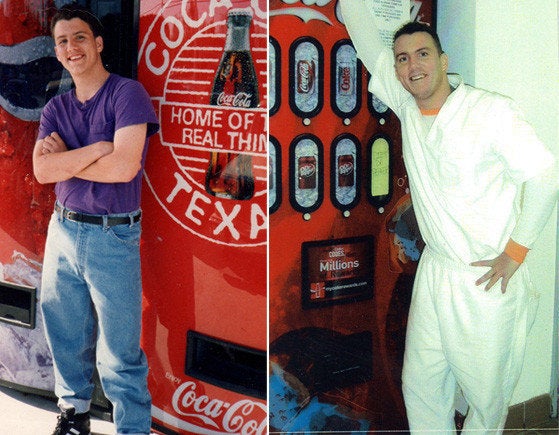 Growing up in Texas, Travis Iosue never sat still. He would bark and howl and twitch. His eyes would roll back in his head. He once punched a wall over and over until he fractured a bone in his hand. His mother Diane sent him away to live in psychiatric hospitals for a few years, where the doctors treated him for severe obsessive compulsive disorder, Tourette's Syndrome, and attention deficit hyperactivity disorder.
Diane admits that her son, at age 17, probably had the maturity level of a 12-year-old.
But she couldn't believe what the police in Round Rock told her when they knocked on her door on September 1, 1995. At a neighbor's house the night before, Travis had asked a 10-year-old girl to sit on his lap, and then touched her on top of her shirt "for sexual gratification," according to police records.
Travis accepted a plea deal -- though he claims he's innocent -- which offered him five years probation instead of a lengthy prison sentence for indecency with a child. Within a month of cutting the deal, he violated his probation, which mandated that he couldn't hang out with minors, and was sentenced to 20 years behind bars.
He was released last December, having served 16. In the show, "Our America with Lisa Ling," Ling follows Travis during his first free days as an adult, which have proven to be filled with barriers. Finding housing and a job are nearly impossible for someone who's a registered sex offender.
Nicole Pittman, the Soros Senior Justice Advocacy Fellow at Human Rights Watch, has interviewed hundreds of registered sex offenders over the last couple years, and told The Huffington Post that the most common comment she hears is "I'd rather be dead." The second is "I'd probably have a better chance at a second chance if I'd murdered somebody."
"It's a true comment too," Pittman said.
One of Travis' first challenges was finding a place to live. He wanted to move in with his mother, who for 16 years kept his childhood room perfectly preserved. But nearby, a school bus stops to pick up kids in the morning, and Travis, now 34, isn't allowed to go within 500 feet of places where children commonly gather. So Travis moved into a halfway house.
Travis was put on parole, with a GPS monitor strapped to his ankle, and only allowed outside for work, doctor's appointments, and essential shopping. All of Travis' movements -- even doing his laundry -- must be pre-approved and put on a schedule.
Finding a job is hard for any registered sex offender, especially someone like Travis, whose work experience is limited to two weeks at Taco Bell in 1994. Travis began spending four or five days a week at the Texas Employment Commission -- not the closest one, because there was a daycare there -- but one a couple extra bus rides away.
And while Travis' mental illnesses are no longer so severe, 16 years in Texas penitentiaries have created other health problems.
Inmates aren't kind to the child molesters in their midst, and Travis was a particularly vulnerable target. His nose was broken, and he can't breathe through it very well anymore. His front teeth were kicked out. His eye socket was broken, so he has a metal plate above his left eye to keep his eyeball in place. His right clavicle was broken, as was his right hand, and forearm, and shoulder. He thinks he suffers hearing loss, and memory loss too. His mother told HuffPost that she worries his heart beat is too rapid. He gets dizzy sometimes.
Innocent, Until Pleading Guilty
"Sometimes it's like chains around my knees and it hurts every time I walk," Travis told Lisa Ling about all his restrictions. "But I can't complain because it's better than prison. But I can complain because I shouldn't be here in the first place."
Travis still claims he never touched the girl. But after six months in jail awaiting trial he said was desperate to get out. His lawyer offered him a plea deal -- five years probation instead of prison time -- that sounded reasonable. Desperate to go home, 17 year-old Travis accepted against the urgings of his mother. His decision backfired, because he was in trouble again just weeks later.

He got busted for hanging out with two teens -- a violation of his probation -- even though he was underage himself.
In Pittman's survey of 200 registered sex offenders, 85.6 percent took a plea, and more than half said they weren't told that this meant a lifetime on the sex offender registry.
Diane thinks his court-appointed lawyer, Randy Lepley, was anxious to finish the case. She said he pressured her son into entering a plea, even though two kids at the scene of the alleged crime wrote signed affidavits saying they didn't see Travis do anything wrong. Lepley couldn't be reached for comment, and no longer practices law in Texas. He resigned his license in 2004, after the state Supreme Court found him guilty of professional misconduct.
It's impossible to know for sure what happened that day in 1995. Ling spoke briefly with the victim's mother, who said her daughter is still traumatized. The victim's father, however, said he believes his daughter may have grossly exaggerated what took place. He said she considered going to authorities a few years ago to change her story, but was worried she'd be arrested if she did.
Travis could petition to get off the registry, but such attempts are rarely successful, according to researchers tracking sex crimes.
That's a costly option and Diane doesn't have the money to hire a lawyer. All of that will have to wait anyway, because Travis is back in prison.
He broke his parole twice in 24 hours in May. In the first violation, something triggered his ankle alarm in the middle of the night and his parole officer accused Travis of taking too long to respond to it. The following day, he broke the rules again, by having an unscheduled 20-minute birthday celebration with his family on the halfway house's grounds. He'll be serving 60 to 90 days.
"What normally happens is you get re-arrested," says Pittman, about newly released sex offenders. "In less than a few months, you're back in prison for a technical violation."
Diane is hopeful that her son will restart his life: get a job, maybe even a girlfriend. But she believes the system is stacked against her son. "I feel like these people are determined not to provide him with the tools to be successful," she says, "but to strip him and demean him so he can't be successful."
The "Labeled For Life" episode of "Our America With Lisa Ling" will air Tuesday, Aug. 7 at 10 p.m. E.T. on the Oprah Winfrey Network
Calling all HuffPost superfans!
Sign up for membership to become a founding member and help shape HuffPost's next chapter
BEFORE YOU GO