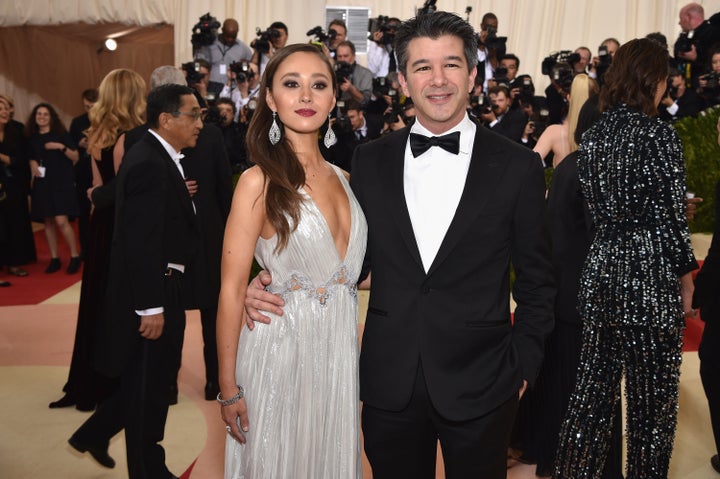 Gabi Holzwarth was glad to be out of Uber's orbit, which she described to The Huffington Post as a deeply misogynistic environment that was damaging to her psyche. But she got pulled back in with a phone call three weeks ago from a top Uber executive, who she says urged her to keep quiet about a 2014 incident at a South Korean karaoke and escort bar.
Holzwarth, though, says nothing will stop her from speaking out.
For three years, while she was dating Uber CEO Travis Kalanick, Holzwarth ― a violinist and business development manager ― spent time at bars and parties surrounded by the men of Silicon Valley. If there were women around, she said, they were more likely to be models than other executives.
"You go to an event and there's just a bunch of models they've flown in," Holzwarth, 27, told HuffPost. "That's what they like to play with. That's pretty much it."
It wasn't a good situation for Holzwarth, who's dealt with eating disorders for years.
"As a woman struggling with my own insecurities and body image, the best thing for me was to leave that unhealthy world of impossible standards," she said. (Holzwarth has credited Kalanick with helping her recover from her eating disorders.)
Holzwarth's story ― recently detailed at The Information ― is emerging amid a spiraling public relations disaster for Uber, partly as a result of allegations about its aggressive and sexist company culture. On Tuesday, for the first time, Uber released data about the gender, racial and ethnic makeup of its workforce. Like most of its competitors, the company is overwhelmingly white and male, particularly in its leadership and tech roles.
The company also acknowledged an intense, masculine culture that it says has led to trouble. "Every strength, in excess, is a weakness," Liane Hornsey, the company's new chief human resources officer, told The New York Times. "What has driven Uber to immense success — its aggression, the hard-charging attitude — has toppled over. And it needs to be shaved back."
Holzwarth's relationship with Kalanick ended in August 2016. She refrained from talking about him or Uber for several months, even as the ride-hailing company has been rocked by allegations of sexual harassment leveled by former Uber engineer Susan Fowler, along with other controversies.
The company has said that it wants to get to the bottom of Fowler's accusations ― a terrible tale in which Uber's executives repeatedly ignored complaints of harassment and sexism, ultimately leading Fowler to leave the firm.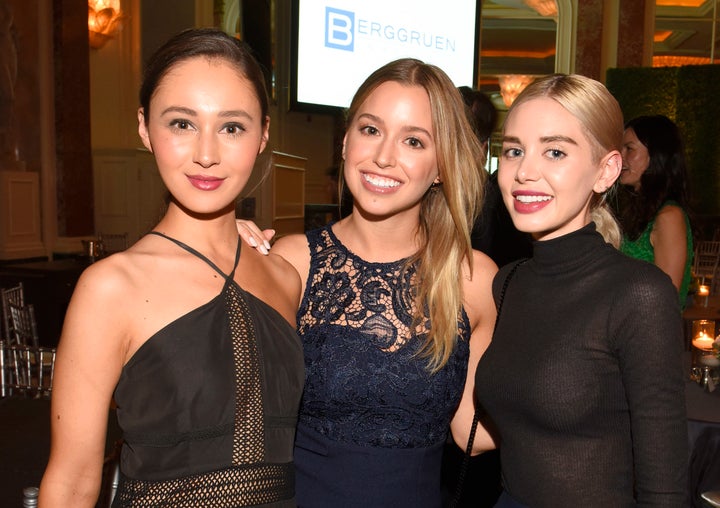 In February, Uber launched an internal investigation into the harassment complaint, led by former Attorney General Eric Holder and board member Arianna Huffington (who stepped down from her positions at HuffPost last year). Huffington has been defending Uber in the press. However, on Tuesday, Huffington said through a spokeswoman that she won't comment further on the matter until Holder's investigation is completed.
The New York Times ran an explosive report last month ― the result of interviews with more than 30 current and former employees and reviews of internal emails ― that described a bruising corporate culture at Uber, one rife with sexism and hostility. In one instance, a manager groped the breasts of multiple female co-workers. "A director shouted a homophobic slur at a subordinate during a heated confrontation in a meeting," reports the Times' Mike Isaac. (The manager who groped the women was terminated within a day, the Times notes.)
Holzwarth was staying out of it ― until she got a call a few weeks ago from Emil Michael, Uber's senior vice president of business. Holzwarth says that Michael asked her to keep quiet about an incident that took place in South Korea in 2014, involving escorts in a karaoke bar. Michael believed the story might resurface because of the current controversy.
The Information described the incident in a story this weekend. According to Holzwarth and an internal complaint from a female marketing manager at the company, Kalanick, Holzwarth and several Uber executives ― all but one of them male ― went to a karaoke and escort bar in Seoul. The male Uber executives selected women working at the bar ― who were wearing tags with numbers ― and sat with them, according to The Information's report. However, Holzwarth, Kalanick and the female Uber executive did not stick around.
Prostitution is illegal in South Korea, but casual sex work is not uncommon there, and often happens at karaoke bars. The incident made the female executive deeply uncomfortable, and she later filed a complaint with Uber's human resource department.
"It made me feel horrible as a girl (seeing those girls with number tags and being called out is really degrading)," the female executive told Holzwarth in a text exchange, according to The Information's report. Holzwarth confirmed that detail to HuffPost.
Holzwarth says that in their phone call a few weeks ago, Michael told her that if anyone asked about that night, she should say it was just karaoke. Holzwarth said she spent a few anxious weeks stewing about that phone call before finally opening up about it to The Information.
"I don't want to be silenced or lie for somebody else. It made me feel uncomfortable," she told HuffPost. "[It was a] tough three weeks of hiding their secret."
Michael disputes Holzwarth's account of the phone call.
"Given the intense news cycle I thought it was the right thing to do to reach out and let her know that reporters may try to contact her directly," Michael told The Information. "I have known her for a long time, consider her a friend and did not want her to be taken by surprise. Her recollection of this conversation was different from mine and I am very sorry if the purpose of my call was misunderstood."
Reached for comment, a spokeswoman for Uber referred HuffPost to Michael's remarks above. The spokeswoman also offered a company statement: "This all happened nearly three years ago. It was previously reported to human resources and in early March was referred to Tammy Albarran and Eric Holder," who are leading an investigation into Uber's workplace culture.
Holzwarth said that she does not consider Michael a friend.
In the days since her story first appeared, she says, several women have reached out to thank her for coming forward ― including women at Uber and in the Valley more generally.
She's glad she spoke up, but she's not sure her story or the company's efforts to fix its problems ― Kalanick, who is 40 years old and was recently caught on video sparring with a driver, has apologized and pledged to "grow up" ― will ultimately change anything for Uber.
"I've seen how the company runs. It is how it is," she said. "I truly don't believe things will be changing."
Related
Popular in the Community