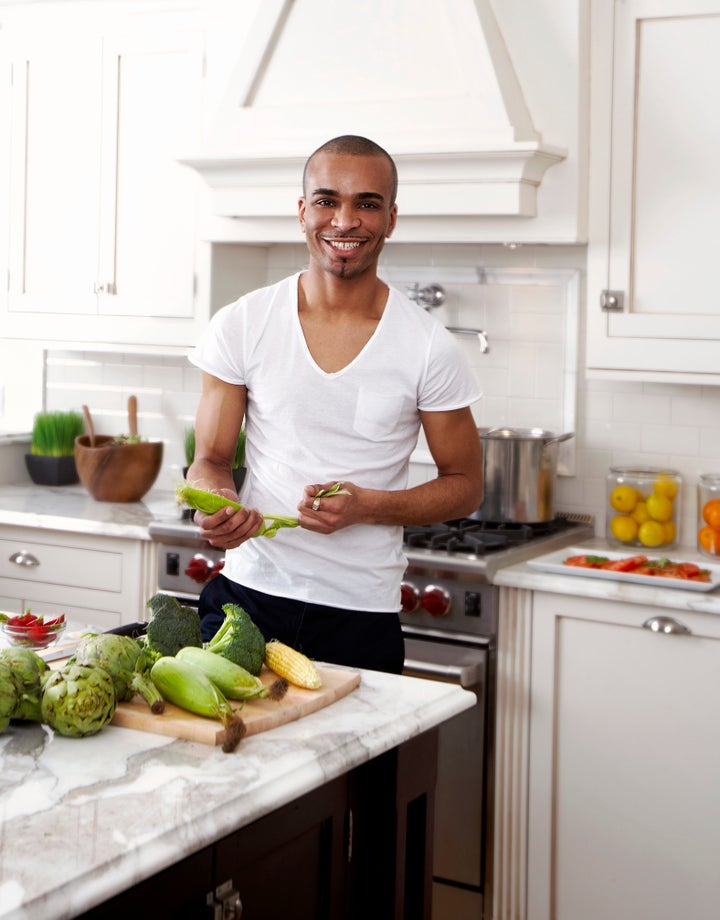 Don't let Travis London's celebrity affiliations fool you. Yes, he's been dubbed a "partygoing L.A. hipster" by Page Six and linked both romantically and platonically to the likes of Mary Kate Olsen and Rihanna, but on his day job, as creator of the catering company Healthy Chic Eats, London is just an up-and-coming chef and family man.
"My grandmother is the taster. Nothing goes out without her tasting it," he says, breaking down the role everyone plays in his completely family-run business. "My cousin Nick is a chef as well, so he preps everything. My uncle Jimmy is the maintenance man. Every time we have an event, he sets it up and breaks it down. He also fixes any repairs we have in the kitchen. My uncle Johnny comes in when we actually have to plan the decor of an event -- he's an interior designer. And my mom sets up all our appointments and meetings for the company," he says.
On weekends you're liable to find chef Travis and Co. kicking back at his mom's house in Palm Springs, where he's often fielding attacks about being a healthy cook and giving his family's African-American and Mexican dishes a healthy twist.
"I'm Mexican and black, so I grew up with southern food, enchiladas and tamales. I know it all, but no one in my family eats healthy," he says, describing the initial flak he caught for remaking his grandmother's recipes for enchiladas with sweet potatoes instead of meat.
Healthy eating is a goal London says he adopted growing up, watching his mom struggle with being overweight. "I remember being 13 and I saw Suzanne Somers selling the book 'Eat, Cheat and Melt the Fat Away,' on Home Shopping Network. I saved up my allowance and had my grandmother get a money order for me and I sent in to get the book," he says. "I got the book for my mom and literally read it from cover to cover. That was how I got involved in healthy eating...because I wanted to find a way for my mom to lose weight," London says, adding that she's since shed more than 200 pounds.
With nutrition topping the list of London's company goals, making sure his dishes look appealing comes in at number two. "You eat with your eyes before anything else," he says.
Here, London shares his best advice for newbie cooks, plus a few brunch recipes to try out.
Use what you have. It's more about the way you cook things than what you buy and where you buy it, he says. Always on deck: Plenty of fruits and vegetables. Not only for making sure your dishes are as nutritious as they can be, but fresh fruit also serves as a palette cleanser in between each course.
Stay in your confort zone in the kitchen. If you're a grilling guy, for example, don't try to venture out and do something like a beef bourguignon. Want to grill something but upgrade it? Do a papillote on the grill instead, London says.
Start with brunch. "It's a good way for people to test things out. It's more relaxed, it's more carefree, it's time when you can actually experiment with things," he says. And since it tends to be less formal, perhaps the expectation to make it perfect isn't quite as high.
Jazz up the classics. Even if you're working with pancake mix from the box, there are ways to take the breakfast staple to the next level. London suggests adding a cup of pumpkin puree, plus a little nutmeg and cinnamon, to the mix. Once your flapjacks are done, use a cookie cutter (or the rim of a glass) to cut out each one for a much nicer presentation.
REAL LIFE. REAL NEWS. REAL VOICES.
Help us tell more of the stories that matter from voices that too often remain unheard.
BEFORE YOU GO