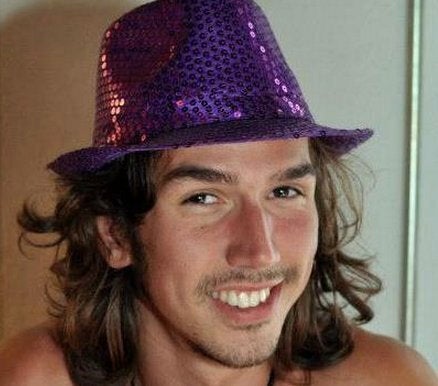 This post is part of our My SF series that profiles our best, brightest and most interesting local personalities.
Neighborhood: Lower Haight
Current Gig: A pioneer of the worldwide cuddling revolution, Sigley fancies himself a cuddle practitioner and intimacy educator.
A firm believer in the healing power of touch, Sigley founded his business, Cuddle Therapy, three years ago out of his home. His wide array of clients hire him for hour-long cuddling and meditation sessions, during which he will talk to them about anything they desire (or simply remain silent).
But Sigley doesn't want to stop at one-on-one cuddling appointments. He's aiming to bring his brand international, starting with partnerships with other cuddle practitioners and a "cuddle road trip" planned for early next year. In the mean time, you may have spotted him around town, showing up to house parties or live music events armed with fluffy gear to create one of his famous "cuddle puddles."
The Huffington Post recently caught up with Sigley to learn about the importance of human contact, his favorite cuddling positions and who would most benefit from a nice, long cuddle.
So what is cuddle therapy, anyway? It's an intimacy, affection and touch service I started in order to fill a gap that I saw in a lot of people's lives. They weren't experiencing any closeness or connection with people; they felt isolated or alone.
What goes down during a session? Every client starts with a face-to-face intake appointment to discuss what their needs are, set some boundaries and expectations. During the session itself, I'll either go to their location or welcome them into my space. I'll then sit ourselves down, guide us through a meditation to clear out the day. Then we'll both lay back and I tell them they're the leader and are welcome to ask for anything they need -- a position, a topic of conversation, maybe they just want to be held in silence. It's different every single time. Some people like to talk and get things off their chest; others just want to relax and get into a new space and not have to do anything.
How much does it cost? The intakes are free. An hour session is $60.
What's a typical customer like? I see a wide variety of people. I've seen as young as 19 and as old as mid-60s. I certainly see both men and women, but I rarely see straight men. When I do, it's usually a very powerful experience for them -- to be able to feel what male affection feels like when it's completely nonsexual.
Seems like you've tapped into an intrinsic human need. How did this all come about? When I first moved to San Francisco, I found myself dancing at a strip club. Within the first week of my dancing there, I a client specifically asked me to just cuddle and talk for a while. In the weeks that followed, I had old and new clients alike ask me for the same thing. So after doing that for a few months, I decided I needed to start making something happen with this. I needed to take out the stigma, everything associated with the sex industry, and offer it as a completely nonsexual intimacy and affection service.
Be honest, though -- it never ever turns sexual? In the past three years I have never had a client try to do something sexual with me during a session.
Do you think your business would work outside a place like San Francisco? I definitely think it would work in other cities. San Francisco was the perfect, supportive community to grow this; San Francisco inspired it and San Francisco supported it. But I know there's more opportunity for this. It's a basic need and craving all across the world; people just need to open their minds. I'm planning a cuddle tour in my cuddle shuttle to help expand awareness.
What's a cuddle shuttle? The cuddle shuttle has been a little dream of mine for a while. To buy a medium-sized bus, convert it, put memory foam pads throughout the entire thing. Then I can go on tour, giving talks, teaching workshops, having social gatherings around nonsexual touch and intimate connections. I want to create a mobile experience where someone can dip into affection.
Is that anything like your famous 'cuddle puddles' that you bring to parties? Funnily enough, I'm actually laying on one now. I bring memory foam pads, sheets and pillows to parties and events throughout the city, different clubs, wherever people decide to hire me. I create a place for people to relax, kick their shoes off, get comfy and cozy. They dont have to cuddle, but it always just sort of happens.
What do you think of other cuddle therapists popping up around the country, like famous report on The Snuggery in New York? I love that there are people out there offering genuine intimacy. I'm really grateful for it. My biggest dream is to create a whole intimacy industry that helps people be comfortable with themselves and connect to one another.
If you could cuddle with any person, living or dead, who would it be? That is a massive pool of people.
Kind of like a college essay question. For the Cuddle College.
You don't have to answer that if it's too hard. No, I can do this...I think it would be fascinating to cuddle with Nikola Tesla. He is not only a sheer genius based on his countless gifts and inspirations to science technology, he also lived a celibate life through its entirety. I'd be so interested what it would be like to truly feel Nikola Tesla, and what his internal world must have felt like.
Can you think of a famous person or political figure who most needs to be cuddled? Mitt Romney could really use some good cuddling for a very long time. He seems so disconnected from human beings; his empathy is just null. He needs a good, nice, long cuddle retreat to rediscover the truth of himself. Who knows what's really underneath that surface?
Any favorite places you like to cuddle around town? My own cuddle den in my home in the Lower Haight. Or sunny days in Golden Gate Park -- love the Conservatory of Flowers. That's a nice little cuddly space. Baker Beach, too. Any sunny day outside, you can't go wrong.
What's the biggest mistake people make while they're cuddling? If you're feeling uncomfortable, then you're doing something wrong. The whole point of cuddling is the ability to melt away, totally relax your entire body with someone else's, forget everything else going on in the world.
Do you get more business during the holiday season? The holiday season can be stressful, it gets a lot colder, things compound to inspire more desire for cuddling. I've certainly had a lot more people coming to me this season -- I just got three texts within the last few hours.
Popular in the Community