The University of Texas at Austin's student newspaper, The Daily Texan, apologized Thursday for a controversial cartoon published earlier this week about the Trayvon Martin shooting. In addition, the Texan announced that Stephanie Eisner, the author of the cartoon, would no longer work for the newspaper.
The cartoon in question originally ran in Tuesday's print edition. In the drawing, a woman reads from a book entitled "Treyvon [sic] Martin and the Case of Yellow Journalism" A speech bubble poised next to the woman's head exclaims,"And then, the BIG BAD WHITE man killed the handsome, sweet, innocent colored boy." The cartoon ran the same day as a rally for Trayvon Martin was planned in Austin.
After controversy erupted, the DT took the cartoon down from the website, and then later put the cartoon back up with an editor's note explaining why they published it. It has since been taken down again. Faculty adviser Doug Warren issued a statement, which the DT tweeted about, but it was taken off the website as well. Eisner issued an apology to local news outlets on Wednesday afternoon.
Students on campus protested outside the DT's office Wednesday, holding signs with statements like "The Daily Texan: Racist Since 1900."
Donna De Cesare, an associate professor at the UT journalism school said in a video that the editorial board shouldn't have published the drawing.
"This is not the first time that racist cartoons have appeared in the Texan and the coverage has not been reflective of this campus as a whole," De Cesare said.
Viviana Aldous, the DT's editor-in-chief, admitted to students gathered outside the DT office that they haven't made enough of an effort to reach out to the community for more diverse coverage. Staff members told protesters outside their newsroom that the cartoon was an attempt to critique the media coverage, and not the actual incident itself.
On Thursday, the DT's editorial board issued an apology for the cartoon. They also announced that Eisner was no longer working on their staff but it was not clear whether she left on her own or was dismissed. Aldous and Warren did not respond to a request for comment by The Huffington Post. Eisner was also not able to be reached.
"We made a mistake, and we understand that the outcome of our action extends beyond Tuesday's cartoon and prompts us to reflect on a larger problem that persists at The Daily Texan and on the campus of the University of Texas at Austin," the editorial board wrote, "something we should have done before Tuesday's paper ran."
The Daily Texan's cartoon: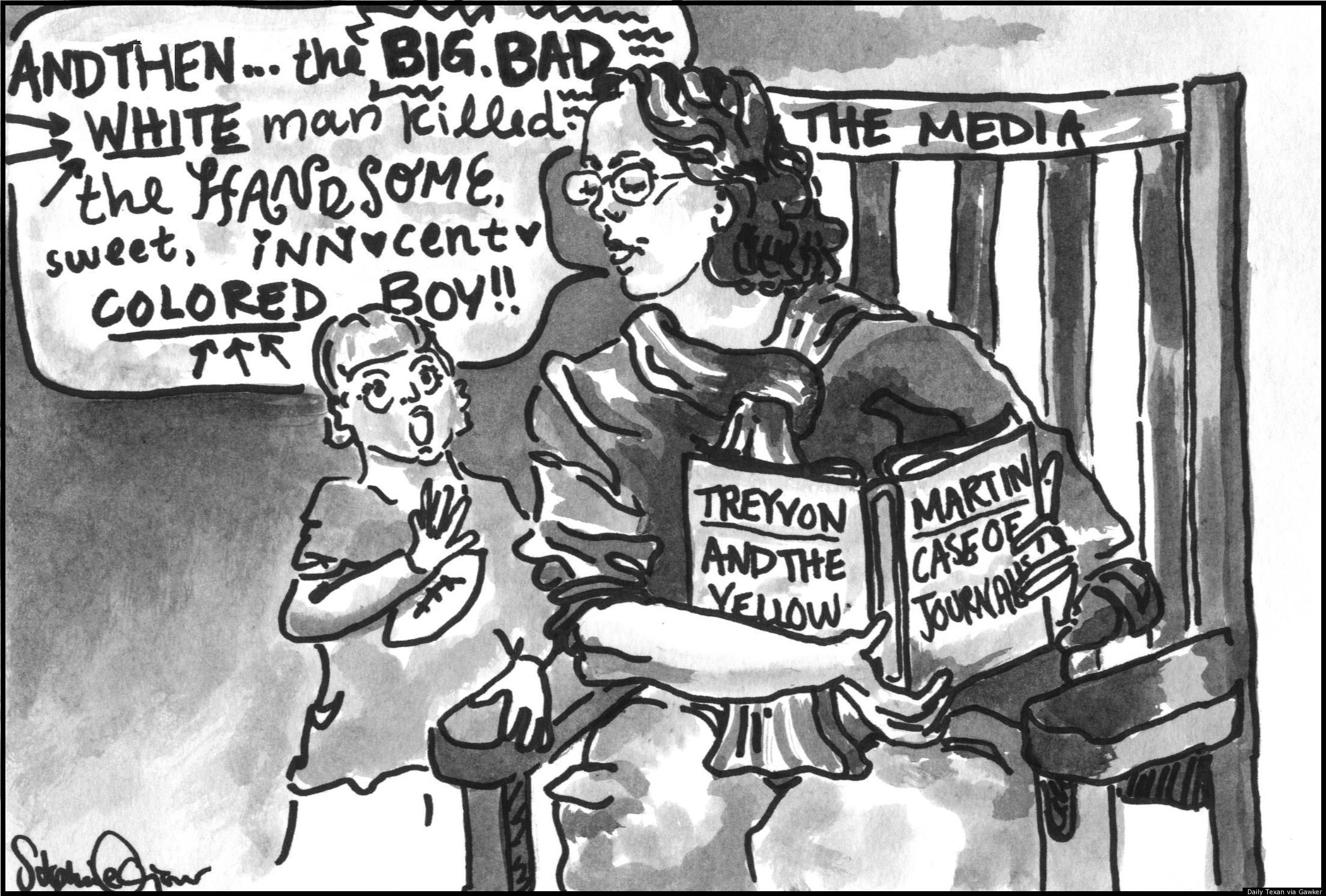 Before You Go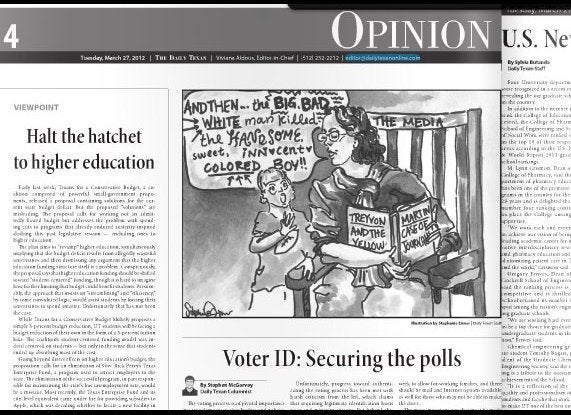 twitter reactions to ut trayvon martin cartoon
Popular in the Community