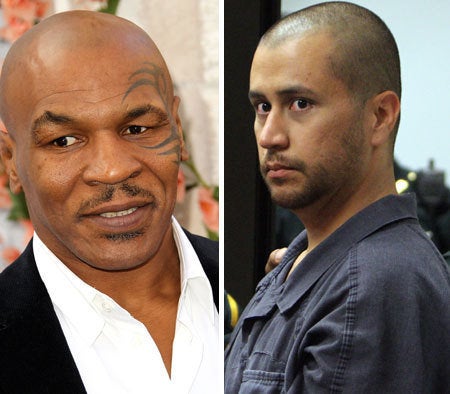 My personal feeling is that, as a young kid that was beat on by a bully, the guy [Zimmerman] stalked him and didn't follow instructions from a superior officer. But my all-around perspective, I wasn't there. I don't know what happened. Even though this is the best country in the world, certain laws in this country are a disgrace to a nation of savages. It's a majority versus a minority. That's the way God planned it. He didn't want to do something about it, He wanted us to do something about it. We have to continue tweeting, we have to continue marching, we have to continue fighting for Trayvon Martin. If that's not the case, he was killed in vain, and we're just waiting for it to happen to our children. It's a disgrace that man hasn't been dragged out of his house and tied to a car and taken away. Forget about him being arrested—the fact that he hasn't been shot yet is a disgrace. That's how I feel personally about it.
-- Former heavyweight boxing champion Mike Tyson opens up on the death of Trayvon Martin. (Yahoo News)
Calling all HuffPost superfans!
Sign up for membership to become a founding member and help shape HuffPost's next chapter
BEFORE YOU GO