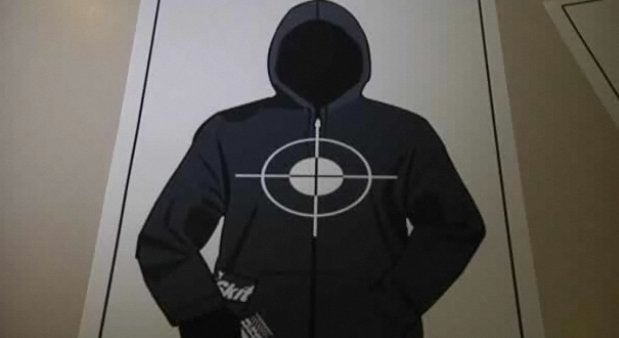 This post has been updated to include additional information about the seller of the paper targets.

A Florida entrepreneur said he had sold out of gun range targets depicting a faceless, hood-clad figure holding an iced tea and a bag of Skittles meant to look like Trayvon Martin.
"The response is overwhelming," the seller told Orlando's WKMG news team over e-mail. "I sold out in two days." The station did not identify the seller, and said it found the ad on a popular firearms auctioning website.
The description of the product reads:
Everyone knows the story of Zimmerman and Martin. Obviously we support Zimmerman and believe he is innocent and that he shot a thug. Each target is printed on thick, high quality poster paper with a matte finish! The dimensions are 12"x18" ( The same as Darkotic Zombie Targets) This is a Ten Pack of Targets.

A Twitter account with the same name has been discontinued. A Google search on "hillerarmco" shows a company called the Hiller Armament Company. The domain for Hillerarmco.com is no longer active.
Martin, an unarmed 17-year-old, was shot and killed by a neighborhood watch volunteer as he returned to his father's girlfriend's house after a trip to the convenience store. Martin was unarmed, but was carrying a bag of Skittles, a can of iced tea, and his wallet after he was shot by George Zimmerman, the watch volunteer. The shooting, and the local police's handling of it, have become major news stories and sparked national conversations around racial profiling and gun laws.
In the aftermath of the shooting, protesters calling for Zimmerman's arrest donned hoodies and waved Skittles at protests around the country.
According to WKMG, the seller said that that the "main motivation was to make money off the controversy." The seller said that he was a supporter of Zimmerman who thinks "he is innocent and that he shot a thug."
Mark O'Mara, Zimmerman's attorney, told the news station that he felt the targets were offensive. "This is the highest level of disgust and the lowest level of civility," O'Mara said. "It's this type of hatred -- that's what this is, it's hate-mongering -- that's going to make it more difficult to try this case."
Popular in the Community