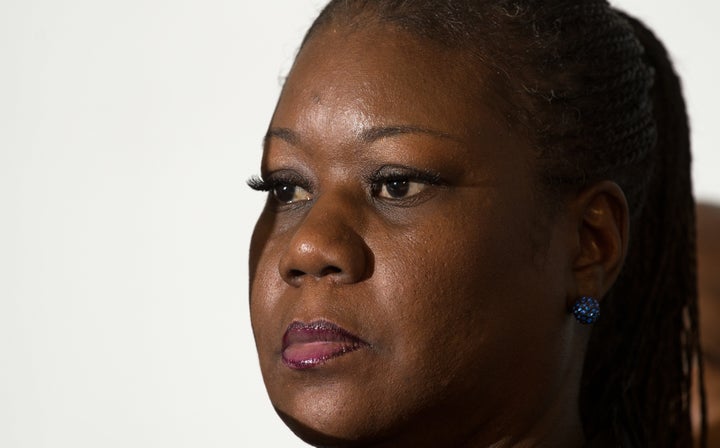 A card, a hug and a key chain -- the gifts were not elaborate and did not cost more than a few dollars.
But the tokens of love that Trayvon Martin gave Sybrina Fulton a year ago are some of the last mementos she has of her son, the 17-year-old Florida boy whose February shooting by a neighborhood watch captain has launched America into a heated conversation about race, violence and the criminal justice system.
A Miami-Dade County government worker, Fulton has become an constant presence on television screens and at rallies in locales from New York to Los Angeles, where she goes from tears and mourning to stoic resilience while asking for "justice for Trayvon." The phrase has inspired clothing, websites and the foundation Justice for Trayvon that Fulton directs.
But as the devout Southern Baptist and new activist approaches Mother's Day, she can't keep her mind off the little things her boy would do on her special day.
Every year, Martin and his older brother would give her a card and a hug. Sometimes they would bring flowers. Last year Martin surprised her with a key chain.
And each year Fulton and her two boys -- her surviving son Jahvaris is 21 -- would attend services at Antioch Missionary Baptist, a large, popular church close to their home in suburban Miami. The service would last from 90 minutes to two hours. At one point, the pastor would ask the mothers to stand in recognition. Fulton would proudly oblige.
This year, Fulton, typically a Sunday regular at the church, which counts thousands among its members and offers three services each weekend, isn't sure if she'll make it to the pews. Attending rallies around the country (many at churches), interviews and town halls, Fulton has found that her time away from the cameras for prayer with her spiritual family has been slim.
Speaking from Birmingham, Ala., where she had walked in a Hoodie Freedom Walk and addressed a town hall just over a week ago, Fulton said it had been two weeks since she last attended Antioch.
"I know it will be hard," Fulton said about Mother's Day. "But my faith and family will pull me through."
In her purse, she keeps her smartphone, on which she has a Bible application. This is lighter for her to carry than a book and the phone makes it easy for her find the passage that's given her solace.
"Trust in the Lord with all your heart and lean not on your own understanding," the Proverbs verse states. "In all your ways acknowledge Him, And He shall direct your paths."
The message "helps me through," Fulton said. "That is the scripture I most often read."
Since the death of her son, Fulton has been able to share this passage with the Rev. Al Sharpton, who has been by her side at several interviews, and the Rev. Jesse Jackson, who joined her at a Miami rally last month. In interviews, tweets and on Facebook, Fulton returns to prayer repeatedly when she discusses Trayvon.
When Fulton and her husband met Angela Corey, the Florida special prosecutor investigating Trayvon's death, they opened the meeting with prayer. Corey later announced that George Zimmerman, the 28-year-old neighborhood watch captain, had been arrested and charged with second-degree murder charges. "Thank you, Lord; thank you, Jesus," Fulton said at a press conference after the arrest. Zimmerman was later released on bail and is awaiting trial.
Fulton isn't the only person affected by Martin's death who has relied on faith. Friends of Zimmerman have said in interviews that Zimmerman, a Roman-Catholic, has also prayed for the family.
And Tracy Martin, Trayvon's father and Fulton's ex-husband, has often appeared alongside Fulton at church rallies. But those who know the family say that Fulton is the most spiritual inclined.
As Mother's Day approached, Fulton said she believes faith can bring families who have undergone struggles closer together.
"I would tell [mothers] to increase their faith in God. Just be prayerful that things will change, the negatives of the world. People will change their hearts and minds," she said. "It's the will of God."
Calling all HuffPost superfans!
Sign up for membership to become a founding member and help shape HuffPost's next chapter
BEFORE YOU GO