Trayvon Martin hasn't been forgotten at Claremont United Methodist Church in Claremont, Cali.-- in fact, he appears front and center in their Nativity display. He serves as a bloody and tragic reminder of the dangers of gun violence and racial privilege in today's America, reports David Allen of the Inland Valley Daily Bulletin.
Amongst the traditional holy family, Martin sits hunched over in his iconic black hoodie, blood pouring from his chest and pooling at his feet, reports Patch.com. The title of the scene, "A Child is Born, a Son is Given," is outlined within the blood and evokes themes of both Christmas and Easter, according to artist John Zachary, who has been creating thought-provoking displays since 2007.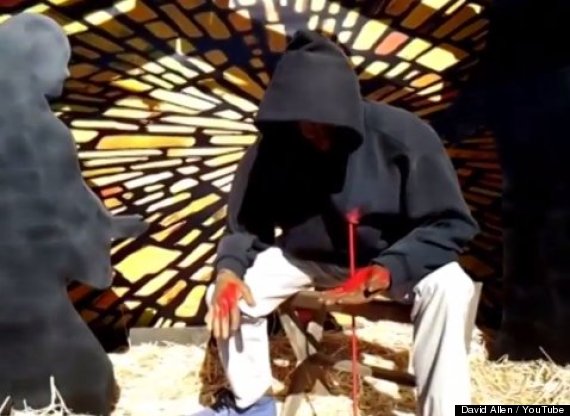 Zachary told Allen in an interview that the acquittal of George Zimmerman, who fatally shot the unarmed teenager in 2012, "struck him as a worthy subject for Christmas comment."
"There is no better time to reflect on gun violence than advent, when we celebrate the birth of Jesus," says a sign at the church.. "Jesus was born into a state of total vulnerability as an innocent, unarmed child during a time of great violence much like Trayvon Martin."
As families gather together at Christmas to celebrate, Zachary hopes to get them to think long and hard about their own blessings and privileges. He told Allen that many Christmas traditions of gifts reflect "privilege, and there's a lot of people who don't have that privilege. Maybe I should do something that's provocative, that's more in keeping with the teachings of Jesus."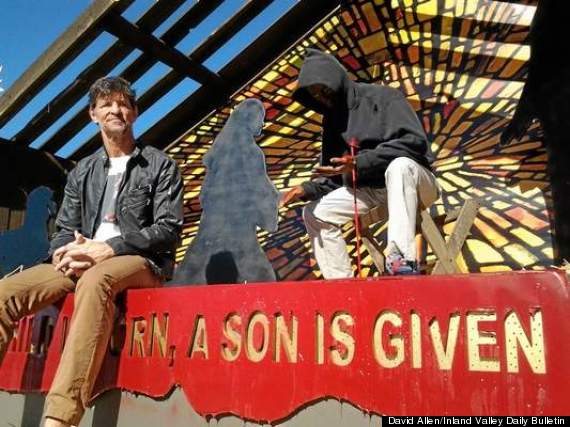 Artist John Zachary
This isn't the first time that the church has used the Nativity as an opportunity to remind people about issues of social justice and inequality, which probably would have been of great concern to Jesus himself. Past displays have included Jesus and Mary as a homeless couple struggling to feed their newborn child, as Iraqi refugees next to U.S. soldiers, as immigrants from Mexico stopped by the wall at the border, among others. In 2011, Zachary's Nativity display was of the outlines of three couples, two of them same-sex, gathering under the banner "Christ Is Born."
Sharon Rhodes-Wickett, lead pastor at the church, told Allen that she finds this year's scene difficult to look at, due to its violence. "It's hard to look at a young man who's shot and bleeding to death," she said. "But even though I'm uncomfortable, that's the point. We have to take a look at the violence."
Response to the display has been surprisingly muted. "I thought this would be more controversial, but I come to find out people don't really like people getting shot," Zachary told Allen. "They may not agree what to do about it, but they agree it's a bad thing."
Rhodes-Wickett said that her congregation is progressive, and that "Most people like something that makes us think and makes us search our hearts."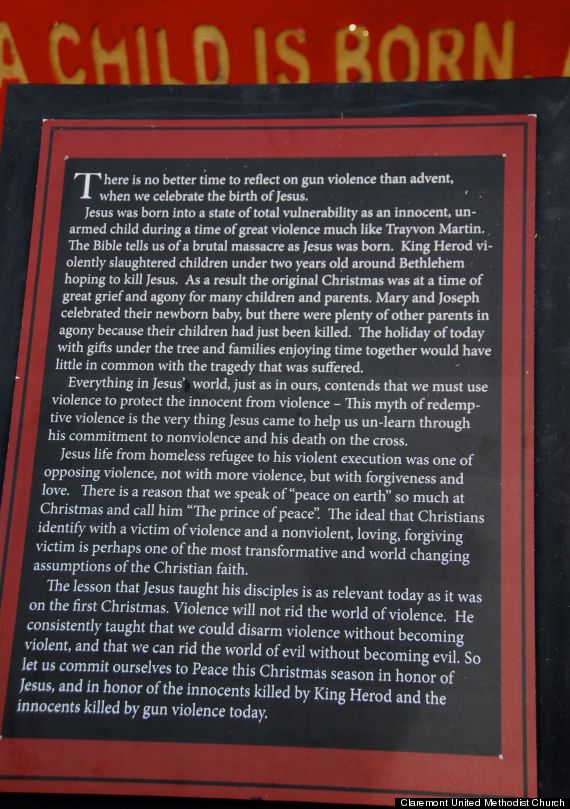 Related
Before You Go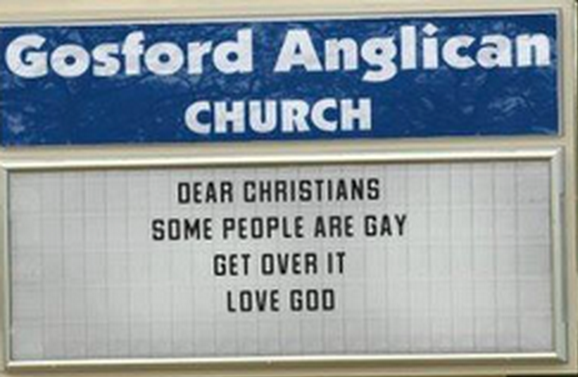 Controversial Church Signs
Popular in the Community