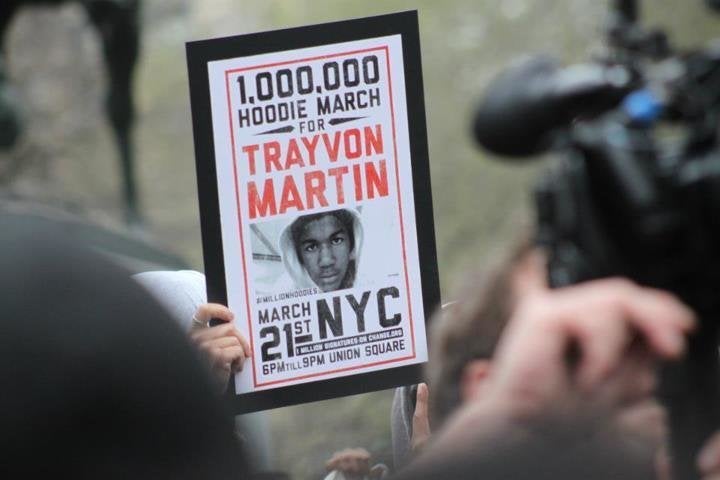 Protesters, television camera crews, police officers and the sound of bongo drums filled New York's Union Square. Some came with signs. Others came with megaphones. Jolette Crawford, 32, of Brooklyn, came with her son, Taejean.
That large crowd had assembled in solidarity with Sybrina Fulton and Tracy Martin, whose teenage son, Trayvon Martin, had been shot and killed in late February by a neighborhood watch member who thought he looked suspicious. Their son was unarmed. His admitted killer had not been arrested or prosecuted.
"My son did not deserve to die," Trayvon Martin's mother tearfully said into a microphone. The Union Square crowd murmured in agreement. Martin's parents were at the middle of the throng at the "Million Hoodie March" on Wednesday, surrounded by hooded activists and television cameras.

Standing on the edge of the crowd, Jolette Crawford's son, Taejean, pulled on his mother's left hand. "Mommy, when will Trayvon come back?" he asked. "I think his mommy and daddy are sad."
Crawford took a deep breath, tucked the edge of a red dreadlock beneath her green hooded sweatshirt and leaned down to her son's eye level. "I am sure they are, Taejean," said Crawford, who is black. "His mommy and daddy loved him, just like we love you. But somebody shot him and killed him. So he's not coming back. Remember? That's what happens when you die."
The inquisitive Taejean, dressed in a tan hoodie over a sand-colored jacket, cocked his head toward his left shoulder and asked another question. "So, if he's not coming back, why are all these people here?" Taejean said.
Trayvon's mother and Taejean's mother did not meet, but on Wednesday they were both engaged in very different parts of the same, larger conversation, one alluded to over and over at the Union Square march and at rallies around the country. That discussion is a fraught rite of passage for many black parents and their children: the conversation about race and the need for black boys to be careful, and often even more conciliatory than the law requires, in order to make it safely home to their families. For many of the people at the rally, being seen as suspicious and criminal — the way Martin was when he was killed — was an all-too-familiar experience.
For Crawford and her son, Taejean, that difficult, exhausting discussion started at home, hours before they got to the park. Crawford told her son she wanted to take him to a protest. It seemed like a teachable moment, rich with the kind of issues that some parents can simply consider discussing with children, but that a black mother must discuss with her black son, Crawford recalled.
"Not only did I have to have the conversation about death — a concept that's always hard for kids to understand — but I actually found myself trying to explain civil rights to a 7-year-old today," she said.
Crawford explained to her son that some people draw conclusions about others based on skin color, gender, clothing, and all sorts of arbitrary things. Those conclusions can hurt people's feelings. And sometimes they cost lives, she said.
That may be especially true in New York. The city's police department employs a controversial stop-and-frisk policy that gives officers broad discretion to stop and question anyone on the street whom they deem suspicious. And the numbers show that those deemed suspicious are overwhelmingly people of color: Of the 684,330 people stopped and questioned by the New York Police Department in 2011, 87 percent were black or Latino and only 9 percent were white. (About 12 percent of all stops yielded arrests or summonses.)
"I think the feeling is that you have to look threatening or that they have to have some kind of [suspicious] idea about you," said Omari McCleary, a hoodie-clad Brooklyn native at Wednesday's rally. "But I've gotten stopped and frisked right outside of work in a business suit. So it's definitely a racial thing or racially charged in some way."

His friend Chinisha Scott, a young woman with big curly hair, chimed in. Her brother -- whom she described as "a little rough around the edges, and he's got the hoodie thing" -- was stopped and questioned by police while he waited outside of a barber shop for a haircut early one morning.
"The cop stopped and frisked him and said, 'Show me your ID,'" she said. Her brother refused. "He's like, 'There's no reason for this, I'm just standing here waiting like everyone else," she said. "It's not the first time, but it's one of the most flagrant [violations] of his person."
McCleary nodded. "Growing up in those neighborhoods, it just becomes part of your culture," he said. "I remember my mom telling me, 'Be careful. Make sure you have ID on you.' And I thought that all moms said that, but then I realized, 'No, this is not normal for every American.'"
Dwayne Thomas, a tall Harlem native who was wearing a fitted baseball cap, echoed their sentiments. "It's a way of growing up, especially in Harlem," he said after the rally. (East Harlem is one of the precincts where the stop-and-frisk policy is employed most often.) Thomas said that he had been stopped "two or three" times by the police, and suggested that an empathy for what it is like to be under suspicion probably played a role in the strong turnout for Martin's family at the rally. "This type of thing is so rampant, and I think that a lot of people are just fed up."
On the train home from the rally, during the walk to their house and for almost 40 minutes after they got home, Taejean had more questions. Usually, Crawford enforces Taejean's 9:30 p.m. bedtime. But Wednesday night, she took questions until almost 10:30.
She talked to her son about humanity and the role that the police are supposed to play in civil society. In language she hoped that a 7-year old could understand, they talked about why Zimmerman has not been arrested, and the right way to handle conflict and discrimination. They looked online at pictures of Trayvon when he was an infant and a picture of him in a football uniform. They talked about the fact that Trayvon was 17, just 10 years older than Taejean.
Popular in the Community