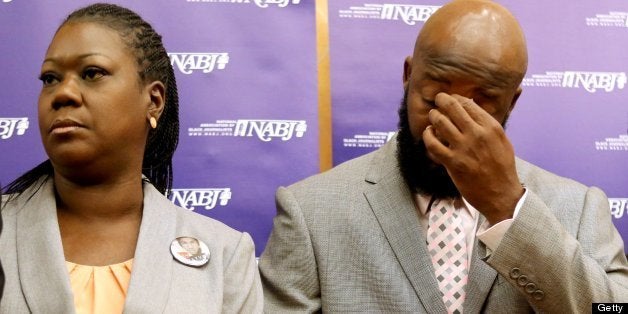 Attorneys for Trayvon Martin's parents on Friday renewed their appeal for changes to "stand your ground" laws around the country, calling them vague and confusing.
The laws -- including Florida's landmark legislation -- can feasibly allow an "initial aggressor" or a person who starts a fight, to kill someone and then claim self defense, attorney Benjamin Crump said.
"You cannot pick a fight and then kill the person and then claim 'stand your ground'," said Crump, standing alongside Trayvon's parents Sybrina Fulton and Tracy Martin. "It flies in the face of common sense...What message are we giving to society?"
Crump made the remarks during the National Association of Black Journalists convention at the Gaylord Palms Resort and Convention Center in Kissimmee.
George Zimmerman, a Neighborhood Watch volunteer, said he acted in self-defense when he shot Trayvon in February 2012 after the unarmed, black Miami Gardens teen attacked him. A Seminole County jury on July 13 found Zimmerman not-guilty of murder.
Crump said he has started working with legislators in 26 states to amend their "stand your ground" laws. As the laws are currently written, they should more accurately be called: "shoot first" or "make my day" laws, he said.
At one point in the press conference, Sybrina Fulton, told the room filled with reporters that she remains unsettled about the behavior of some journalists. She is often approached by reporters while shopping or while at home.
"Although this is your job, and this is just a story for you. This is our life," Fulton said. "So it's very difficult sometimes when you chase us, when you run up to us....It's invasive...So if you could be mindful of that."
But attorney Daryl Parks quickly jumped in to say: "Trayvon's case doesn't get to where it is today without the media."
Trayvon's parents also announced that their Trayvon Martin Foundation will work to help families whose children have died as a result of gun violence.
"It's very difficult to go through something like this and have people say: 'We know what you're going through.' Actually, you don't," Fulton said.
Tracy Martin said he plans to organize a Trayvon Martin retreat to mentor young black males about conflict resolution.
"I think our youth feel a lack of love," Martin said. "We as parents, especially African-American men, we have to show them your life is of equal value. That you are loved. That we're here for them."
Trayvon's parents also said they neither supported nor opposed a call for an economic and consumer boycott of Florida. The family's attorneys would not say on whether they plan to pursue a civil suit against Zimmerman.
mcomas@tribune.com or 407-420-5718 ___
(c)2013 The Orlando Sentinel (Orlando, Fla.)
Distributed by MCT Information Services
REAL LIFE. REAL NEWS. REAL VOICES.
Help us tell more of the stories that matter from voices that too often remain unheard.
BEFORE YOU GO
PHOTO GALLERY
Trayvon Martin Timeline