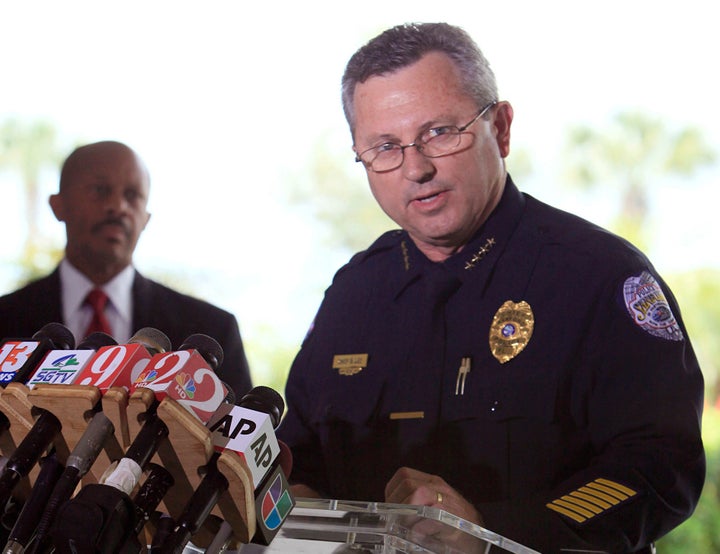 SANFORD, Fla. -- A 68-year-old man was arrested on Friday a day after threatening to kill beleaguered Sanford police Chief Bill Lee Jr. The threat was made in an email sent just hours before Lee announced that he would temporarily step down as chief amid the investigation into the killing of Trayvon Martin.
According to Seminole County Sherrif's Office, Carnduff Stewart of Melbourne Beach sent an email to Lee with the subject line "Coming after you."
In the email, Stewart said that he had multiple weapons, that he wanted to hurt local police officers, and that Lee and his family should be killed, according to the police.
Stewart then signed the email with his name, home address and a phone number.
Investigators later obtained a subpoena for the IP address of the computer from which the email originated, and found that it led back to Stewart's home. Once investigators got into Stewart's computer, they found a number of other threatening emails, police said.
"Stewart admitted to sending the email to Chief Lee," said Heather Smith, a spokeswoman with the sheriff's office.
Lee resigned during a hastily called press conference on Thursday afternoon, saying that "I am aware that my role as the head of the department has become a distraction," and that "I have come to the decision to temporarily remove myself."
The furor over the Trayvon Martin case has focused largely on neighborhood watch captain George Zimmerman, but also on Lee and the Sanford police, who some in the community believe have offered cover to Zimmerman. Lee said that Zimmerman told investigators that he shot Martin in self defense, and that there is not enough evidence to refute those claims. Zimmerman has not been arrested or charged in Martin's death.
Martin, 17, was headed back to the home of his father's girlfriend shortly after 7 p.m. on Feb. 26 following a trip to the convenience store. George Zimmerman, a 28-year-old neighborhood watch member, reported Martin to the police and told the 911 dispatcher that the teenager looked "suspicious." Zimmerman was told by the dispatcher not to follow Martin, but a few minutes after the police call, Martin lay dead from a gunshot to the chest.
Officers initially told Martin's parents that Zimmerman had a squeaky clean record, but he was arrested for violence and battery against a police officer in 2005. Martin was tested for drugs and alcohol after his death, but Zimmerman was not. Police failed to check cellphone records for Martin and Zimmerman after the shooting, according to a lawyer for Martin's family. And witnesses have said that police attempted to manipulate them during questioning and have twisted their statements to fit Zimmerman's self-defense claim.
The probe into the killing has sparked outrage across the country and here in Sanford, where on Thursday upward of 30,000 protesters rallied, calling for Zimmerman's arrest and justice for Martin.
During the rally, one of the more vocal politicians calling for Zimmerman's arrest, Rep. Corrine Brown (D-Fla.), said, "I only want one thing. It's real simple: I want an arrest."
Authorities on Friday said they were familiar with Stewart from an earlier instance when he made threats against Penn State University assistant football coach Mike McQueary.
Stewart was booked into the Brevard County Jail on a $10,000 bond, police said. He was also placed on electronic monitoring.
As another condition of his release, Stewart is also prohibited from having any contact with Lee or his family and must stay at least 1,500 feet away from the Sanford Police Department.
Popular in the Community