By Jess Wisloski, Tom Liddy and Stephanie Keith
UNION SQUARE — Hours after the decision of a Florida jury was released, clearing neighborhood watch volunteer George Zimmerman of manslaughter and murder charges in the 2012 shooting death of the unarmed black teen Trayvon Martin, hundreds of protesters amassed in Times Square to decry the verdict.
Holding homemade cardboard placards that read "Justice for Trayvon Martin," the elbow-to-elbow throng blocked traffic and listened as bullhorn-wielding speakers lashed out at the jury verdict that cleared Zimmerman of wrongdoing and sparked protests in major cities nationwide.
The New York City march had begun about 2 p.m. Sunday in Union Square Park, but by nightfall had snaked its way uptown to flood Times Square for a protest that cops said resulted in about a dozen arrests for blocking traffic.
"TrayvonMartin marched gets through#nypd cordon off 34th st heading up 8th ave to #TimeSquare," DNAinfo contributor Stephanie Keith, or @steffikeith, tweeted.
"Now seeing cops with plastic handcuffs," she added at around 8:20 p.m.
The momentum had begun the night of Saturday's verdict, as New Yorkers gathered at Union Square Park around midnight, the Daily News reported, holding candles and signs. One sign compared 17-year-old Martin's death to the 1955 beating death of Emmett Till, a 14-year-old black boy who reportedly flirted with a white woman.
"The state of Florida told not just black people, but everybody, that Trayvon's life didn't matter," protester Thenjiwe M., 26, said Sunday near Union Square Park.
More than 100 people had gathered in the park for a 2 p.m. protest and a 6 p.m. meetup set off for a march around the East Village (click here for a video.)
"We're upset about the verdict. We feel like it's taking the country back in time," said Daniel Maree, 25, an East Village activist who founded and runs the annual Million Hoodie March.
"Trayvon Martin is just the tip of the iceberg. If you're going to solve this issue, you have to understand that people of color are killed on a regular basis."
Rukia Lumumba, 34, who works in juvenile justice and came out to Union Square with her son, spoke to the crowd.
"This is extremely hard to handle, and I fear for my son's life," she said afterwards.
As the group set off marching around the park, chanting "Justice for Trayvon" and "Justice for my son," more protesters gathered.
After a 6 p.m. rally, the contingent of people headed out of the park marching south along Broadway, then moved east towards the East Village, north along Third Avenue, and then west on West 23rd Street.
Black and white protesters marched side by side, some carrying children aloft on shoulders, swarming the roadways holding giant posters featuring Trayvon Martin's photo and taking over the streets on foot as they moved as a crowd.
The crowd grew as participants joined in along the way to march toward Midtown, reaching Eighth Avenue shortly after 8 p.m.
For more on the marches and future gatherings, follow Twitter hashtags #TrayvonMartin and #JusticeforTrayvon.
Related
Before You Go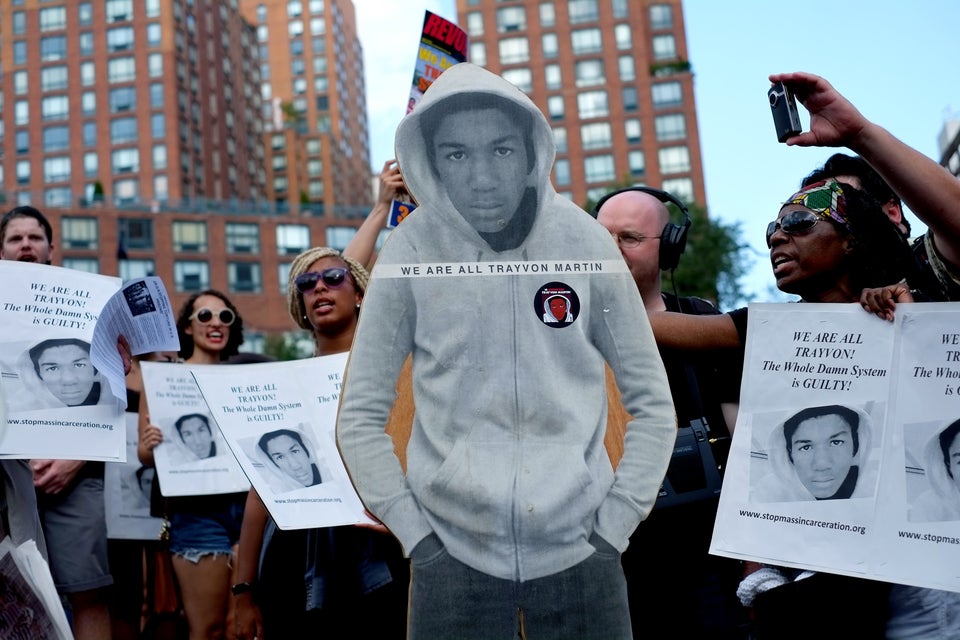 Trayvon Martin Protest In New York
Popular in the Community