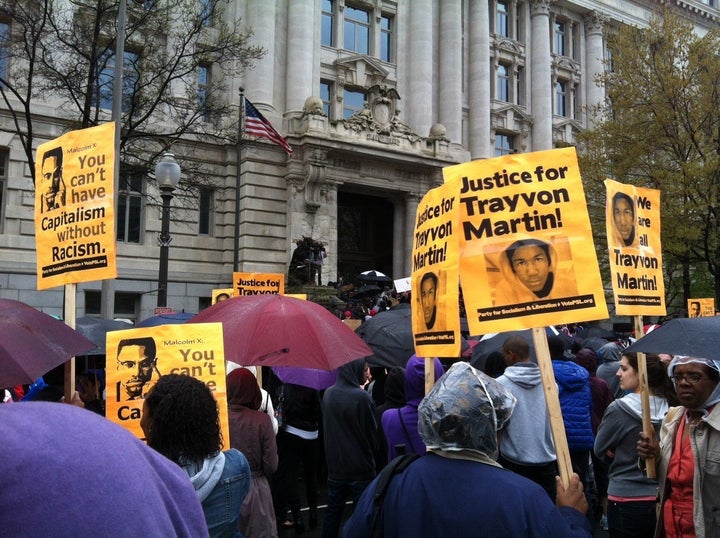 WASHINGTON -- Amid light but steady rainfall, hundreds of people crowded Pennsylvania Avenue and Freedom Plaza on Saturday afternoon to protest the Feb. 26 killing of a 17-year-old black Florida teenager, whose death has sparked outrage across the nation in recent weeks.
Leading the crowd in chants of "enough is enough" and "no justice, no peace," speakers gathered in front of the seat of the District of Columbia government, calling for justice in Trayvon Martin's death, which they said was motivated by racism and discrimination.
"Today we come as one, but we stand as 10,000," Deon Jones, a D.C. advisory neighborhood commissioner, told the crowd from the steps of the John A. Wilson Building, citing a poem by Maya Angelou.
George Zimmerman, a neighborhood watch volunteer in a Sanford, Fla., gated community, told police that he shot Martin in self-defense. Martin, who was walking from a nearby convenience store to the house of his father's fiancée, was unarmed, carrying only a bag of Skittles and a bottle of ice tea.
Zimmerman has not been arrested or charged in Martin's death. The Sanford Police Department said at the time that there was not enough evidence to refute Zimmerman's self-defense claim. Florida has a Stand Your Ground law, which allows residents to use deadly force against an attacker if they think their life is threatened.
"The only person who had the right to stand his ground was Trayvon Martin," Avis Jones-DeWeever, executive director of the National Council of Negro Women, said at the rally, which was organized via Facebook and Twitter only four days earlier by three D.C.-area residents.
Many in the crowd came armed with Skittles and ice tea and wore hoodies in solidarity with the slain teenager, who wore the hooded outerwear the night he was shot.
"If I had a son, he'd look like Trayvon," the president said. "I think [Trayvon's parents] are right to expect that all of us as Americans are going to take this with the seriousness it deserves, and we are going to get to the bottom of exactly what happened."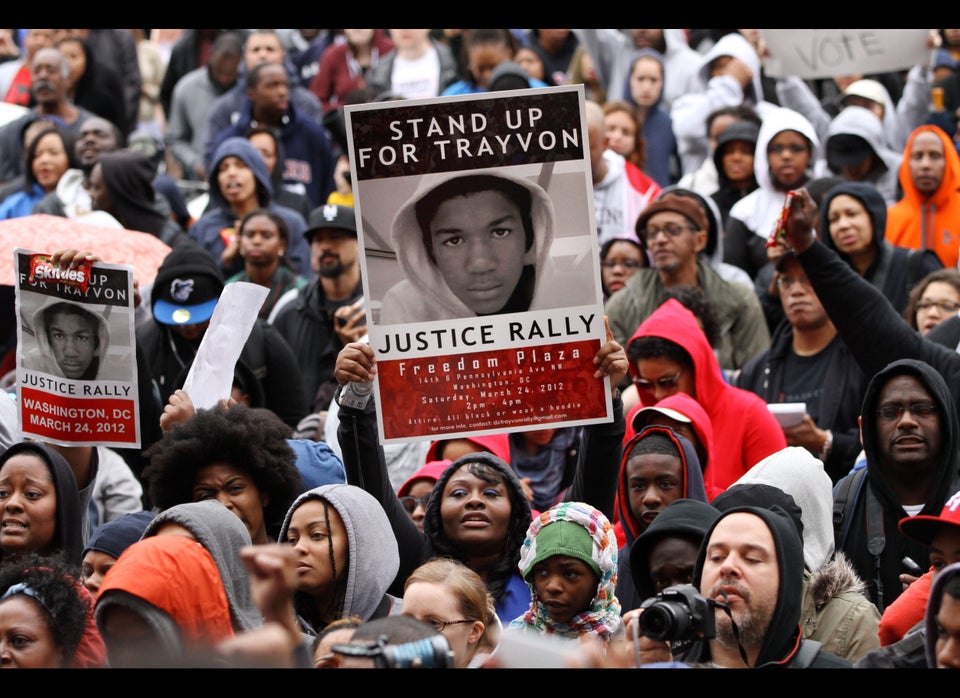 Trayvon Martin Rally For Justice In D.C.
Popular in the Community