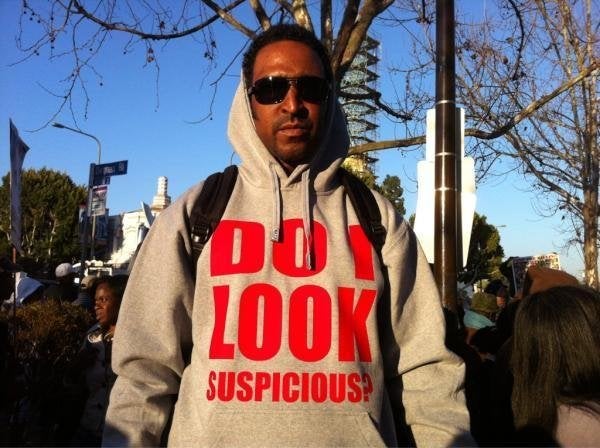 LOS ANGELES -- For Sonia Mongol, a 28-year-old mother in Crenshaw, Calif., the decision to tell her children about Trayvon Martin's death wasn't an easy one.
Mongol was hesitant to go into too much detail about Martin, the unarmed Florida teen whose violent death at the hands of a neighborhood watchman has sparked outrage across the nation. But the snippets of stories her daughters were hearing at school convinced Mongol that she needed to sweep away any misinformation they may have heard.
"We sat down and listened to the 911 tapes together," she remembered. "And then we all started crying." The discussion she had about Martin was just one of many lessons Mongol has taught her daughters, ages 11, 10 and 8, about the reality of being a black person in America.
Mongol's next lesson was to bring her daughters to Leimert Park Thursday evening for the Justice for Trayvon Martin rally. Mongol and her children held signs that said "I Am Trayvon" and wore hooded sweatshirts, similar to the one that Martin was wearing the night he was killed. "His life will not be in vain," she insisted. "It's about time we treat each other right."
Mongol's family joined the crowd of about 200 gathered on the grass at Leimert Park, where protestors chanted slogans like "Who's That Crying? Trayvon Martin!" while carrying signs that called for the arrest of George Zimmerman, the neighborhood watchman who shot the teen on Feb. 26. Dozens of families with their children brought picnic blankets and dogs on leashes; almost everyone at the park wore hooded sweatshirts.
See The Slideshow For More Photos Of The Rally:
PHOTO GALLERY
Trayvon Martin Rally
Inglewood resident Damiek Barrow was present with his children, a 14-year-old daughter and a 13-year-old son. His son came clutching a bag of Skittles, one of the objects Martin was carrying on the night Zimmerman confronted him.
Barrow talked to his family about Martin's death over dinner one night -- not to scare them, he said, but to prepare them for the "real world," the kind of place where, "even if you're a good kid, you still might get taken out violently," said Barrow. He tries to protect his children by closely monitoring the way they dress and even walk in public.
"For my son, no baggy pants," Barrow explained. "No hats -- certain colors have affiliations. As for tattoos? Even if you had one of your mother's name, the police would still try to tie you to a crime with it." He also tells his daughter to remove her earphones and to keep her eyes wide open when she's walking down the street.
Jaza Rose-Aminifu, a Leimert Park resident, came to the park with her oldest son. "We have three young black men that we're raising," Rose-Aminifu said proudly of her sons, ages 12, 5 and 2. "But every time I hear about something like this, it hits close to home."
To hedge against risks for her oldest, Rose-Aminifu doesn't allow him to stick his hands out of car windows, because it could be seen as "throwing a gang sign." She has yet to grant him privileges like walking to the store by himself. Still, she's realistic about how much she can really her prepare her children for the perils that come with being black in America.
"You can only do so much as a mother," she shrugged. "Black men are stigmatized."
For one Northridge resident, Zimmerman's actions on the night he shot Martin are simply baffling. Rusty Feuer, a woman who's been involved with her neighborhood watch for years, said that the role is simply to "observe, and then call the police."
"I've never walked around with a gun in my pocket," said Feuer. "I'm not a trained policeman and that's not my job. [Zimmerman] should have backed off."
She was at Leimert Park that night in solidarity of Martin's mother and the son she lost. "It's over for that boy," said Feuer, a white mother of six whose youngest son is 38 years old. "What if that was my son?"
During the speaking session, organizers passed out pieces of yellow "crime scene" tape to the crowd, in reference to the Sanford Police Department's decision not to arrest Zimmerman. "There's been a crime!" people chanted.
Throughout the evening, the upcoming 20th anniversary of the L.A. riots over the Rodney King beating case loomed large for some in the audience and on the speaker stand.
Rev. K.W. Tullous, a local pastor and the Los Angeles representative for Rev. Al Sharpton's National Action Network, led the event in an interfaith prayer, calling for justice to be served. Later on, he told The Huffington Post that "from Rodney King to Trayvon Martin," it was clear that black voices "still need to be heard" on the issue of violence against black men.
"Today, it's Trayvon Martin," Rev. Tullous said. "Tomorrow, who?"
REAL LIFE. REAL NEWS. REAL VOICES.
Help us tell more of the stories that matter from voices that too often remain unheard.
BEFORE YOU GO