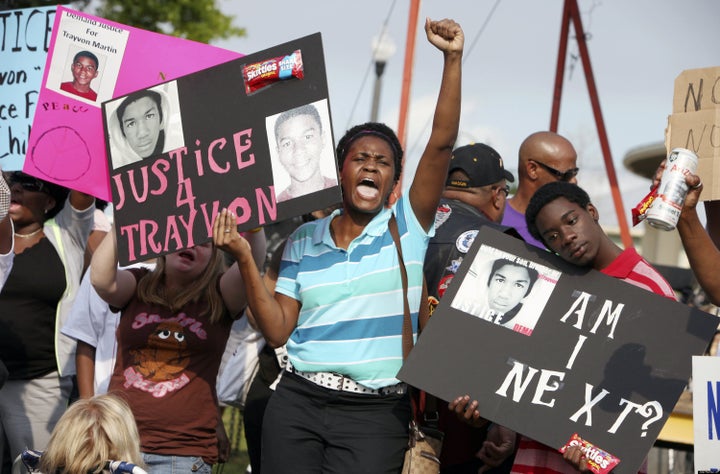 SANFORD, Fla. -- What began as angry grumblings in the town of Sanford over the killing of Trayvon Martin nearly a month ago has grown into a national furor, with countless thousands of supporters demanding justice in organized actions in cities across the country.
In New York City this week, several hundred protestors gathered in solidarity with Martin's parents, in a "million hoodie march" where many wore hooded sweatshirts similar to the one Martin was wearing on the night he was killed. In London they did the same. Students in Miami, where Martin lived, held vigils and protests. Hundreds more have gathered in Los Angeles. And actions are planned for Washington, D.C. on Friday night and next week in Detroit and Philadelphia.
"If I had a son, he'd look like Trayvon," Obama said. "I think [Trayvon's parents] are right to expect that all of us as Americans are going to take this with the seriousness it deserves, and we are going to get to the bottom of exactly what happened."
Just before 2 p.m. on Friday, the Martin family responded to the president's remarks in a statement: "The President's personal comments touched us deeply and made us wonder: If his son looked liked Trayvon and wore a hoodie, would he be suspicious too?"
"We'd like to thank the President and the millions of people from around the world who have shown their support for Trayvon by participating in hoodie marches, rallies or through social media," the statement continued. "We are all working together to not only get justice for Trayvon, but also to ensure that this kind of senseless tragedy doesn't happen to another child."

Indeed, millions have joined in protests, at rallies and on social media. Nearly 1.5 million have signed an online petition, and the hashtag #trayvonmartin has been consistently trending on Twitter. The episode has become a cause célèbre, with professional athletes and celebrities joining the chorus demanding the arrest of George Zimmerman, who told police that he shot Martin in self-defense and was then released.
But perhaps the most significant show of support for Martin came on Wednesday night when an estimated 30,000 people packed a park along the waterfront here to demand Zimmerman's arrest. They chanted and hoisted signs and small children into the air. "I Am Trayvon Martin" was a common refrain. Local protestors joined out-of-towners in what may be the singular, defining moment of the so-called Trayvon Martin movement. One young man at the event said it was reminiscent of the 1995 Million Man March, "with such a mass of positive energy."
Mothers and fathers, young children and their elders packed close to the stage as news helicopters whirred overhead. From the stage, a number of local ministers prayed for justice to a sea of diverse, but mostly black, protestors. A couple of local politicians promised that justice. And Trayvon Martin's mother and father said they would not stop fighting until they got it.
"I pledge I will not let my son die in vain," Tracy Martin, the teen's father, told the crowd. "Without you, though, we wouldn't have any support at all ... You all have been our strength."
Behind the family on stage were a few civil rights luminaries, including the Rev. Al Sharpton, who organized the rally. They were joined by activist Dick Gregory, Martin Luther King III, radio talk show host Michael Baisden and television court judge Joe Mathis.
Rep. Corrine Brown (D-Fla.), who has been in Sanford and Washington calling for the immediate arrest of Zimmerman, told the crowd that she didn't care who arrested him -- the federal government, the state or local government -- but that an arrest needed to be made.
"What has happened here is not acceptable," Brown said. "It's not acceptable -- nowhere in Florida, nowhere in this country, nowhere in the world."
"I only want one thing," she continued. "It's real simple: I want an arrest."
But there have also been major shake-ups at some of those investigative bodies.
Crump, the family attorney, made the announcement of Wolfinger's removal to the crowd and was met with cheers and applause. Crump added that officials could no longer stand on the sidelines while Sanford law enforcement wrestled with how to handle the case; they would have to "pick sides," he said.
"We come to you tonight to say, 'Enough is enough.' Trayvon could have been any one of our sons, any one of us," Rev. Al Sharpton said. "They thought it was hot before? Well, the heat has just arrived." (Sharpton made his appearance despite learning early yesterday morning that his mother had passed away.)
"My mother would be ashamed of me if I didn't have the strength to stand up for this man and woman," Sharpton said, referring to Martin's parents. "She didn't raise me to duck a fight."
By 8:30 p.m. the sun had set and the spotlights around the park had flicked on. Offstage, Derrell Ramsay, 26, stood alone, his eyes bouncing between the stage and the crowd. He heard about the shooting the night it happened, but assumed it was a robbery gone wrong. In the following days he devoured the details and they saddened him, he said.
"My little brother is 17, and he's going off to college to be a doctor," Ransay said. "I really feel it. I came out to support the family. I wasn't fortunate enough to be born during the Civil Rights movement, but I'm standing up now for a family in need."
Craig Brown, 34, was further back, holding his infant daughter in his arms.
"He's got a lot more strength than me," Brown said of Martin's father. "It sickens me what [Zimmerman] did to Trayvon. And the way they are trying to just hide him under self-defense, it's sick."
On the night of the shooting, Zimmerman saw Martin walking home from a nearby store and called 911 to report a suspicious person. Soon after, the police said he got out of his vehicle and followed Martin, despite the dispatcher's warning to stand down, that police were on their way. Martin ran, according to his girlfriend, who told lawyers that she was on the phone with him just moments before he was shot. At some point Zimmerman caught up with Martin, asked him what he was doing there and a physical altercation ensued, according to police and recently released evidence. Moments later Zimmerman shot Martin; he claimed self-defense to the police. Police also said Zimmerman initially told them that Martin attacked him when he stepped out of his truck to take down the nearest address.
Back at the rally, Chaunna Buckland, 32, was there with her 13-year-old son, Kayvon. Buckland called the shooting a wake-up call for mothers, especially of black boys. She said she lives in a neighboring town where very few blacks live, and that she is tired of having to run through a checklist with Kayvon before he leaves the house.
So she warns her son: Never talk back to the police, always keep your hands in plain sight and if he is ever stopped by the police, he is to hand them his cellphone and have them call her.
This case she said "reminds people of what these kids have to go through every day."
"I think it's tragic," Buckland said. "But it's like, in his death, Trayvon has become a hero for us to keep pushing."
Popular in the Community