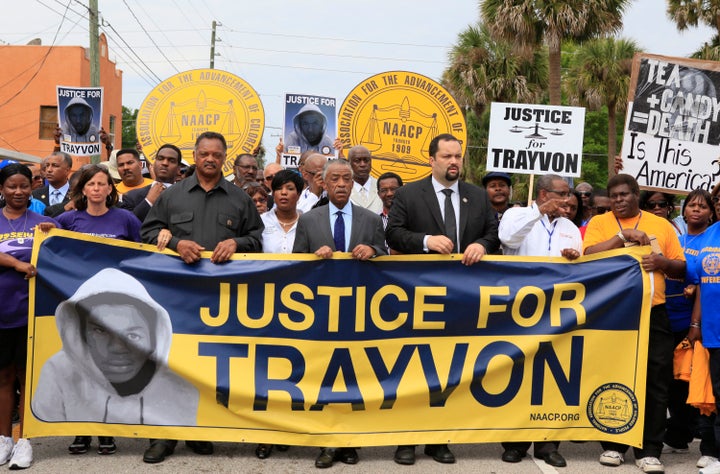 WASHINGTON -- The Congressional Black Caucus unveiled a resolution on Wednesday that honors the life of Trayvon Martin and calls for the repeal of "Stand Your Ground" gun laws in every state that has one, including Florida, where Martin was killed.
"Florida's misguided 'Stand Your Ground' law does not make our streets safer, rather it turns our streets into a showdown at the OK Corral," Rep. Alcee Hastings (D-Fla.), a sponsor of the resolution, said in a statement. "But this is not the Wild West. We are supposed to be a civilized society. Let Trayvon's death not be for naught. Let us honor his life by righting this wrong, and seeing that justice is served for Trayvon and his family. George Zimmerman must be prosecuted for his admitted shooting of Trayvon Martin and the 'Stand Your Ground' law must be repealed."
Rep. Frederica Wilson (D-Fla.), who represents Martin's district, said Congress should pass the resolution because his death "speaks to the reality that racial profiling still exists in America."
The resolution, symbolic but not legally binding, indirectly criticizes the National Rifle Association for pushing Stand Your Ground state laws around the country. It also calls on state legislatures to reject similar legislation and "urges the repeal of the Stand Your Ground law in every applicable state, including Florida."
Zimmerman, a self-appointed neighborhood watch volunteer in Sanford, Fla., has avoided arrest under the state's Stand Your Ground law, which allows a person who feels threatened to "stand his or her ground and meet force with force, including deadly force." More than half of U.S. states have similar laws. Martin's shooting has infuriated the black community, among others, because Martin, who was black, was unarmed and doesn't appear to have been doing anything wrong when Zimmerman pursued him.
Congress wouldn't be able to consider the resolution until at least the week of April 16, when lawmakers return from recess. But a senior GOP aide said Wednesday that House Republican leaders don't plan to bring it to a vote at all.
The aide said there are concerns that the resolution could raise jurisdictional issues since local and federal law enforcement agencies are already investigating Martin's killing.
The measure may also run afoul of House rules that prevent a measure from coming appearing on the suspension calendar -- typically where resolutions land -- that "expresses appreciation, commends, congratulates, celebrates, recognizes the accomplishments" of a person or entity.
Popular in the Community